Take home Vegas' newest TV star
November 26, 2014 - 9:48 am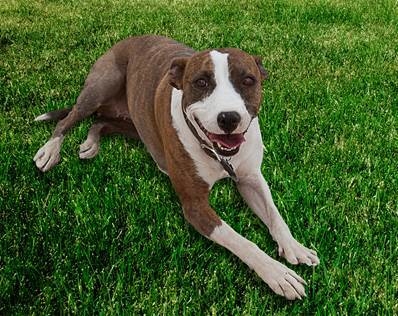 Fellas, odds are, you'd strike out with Scarlett Johansson or Miley Cyrus.
For the ladies, Channing Tatum and Josh Duhamel may be out of your league.
But one of the other stars of Fox's "Cause for Paws: An All-Star Dog Spectacular" (8 p.m. Thursday, KVVU-TV, Channel 5) would love nothing more than to go home with you.
She's Dixie, a 2½-year-old rescued pharaoh hound and German shepherd mix from Las Vegas.
Dixie was saved the day she was set to be euthanized and is described as "an incredibly athletic girl, but she also has a tender, sweet side that loves cuddling and belly rubs. … She is a great jumper and would do amazing at agility. She is a fast runner and loves the treadmill."
She's one of of several rescues that will be profiled during the special, which also will include awards in such categories as Cutest Puppy, Best Celebrity/Dog Lookalike and Best Viral Dog Video.
Hilary Swank and Jane Lynch will co-host the special, which, in addition to Johansson, Cyrus, Tatum and Duhamel, boasts appearances by Julianne Hough, Miranda Lambert, Pink and Flamingo headliner Olivia Newton-John.
To provide a home for Dixie, contact The Samadhi Legacy Foundation, 10362 Walking View Court, in Las Vegas. You can call 702-768-2383 or email Kathy Benson at kathy@samadhilegacy.org.