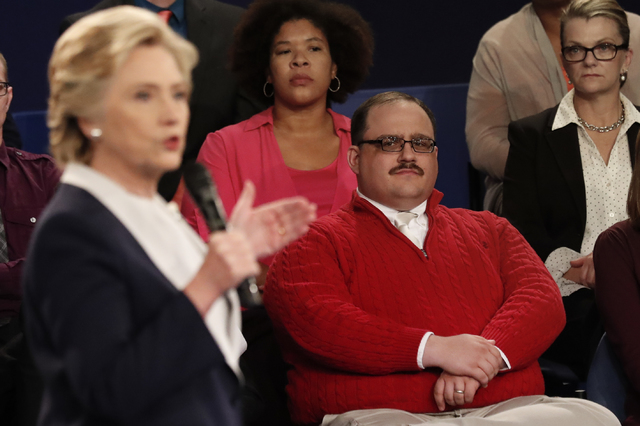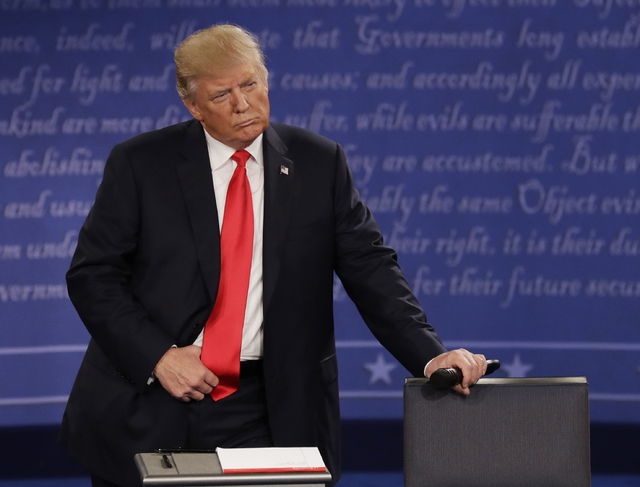 NEW YORK — Viewership for the second debate between Hillary Clinton and Donald Trump won't match the record-setting levels of their first meeting but should instead be on par with the Obama-Romney contests four years ago.
An estimated 65.7 million people watched Sunday night's contentious match between Clinton and Trump on one of eight networks, the Nielsen company said. That wasn't Nielsen's final count, but when it comes in, it isn't likely to increase by more than a million or two.
The first debate reached a total of 84 million viewers, more than for any other presidential debate on record. The previous record of 80.6 million had been set for the only debate between Jimmy Carter and Ronald Reagan in 1980.
In 2012, an estimated 65.6 million people watched the second debate between President Obama and Republican challenger Mitt Romney, after 67.2 million saw their first debate.
On Sunday, the two candidates were competing against the NFL's prime-time contest between the Green Bay Packers and the New York Giants, which was seen by 16.6 million people on NBC. A football game aired opposite the first debate, too, but it was on cable's ESPN and reached only 8 million people.
Sunday's debate, moderated tightly by CNN's Anderson Cooper and ABC News' Martha Raddatz, was dominated early by questions surrounding Trump's lewd conversation with Billy Bush in a recently resurfaced "Access Hollywood" outtake. In another clip getting wide airplay on Monday, Trump tells Clinton that "you'd be in jail" if he were elected.
Raddatz on Monday said she could feel the tension in the room from the start.
"When they came together at the beginning and didn't shake hands, you knew you were in for a long evening," she said on "Good Morning America" on Monday.
The candidates shook hands at the end, following a disarming question from an audience member, who asked each candidate if they could think of one thing positive to say about the other.
Raddatz and Cooper received generally good reviews for their sharp questioning and attempts to keep the candidates in line. Trump complained at times about not being treated fairly. At one point, when Trump objected to the Obama administration signaling in advance about an attack on ISIS positions in Iraq, Raddatz interjected with possible reasons for this tactic, including warning civilians to get out of harm's way.
On Monday, Donald Trump Jr. retweeted this message: "Was Martha Raddatz the worst moderator of all time? All signs point to YES."
With 16.5 million viewers, CBS led all networks in audience. Sunday is traditionally a strong night for CBS, and the network benefited from NBC's withdrawal from the political competition.
CNN had 11.2 million viewers and Fox News Channel had 9.9 million, essentially flip-flopping their positions from the first debate. While that may be a reflection of a CNN personality serving as a moderator Sunday, it may also be an ominous sign of growing disinterest in the contest among Fox's Republican-dominated fan base. A Fox personality, Chris Wallace, moderates the scheduled third and final debate Oct. 19.