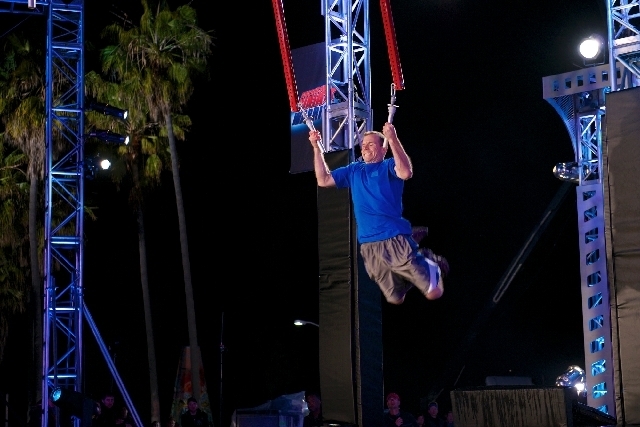 It's the equivalent of grabbing your clubs and heading to the Masters, with the caveat that you can only take home the famed green jacket if you also win the Powerball on the 18th fairway.
For you nerds out there, it's the Kobayashi Maru of obstacle courses.
In short, it's unwinnable.
The insanely difficult Mount Midoriyama — think "Wipeout" by way of the Marquis de Sade — has yet to be conquered in the first four seasons of "American Ninja Warrior."
Of the 2,900 attempts to complete the four-stage course on "Sasuke," the Japanese sensation on which the series is based, only four were successful. Two of those were by the same contestant.
But that didn't stop Las Vegans Dustin Rocho and Erika Schwarz from giving it their all when the "American Ninja Warrior" finals came to the Strip in June. (The episodes begin airing at 9 p.m. Sunday on cable's G4 channel before moving to 8 p.m. Mondays on KSNV-TV, Channel 3.)
It's the fourth season for Rocho, 34, a CPR instructor originally from Fraser, Mich. Last year, he made it as far as the semifinals before falling on the course and rupturing his eardrum.
Rocho was looking for an outlet of his own when his wife, Hope, who would ultimately join him in competing during "American Ninja Warrior's" qualifying stages, was training for a fitness competition. Then he saw the show.
"I was like, 'Oh, I think I can do some of that,' " he recalls. "Just like everybody says sitting on the couch."
Unlike most everybody else on America's couches, though, Rocho has the athletic background to back up those claims. He played baseball in the Junior Olympics, college basketball and coached gymnastics for seven years.
Then there's his home training program. Rocho converted both sides of a hallway into rock walls, complete with replicas of the show's cliffhanger — a series of ledges so narrow you can only hold on by your fingertips — and salmon ladder, which entails doing a pull-up, then hurling your body upward until the bar lands in a notch, then doing it over and over again.
"I have three kids at home, so it's not as easy for me to get away and practice," he says. "So some of it's in the house."
It's Schwarz's first time on the course, a sprawling, flashing, sinister-looking temporary encampment across Las Vegas Boulevard from Mandalay Bay. But the 27-year-old, originally from Walnut, Calif., seems to have been engineered in a laboratory specifically for "American Ninja Warrior."
Schwarz is an aerialist who has worked up and down the Strip, in nightclubs as well as shows ranging from "Love" to "Bite" to "Sin City Comedy." Her background also includes springboard and platform diving, track and field, ballet and jazz dance, gymnastics, soccer, judo, and she wrestled for three years in high school. Against boys.
"I was born ready" for this, she says.
Schwarz came to the attention of "American Ninja Warrior" producers last year when she was asked to test some of the obstacles for the Las Vegas finals, the first time Mount Midoriyama was replicated outside Japan. But none of the female contestants made it to those stages, so she wasn't needed.
"Originally, I was gonna just try to do stunt testing for them this year," she says. "But instead of doing that, they asked me if I could compete instead. I thought that would be a lot more fun."
Rocho breaks his training regimen down into three-day segments. Sprinting, running and agility training take up one day, with the next dedicated to rock climbing. "You just have to get your fingertip strength" for several of the obstacles, he says, "and the only way to get that is through rock climbing."
And on the third day, Rocho rests. "Now that I'm a little older, you know, it hurts the next day. I'm not 22 anymore."
Schwarz trains five days a week but says just rehearsing for her job, where she performs on poles and while hanging from silks and straps, "creates a lot of strength and balance and endurance as well."
The "American Ninja Warrior" course offers some unique challenges. "(When) you run up 14-foot walls, once you do that a couple of times, you start getting better at it," Rocho says.
But many of the uniquely punishing obstacles come down to having good fundamentals. "Basically," he says, "if you don't know how to climb a rope, you're done."
Of the 85 competitors who made it to Las Vegas, only 10 are women. And they run the same course, under the same conditions, as the men. The gender equality suits Schwarz just fine.
"I started to get bored with competing with girls," she says of her judo days, "just because there weren't girls that were able to endure or handle my strength. The guys gave me more of a run for my money, so I get more excitement and more entertainment value out of being able to compete with the boys."
Given Mount Midoriyama's nearly insurmountable odds, neither Rocho nor Schwarz are likely to complete it. Some of their fellow contestants will train all year only to slip, fall and end their journeys during their first few seconds on the course.
Given the near impossibility of their task at hand, how would they measure success?
"If one of us can get through it, then all the more power to humanity being able to conquer something that is having a reputation of being almost undefeated," Schwarz says.
"I'm really just excited that I got this far already," she continues. "Not many people can even get this far to begin with."
Likewise, Rocho already feels like he's won.
"I feel successful just being as strong as I am and where I'm at. I just feel really good about it. I dunno. Success on 'Ninja Warrior' is tough, because it's built-in failure."
Contact Christopher Lawrence at clawrence@ reviewjournal.com or 702-380-4567.