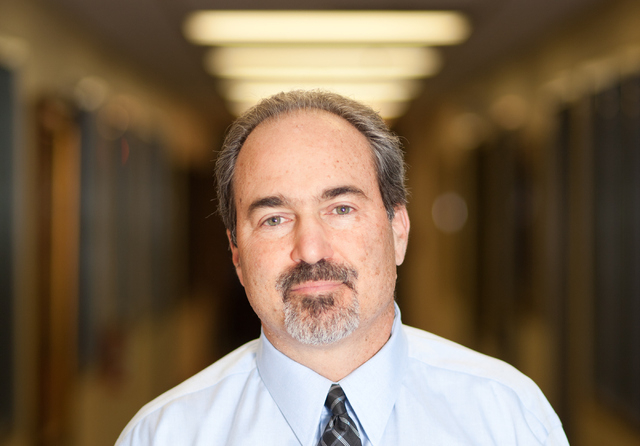 Las Vegas political pundit Jon Ralston's nightly television talk show will sign off for good on Dec. 12.
"Ralston Reports" will air for the final time on Dec. 12," Ralston said in an email newsletter Monday. "It's been the best 14 years of my career, folks. Couldn't have asked for a better partner than (producer) Dana Gentry. One door has closed; another will open soon."
Ralston, known in Nevada political circles as a deeply sourced commentator, said in an interview that he will keep other parts of his work going after he loses the bully pulpit afforded by KSNV-TV, Channel 3.
"I'm still going to be around," Ralston said. "I still have a website and an email newsletter I'm doing."
His website, ralstonreports.com, offers a daily mix of tidbits about Nevada's political scene, often delivered with acerbic personal attacks and name-calling, but sometimes injected with levity. He recently called the activist group Citizen Outreach "Citizen Outhouse clowns" and called conservative Republican legislators a "gang of loons." He also produced an online poll asking readers to name the next Assembly speaker, offering eight options, including: "some other unlucky sap."
Asked what he will do with his spare time, he said he may write another book. Ralston later tweeted he has "lots of new possibilities" and may have time to write an unauthorized biography of U.S. Sen. Harry Reid, D-Nev.
Ralston said the subscription-based Ralston Flash blog posts and the website are sustainable without his television show, noting that they have a different audience, with the flashes tailored more for political junkies.
It remains to be seen if another television station will pick up "Ralston Reports." Breaking from his usual practice, Ralston declined to speculate.
"I don't think anybody knew outside the station this was happening," he said, characterizing the end of his show as typical when a station changes owners.
Under the ownership of Intermountain West Communications Co., KSNV-TV, Channel 3, had moved away from expensive syndicated entertainment such as game shows to emphasize low-cost, but also low-rated, public affairs programming such as the show staged by Ralston, a onetime Las Vegas Review-Journal reporter and former Las Vegas Sun political columnist.
After Intermountain West owner Jim Rogers' death in June the station was sold to Sinclair Broadcast Group, Inc., which has said it plans to shift programming to Channel 3 from its two other stations in Las Vegas, KVCW-TV, (CW, Channel 33) and KVMY-TV (MyNet, Channel 21.1), and to sell one of the three to comply with Federal Communications Commission regulations.
Sinclair is one of the largest broadcasting companies in the United States, operating 164 television stations in 79 markets, including every big city in Nevada.