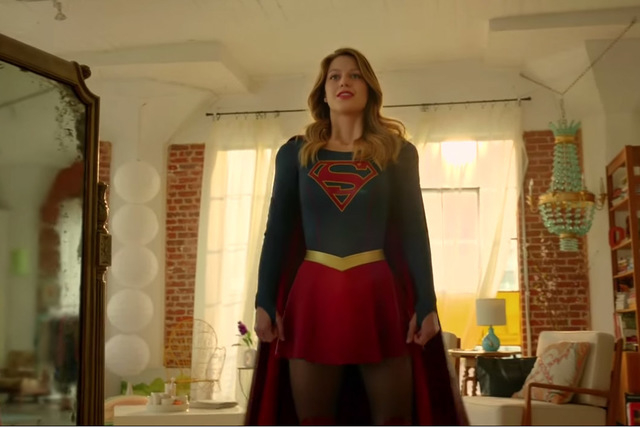 CBS, the last broadcast network without at least one drama based on a comic book, will rectify that this autumn with "Supergirl."
Here's a look at its five new fall series:
"Supergirl" (8 p.m. Mondays): The action-adventure drama is based on the DC Comics character Kara Zor-El (Melissa Benoist), Superman's (Kal-El) cousin who, after 12 years of keeping her powers a secret on Earth, decides to finally embrace her superhuman abilities and be the hero she was always meant to be. Protected and raised on Earth by her foster family, the Danvers, Kara grew up in the shadow of her foster sister, Alex (Chyler Leigh), and learned to conceal the phenomenal powers she shares with her famous cousin in order to keep her identity a secret. Years later at 24, Kara lives in National City assisting media mogul and fierce taskmaster Cat Grant (Calista Flockhart), who just hired the Daily Planet's former photographer, James Olsen (Mehcad Brooks), as her new art director. However, Kara's days of keeping her talents a secret are over when Hank Henshaw (David Harewood), head of a super-secret agency where her sister also works, enlists her to help them protect the citizens of National City from sinister threats.
"Limitless" (10 p.m. Tuesdays): Based on the feature film, it's a fast-paced drama about Brian Finch (Jake McDorman), who discovers the brain-boosting power of the mysterious drug NZT and is coerced by the FBI into using his extraordinary cognitive abilities to solve complex cases for them. Working closely with Brian in the major case squad in New York City are Special Agent Rebecca Harris (Jennifer Carpenter), Special Agent Boyle (Hill Harper) and Special Agent in Charge Nasreen "Naz" Pouran (Mary Elizabeth Mastrantonio). Unbeknownst to the FBI, Brian also has a clandestine relationship with Senator Edward Mora (Bradley Cooper, who will recur on the series), a presidential hopeful and regular user of NZT who has plans of his own for his new protege.
"Code Black" (10 p.m. Wednesdays): The medical drama takes place in the busiest, most notorious ER in the nation, where the staggering influx of patients can outweigh the limited resources available – creating a condition known as Code Black. Marcia Gay Harden, Bonnie Somerville and Luis Guzman co-star.
"Angel from Hell" (9:30 p.m. Thursdays): Jane Lynch stars as Amy, a colorful, brassy woman who insinuates herself into Allison's (Maggie Lawson) organized and seemingly perfect life, claiming to be her "guardian angel." Allison is an intense, driven doctor who is sure that Amy is just an inebriated, outspoken nut, until every one of her warnings proves true. As Allison tries to push Amy away, Amy makes her final pitch: her sole mission is to provide Allison with helpful guidance that nudges her in the right direction in life – and it's her final chance to prove herself as an angel.
"Life in Pieces" (8:30 p.m. Mondays): A family's lives unfold in four short stories each week in this comedy starring Thomas Sadoski, Colin Hanks, Betsy Brandt, Dan Bakkedahl, Dianne Wiest and James Brolin.