Universal bringing full-time 'horror party' to Las Vegas
Updated January 12, 2023 - 3:42 pm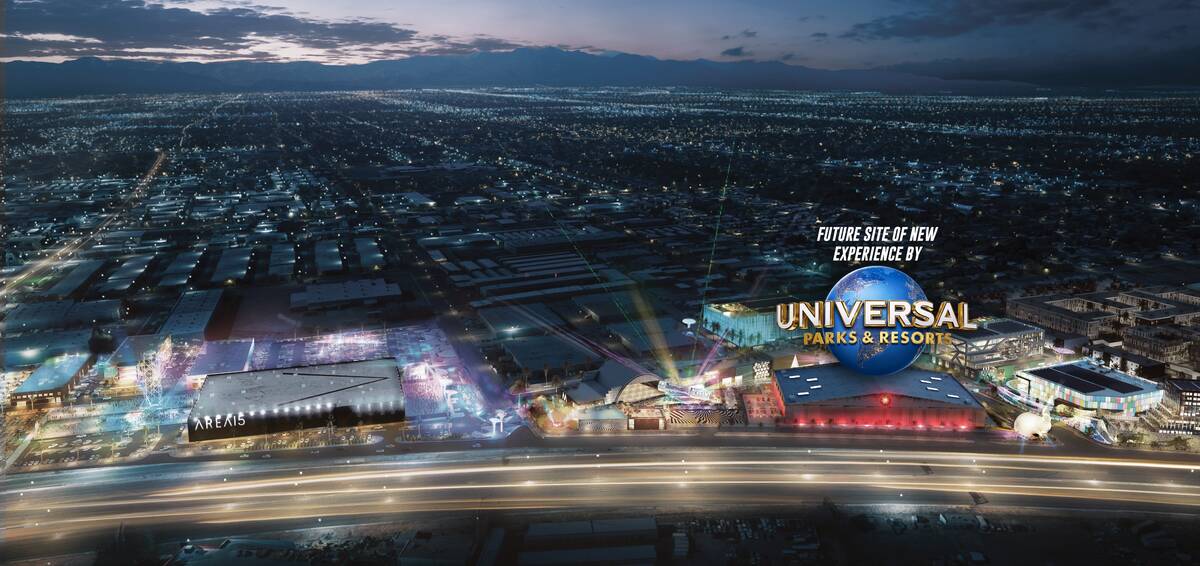 The company behind Universal Studios is set to bring a year-round horror attraction to Las Vegas, as part of a planned expansion of popular entertainment complex Area 15.
Universal Parks & Resorts announced plans Wednesday for an immersive, "horror-centric" venue that will "bring to life Universal's vast library of classic horror films and today's most terrifying tales."
It will span 110,000 square feet and anchor a 20-acre expansion of Area 15, according to a news release.
JUST ANNOUNCED: we're bringing an entirely new year-round horror experience to you, Las Vegas. 😈 pic.twitter.com/Qn8lGQLVmc

— Horror Nights (@HorrorNights) January 11, 2023
Area 15 CEO Winston Fisher said he hopes to break ground on the next phase of the complex in the next six months.
Details of the horror-themed venue were sparse Wednesday, but the announcement marks a big-name entry into Las Vegas' lucrative and ever-competitive tourism industry.
'A horror party'
Universal's news release alluded to "food and beverage spaces by day turned haunting bars and eateries by night" and said the venue will feature a "continuously updated experience," seasonal events and "one-of-a-kind merchandise."
It did not offer specifics but noted that as plans take shape, Universal "looks forward to sharing more details about the concept along with the opening date."
Page Thompson, president of new ventures at Universal Parks & Resorts, said the concept isn't just to give guests a fright, but to also give them a good time.
"This is a horror party," he told the Review-Journal. "It's a lot of fun. It's not just about gore."
Thompson said the company picked Las Vegas because it's "one of the pre-eminent tourist destinations in the entire world." He also noted Area 15 draws big crowds and is the "center of immersive art and entertainment" in Las Vegas.
According to Fisher, Area 15 draws more than 2.4 million visitors per year.
The new venue's template is Universal's Halloween Horror Nights, a feature at its theme parks that has a fan base of millions of people, Thompson said.
Fisher, a partner with Area 15 developer Fisher Brothers, a New York-based real estate firm, told the Review-Journal he has been through Halloween Horror Nights many times.
He said the attraction has great intellectual property, is artistic and "brings smiles" to people's faces.
The seasonal offering boasts haunted houses, live entertainment with "diabolical surprises," themed food and drinks, and "nightmarish creatures prowling the streets of Universal Studios, appearing where you least expect," according to Universal Studios Hollywood's website.
'Fan base'
Of course, with countless attractions in Las Vegas vying for tourists' attention and dollars, not all of them last.
In fall 2012, Eli Roth's Goretorium opened on the Strip, billing itself as Las Vegas' first year-round horror experience. The 15,000-square-foot, $10 million venue from horror film director Eli Roth offered a tour through the fictional Delmont hotel, whose "guests" were tortured, murdered and dismembered, the Las Vegas Sun reported at the time.
Ultimately, the Goretorium shut down a year after it opened.
Thompson, of Universal, said he wasn't too familiar with that project. But he said Universal has done a "considerable amount of research" on its venue to make sure the demand is there, and he pointed to Halloween Horror Nights' followers.
"We bring that fan base with us," he said.
Contact Eli Segall at esegall@reviewjournal.com or 702-383-0342. Follow @eli_segall on Twitter.