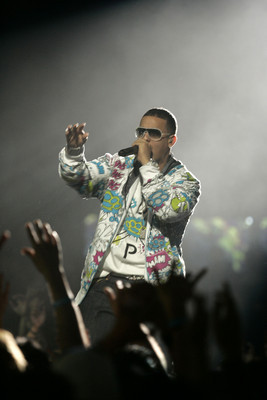 Everybody loves Raymond.
Especially Raymond.
The world knows him best as Daddy Yankee, the reggaeton linchpin whose tongue sounds as if it's hot-wired to a jet engine and whose self-esteem is coated in bullet-proof glass.
"Daddy Yankee no es un cantante, Daddy Yankee es un movement," boast the liner notes of his latest disc, "El Cartel: The Big Boss," which translates to, "Daddy Yankee is not a singer, Daddy Yankee is a movement."
And in many ways he is.
The 30-year-old Puerto Rico native, whose given name is Raymond Ayala, has his own shoe and sporting goods line through Reebok, owns his own record label, is one of the Latin American faces for Pepsi and hosts a syndicated radio show.
"Right now, I'm the reggaeton prime minister," he says, and it's hard to fashion much of an argument to the contrary.
Along with rival Don Omar, Yankee has become the public face for the burgeoning genre whose roots extend back to the early '90s, but which only found mainstream acceptance in the past three to four years.
A Spanish language amalgamation of reggae, hip-hop, European techno and various Latin American musical traditions (bomba, merengue, etc.) the music is defined by a rhythm, "Dem Bow," which takes its name from a track by Jamaican dance hall favorite Shabba Ranks, where the rhythm first appeared.
It's a sweaty, hot-blooded sound with jumpy, rapid-fire, machine gun beats, needle-in-the-red rhymes and a breathless pace. The music is physical and urban, fun and fierce, with bright keys often contrasting with dark themes, forming the soundtrack of Latin American inner city turbulence and triumph.
Yankee, who's appeared on more than 70 albums since he started performing at the age of 18, has notched reggaeton's signature cut thus far, the manic "Gasolina," a song as combustible as its name that's driven by a spare, yet propulsive beat and male-female call and response vocals that come on like a caffeine rush.
The song was a top 50 hit despite being sung in Spanish.
Unlike fellow Latin pop stars Ricky Martin, Enrique Iglesias and Marc Anthony, Yankee records almost exclusively in his native tongue and hasn't dropped an English-language album to try and cross over into the American mainstream, which he's done so regardless.
"My main market is the Latin market, that's my priority," Yankee says. "Honestly speaking, there's a lot of Latin artists making more money than people in the Anglo world, in terms of shows and record sales. When you're good in the Latin market and you're big, you don't need to make a crossover.
"Sometimes I feel weird, because I think, 'Oh my God, these people don't understand what I'm saying,' " he continues. "But at the same time, I realize that music is a universal language. It doesn't matter what language you use, if it's good music, people in the entire world are going to feel it."
But it's a precarious balancing act, taking a sound and culture rooted in the San Juan underground and spreading it far and wide, lending it to commercials and movies while maintaining the street-level grittiness that the music has long been posited upon.
"At the beginning it was tough, but the people from my side, they know I'm a pioneer and founder of the genre," Yankee says of avoiding the sell-out status that often dogs artists who elevate themselves from a grass-roots populism to commercial prominence. "They know what I'm about on the street level. At the same time, my people are like, 'Yankee, you're the head, keep taking us to the next level, keep opening the doors for everybody.' They gave me the green light to keep going, to keep moving forward."
And it's little wonder why: Yankee and his peers have vaulted Puerto Rico to the top of the charts, calling attention to a vibrant culture.
"We've put Puerto Rico on the map in the last four years," Yankee says. "All that we had in the past was salsa, right now, we've got another option, and that's reggaeton. Reggaeton is doing what salsa did in the '70s, where it was the voice of the people, the voice of a generation."
Yankee's voice remains the loudest, of course, which certainly isn't lost on the man himself.
He's grown accustomed to turning the page on modesty — literally.
"Right now, I'm in the history books in Puerto Rico," Yankee says. "The other day, I opened my children's history books, and I was there, my picture was there. I was very proud of that. Right now, we're making it happen."
JASON BRACELINMORE COLUMNS
who: Daddy Yankee
when: 7:30 p.m. Sunday
where: Orleans Arena, 4500 W. Tropicana Ave.
tickets: $39-$95 (284-7777)