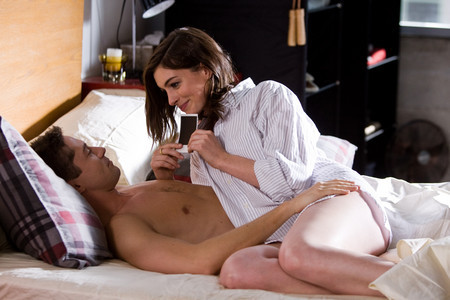 If life is like a box of chocolates, as Forrest Gump once observed, then "Valentine's Day" is like a bowl of conversation hearts.
Those pastel-colored, chalky-tasting candies — the ones with a cute phrase imprinted on every heart-shaped piece — provide a convenient method of assessing this comedy cavalcade of characters taking up, breaking up and making up on a sunny Southern California Valentine's Day.
"TOO SWEET," for starters. And let's not forget such slogans as "TIME OUT" and "AS IF."
Fortunately, "Valentine's Day" isn't quite so icky that it deserves "TAKE A WALK" or "NO WAY."
It's just another frothy, all-package-no-content romantic comedy that serves up a little something for everyone — a bunch of little somethings that add up to barely anything.
Hardly a surprise, considering Garry Marshall is calling the shots. He's an old-school director who knows how to stage sitcom-style shtick but isn't quite as comfortable mucking around in the messiness of actual life.
Lucky him — in "Valentine's Day" he doesn't have to.
Not with Katherine Fulgate's six-degrees-of-separation script connecting a Facebook full of friends, strangers, acquaintances — and occasional annoyances.
In keeping with Marshall's inclusive, group-hug approach, the characters hit every demographic group, from preteens to the Social Security set.
And in keeping with the movie's rose-colored-glasses perspective, they're mostly blissfully free of financial woes, allowing them to concentrate on their love lives — or lack thereof.
Romantic florist Reed (Ashton Kutcher) has just proposed to his girlfriend (Jessica Alba). And, for a change, his best friend Julia (Jennifer Garner) also has a sweetheart: a heart surgeon (calling Dr. McDreamy, Patrick Dempsey) who can't spend Valentine's Day with her because he's flying to San Francisco to save a patient's life. (To quote another of those conversation hearts: "YEAH RIGHT.")
Then there's Julia's pal Kara (Jessica Biel), a neurotic publicist who throws an annual I-hate-Valentine's-Day dinner for her fellow embittered singletons.
One of Kara's clients happens to be a pro football star (paging Dr. McSteamy, Eric Dane) whose acerbic agent (Queen Latifah) has an new assistant, Grace (a sparkling Anne Hathaway), a struggling actress moonlighting in very creative ways — ways she's managed to keep secret from Jason (Topher Grace), the adorkable Midwestern mailroom trainee who might have the potential to move up from Mr. Right Now to Mr. Right.
Plenty of characters to populate more than one movie — but wait, there's more!
Including the grandparents (Shirley MacLaine and Marshall good-luck charm Hector Elizondo, who's been in every one of the director's movies) caring for their love-struck young grandson (Bryce Robinson), whose baby sitter (Emma Roberts) is contemplating a lunchtime consummation of her undying passion for her boyfriend (Carter Jenkins). Or the ambitious TV sportscaster (Jamie Foxx) stuck with doing gooey on-the-street interviews about what Valentine's Day means to, among others, a dippy high school couple (teenthrob Taylors Swift and Lautner). Or, aboard an L.A.-bound flight, an Army captain (Emma's aunt Julia Roberts, Marshall's one-time "Pretty Woman"), heading home on leave, bantering with her inquisitive seatmate (Bradley Cooper).
It's a game of cinematic musical chairs, with the story line whirling 'round and 'round, pausing long enough for each character to have his or her spotlight moment. (And we use the term "character" loosely. In movies like this, there's hardly time for introductions, let alone in-depth explorations.)
That's where the all-star lineup comes in; with familiar faces in the cast, we already know enough about them to keep track of their, and the movie's, predictable moves.
A few of the players prove interesting enough to make you wish the movie focused on them exclusively. Hathaway and Grace, in particular, bring appealing quirks, and vulnerabilities, to their standard-issue roles. And that anti-Valentine's Day bash has its moments of infectious life-of-the-party spirit, especially when Foxx (who, you might recall, won an Oscar for playing Ray Charles) cuts loose.
Although if you believe that Jessica Biel can't get a date … well, you're willing to believe anything, apparently. Which makes you just the kind of accepting audience member Cupid's aiming at with "Valentine's Day."
To quote yet another handy conversation heart: "GET MY DRIFT"?
Contact movie critic Carol Cling at ccling@reviewjournal.com or 702-383-0272.
Review
125 minutes
PG-13; some sexual material, brief partial nudity
Grade: C
at multiple locations
Deja View
As in "Valentine's Day," these romantic tales intertwine a variety of characters:
"La Ronde" (1950) — Soldiers, chambermaids, poets and aristocrats climb aboard this enchanting multicharacter merry-go-round of love and infidelity, featuring (among others) Anton Walbrook and Simone Signoret.
"Lovers and Other Strangers" (1970) — A young couple's wedding triggers a variety of comic reactions from, among others, Gig Young, Bea Arthur, Richard Castellano and Cloris Leachman, in an Oscar-winning adaptation of Renee Taylor and Joseph Bologna's play.
"Choose Me" (1984) — A sex-talk radio show host (Genevieve Bujold), a bar owner (Lesley Ann Warren) and a mysterious drifter (Keith Carradine) are among the L.A. loners linked by love and lies in writer-director Alan Rudolph's romantic roundelay.
"Everyone Says I Love You" (1997) — And everyone sings it, too, including Alan Alda, Drew Barrymore, Goldie Hawn, Edward Norton, Julia Roberts and Tim Roth, who join writer-director Woody Allen in this musical charmer.
"Love Actually" (2003) — Britain's prime minister (Hugh Grant), an aging rock star (Bill Nighy), a grieving widower (Liam Neeson) and a betrayed wife (Emma Thompson) are just a few of the all-stars in this love-in from "Four Weddings and a Funeral" writer Richard Curtis.
— By CAROL CLING