November 14, 2008 - 10:00 pm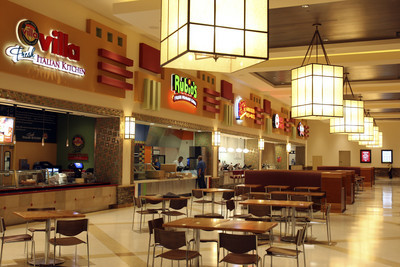 Dining options at the new Aliante Station are as multifaceted as the casino-resort's neighbors: They include a first venture for a veteran Las Vegas food-and-beverage executive and a first venture in the valley for a family that owns a small Southern California chain, plus the requisite steakhouse, buffet, a TGI Friday's, an outlet of The Original Pancake House and a food court with varied choices.
Pips Cucina & Wine Bar is from Rino Armeni, who was vice president of food and beverage at Caesars Palace from 1989 to 1995 and marketing director for Southern Wine & Spirits until this January, when he resigned to open a twofold business of restaurant operations and consulting.
Armeni, 58, said the desire to open his own place was born of his passion for the industry.
"Secondly, because I want to make it right," he said. "I want to open a restaurant that is everything that people's expectations are."
Finding a location was more of a challenge.
"I knocked on a lot of doors, including my great friends on the Strip, but nobody believed in me," Armeni said. "They wanted to have a celebrity chef. The Fertittas believed in me and gave me this great opportunity."
The restaurant serves what Armeni calls "youthful Italian cuisine," based on recipes developed over centuries. It was formulated by Armeni, a native of Italy, and Pips executive chef Gerald Chin, formerly sous chef at Joel Robuchon at the MGM Grand and executive chef at The Mansion at MGM Grand. Examples include a fondue of 24-month-aged Parmesan cheese and Italian sliders, which are sort of converted meatballs.
"You will never find on a plate plain tomatoes," Armeni said. "They're marinated tomatoes. There are all these little touches that when the food enters your mouth, you find something there. There is a message of passion and consistency."
Pips, which is decorated in sophisticated tones of steel gray and violet, serves dinner nightly.
Camacho's Cantina comes from the Camacho family, which has five restaurants plus outlets in the Staples Center, Dodger Stadium, Home Depot Center and Pepsi Center, all in Southern California. Camacho's serves more than 100 tequilas (and is centered by a chandelier created of 2,700 empty tequila bottles) and a menu of such classic and updated Latino dishes as shrimp enchiladas, salmon fillet topped with pineapple-mango salsa, sopes and vegetarian fajitas.
Camacho's, which has dozens of twinkling candles across its open design that also features a few video screens, serves dinner nightly and lunch on weekends. Its special events include Taco Tuesdays — $1 tacos from 7 to 10 p.m. — and Fiesta Happy Hour from 4 to 7 p.m. Mondays through Thursdays, with drink specials and $2 off appetizers.
MRKT Sea & Land is, as you might expect, the resort's steak-and-seafood restaurant. Decorated in wood and natural tones with chairs and banquettes in bottle-green leather, it has an extensive wine selection and serves classics from both genres, as well as dishes such as MRKT Brick House Chicken, clams linguine and scallops and bow-tie pasta.
MRKT serves dinner nightly.
In addition, the resort offers The Original Pancake House (home of the justly famous Apple Pancake), which is open for breakfast, lunch and dinner daily; the Feast Buffet, which also serves all three meals daily; and TGI Friday's, which serves lunch, dinner and a late-night menu daily.
The food court is home to Johnny Rocket's, complete with six seats at the counter, soda-shop style, and countertop jukeboxes, plus Dunkin' Donuts, Capriotti's Sandwich Shop, Villa Fresh Italian Kitchen, Panda Express and Rubio's Mexican Grill.
Contact reporter Heidi Knapp Rinella at hrinella@ reviewjournal.com or 702-383-0474.
ALIANTE STATION • Grand opening video and slideshow • Access Showroom doubles as concert venue, cozy lounge • State of the art cinema • Singer Smokey Robinson christening new showroom at Aliante Station