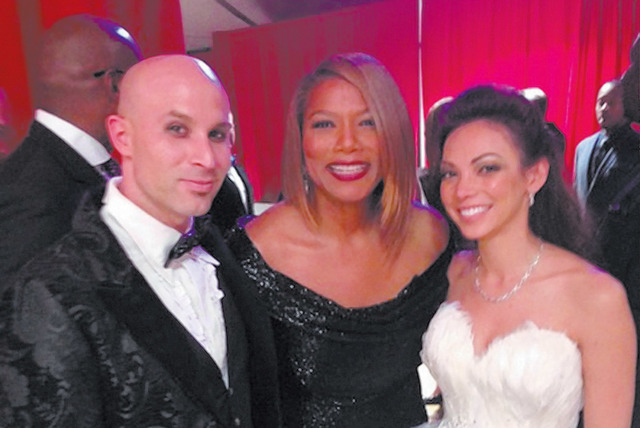 Tammy Shaw had a one-word response when her fiancé asked her whether she would like to get married during the Grammys live broadcast.
"Impossible!" said Shaw, publisher of Las Vegas Woman magazine.
But she quickly changed her tune when she realized local illusionist Seth Grabel wasn't kidding.
"It took me about two minutes to say, 'OK let's do it.' "
That was about a month ago, after Grabel was contacted through his connections with the reality show "Millionaire Matchmaker."
Shaw and Grabel, who reconnected last year a decade after meeting, were among about 30 couples, straight and gay, who were married near the end of the Grammys at the Staples Centers in Los Angeles.
While Queen Latifah served as officiant, McLemore & Ryan Lewis and Mary Lambert sang their hit "Same Love," and white-clad Madonna added "Open Your Heart."
Shaw said she will never forget the many famous faces "in our receiving line." As they walked down the aisle, "there was Paul McCartney. Beyonce and Jay Z personally congratulated us, and Katy Perry was crying and gave us high fives."
Afterward in a private area, Queen Latifah "came in and signed each of our marriage licenses," Shaw added.
It was surreal, said Grabel, who headlined at the Clarion most of 2013 and did a showcase at Sunset Station about 10 days ago in hopes of finding work in Las Vegas.
"Sunset Station one day, the Grammys the next," he said.
The newlyweds are planning to a wedding celebration for 1,000 at J.W. Marriott later this year.
They are nearly done with a sizzle reel for a reality show unrelated to the Grammys, Shaw said.
Their big day wasn't without drama.
When word of the wedding hit the Twitterverse, her ex-boyfriend, Michael Politz, publisher of a Las Vegas food and beverage publication, pleaded for her not to go through with it.
"This is not going to end well," he tweeted.
He directed a tweet to Shaw, saying "don't go through with this. I do love you. This is nonsense."
Politz told TMZ.com that he made frantic calls to friends, including rocker Vince Neil of Motley Crue, hoping they get through to Shaw.
"I'm heartbroken," Politz told TMZ. "I don't know if I'll ever trust again."
Shaw's response: "He called my friends saying he was going to fly out and stop the wedding. You know how Michael loves publicity.
"I have nothing but good wishes for him."
REMEMBERING THEIR ROOTS
The Imagine Dragons remembered their Las Vegas roots Sunday at the Grammys.
During a pre-show red carpet interview with Ryan Seacrest, frontman Dan Reynolds gave a shoutout to O'Shea's, previously known for its cheap beer and college crowd.
Reynolds said O'Shea's, recently renovated during The Linq project, helped the band refine their craft.
"We were playing at 2 a.m. at O'Shea's to a bunch of drunk people,'' Reynolds said.
"I think every band needs that 10,000 hours on a smaller stage to make those mistakes," Reynolds said.
The Dragons, made up of Reynolds, guitarist Wayne Sermon, bassist Ben McKeen and drummer Daniel Platzman, took home the Grammy for Best Rock Performance.
They were competing with heavyweights David Bowie, Led Zeppelin and Jack White.
Reynolds told Seacrest, "If we did win I think it would be a travesty, honestly."
They've truly gone radioactive in the past year. Rolling Stone named them 2013's modern-rock breakout story.
Their performance with rapper Kendrick Lamar on Sunday won critical acclaim. The Dragons meshed their hit "Radioactive" with Lamar's "MAAD City," a collaboration.
The performance was "one of the best showings of the night (maybe ever?!)," gushed E! Online. "Thank you, Kendrick and Imagine Dragons. This is what the Grammys is all about!"
The HollywoodLife.com site added, "It was one of those moments that came out of nowhere, and it'll transcend the night and be remembered for years to come."
THE PUNCH LINE
"Actually, these charges (against Justin Bieber) are pretty serious. Bieber could be deported back to Canada. So at least the story will have a happy ending." — Jay Leno
Norm Clarke's column appears Sunday, Wednesday and Friday. He can be reached at 702-383-0244 or email him at norm@reviewjournal.com. Find more online at www.normclarke.com. Follow Norm on Twitter @Norm_Clarke. "Norm Clarke's Vegas," airs Thursdays on the "Morning Blend" on KTNV-TV, Channel 13.