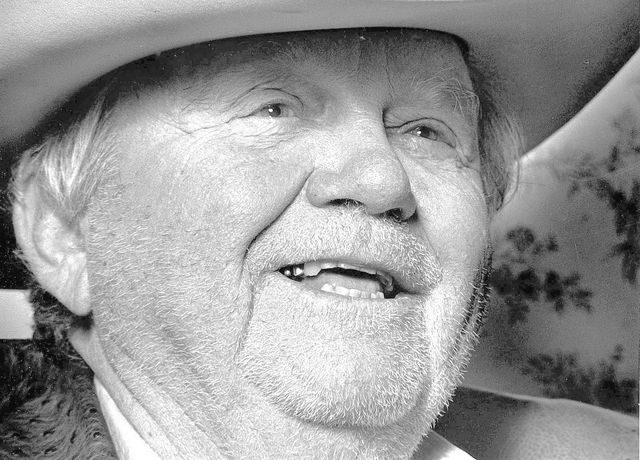 Las Vegas gaming legend Benny Binion became an FBI informant after leaving prison and regaining ownership of the Horseshoe casino, a new book asserts.
Author Doug J. Swanson, a veteran Dallas investigative reporter who uncovered the revelations in FBI memos, told the Review-Journal, "I'm not sure he gave the bureau much in the way of good information, but it's a pretty stunning turnaround."
Swanson detailed his findings in "Blood Aces: The Wild Ride of Benny Binion, the Texas Gangster Who Created Vegas Poker."
In an email, Swanson wrote: "There's no one who can match Benny's story arc: from Texas street thug to crime boss to respected businessman to beloved pillar of the community. There's nothing like it in the history of American criminal justice."
Binion, who died Dec. 25, 1989 at the age of 85, was on J. Edgar Hoover's radar in the late 1950s.
According to Swanson's research, Binion was passing along information to the FBI several years before the bureau eased off. On March 2, 1960, the FBI officially changed his status. "This case is being closed as to the Anti-Racketeering, Top Hoodlum investigation, and Binion is being converted to a Criminal Informant," wrote Special Agent Leo Kuykendall of the Las Vegas office.
Kuykendall reported to Hoover that Binion had behaved himself since being released from the U.S. Penitentiary at Leavenworth, Kan., in 1957, after serving 3½ years for tax evasion.
"Investigation up to the present time does not indicate that he has resumed his former type of racketeering tactics," wrote Kuykendall. "He has become well respected and liked by many prominent people in Nevada." Not only that, but Binion had "made numerous disparaging remarks regarding convicts who were in … Leavenworth during the time he was there."
Kuykendall would have been especially pleased that Binion had called to say he had spotted Harold "Happy" Meltzer, a top lieutenant in Meyer Lansky's international narcotics cartel, in town.
Hoover liked the idea that "Binion might help the bureau map the network of mobsters moving money in and out of Las Vegas," Swanson wrote.
Oscar Goodman, the mob's attorney and later a three-term mayor of Las Vegas, isn't buying it. "That's an absolute lie," he told Swanson. "Benny hated the FBI."
Swanson, who works at the Dallas Morning News as projects editor, has been invited to the Las Vegas book fair in late October and will be giving a speech at the Mob Museum.
A ROBIN WILLIAMS MOMENT
The first time I ran into Robin Williams, he saw my eyepatch and the tuxedo and, voila, he couldn't resist an instant riff.
This was October 1999. I was new in town, attending my first Andre Agassi Grand Slam for Children, a black-tie gala at the MGM Grand Garden.
Williams was being escorted into a media room for a pre-event press conference featuring the evening's talent lineup.
I was standing outside the media door when Williams walked up and launched into his signature manic mode. Speaking a rapid-fire faux French jibberish, he lifted my arm across my chest and pretended to be draping a white towel over it, like a grouchy wait staff captain training a busboy.
The only words I remember from the 10-second encounter were, "Table for four, garcon," to the snap of his fingers. Then he was gone, leaving laughter in his wake.
I stood there stunned, hoping someone would come over and say they photographed the moment. I was a huge fan.
In Monday's column: My question during a media event that triggered a verbal smackdown by Williams.
Send your favorite Williams story to norm@reviewjournalcom.
SIGHTINGS
John Schneider, who starred in the 1980s hit TV series "Dukes of Hazzard," hanging out and dancing at Mandalay Bay's Mizuya Lounge on Thursday and Friday. … Sports Illustrated 2014 Swimsuit Issue cover model Nina Agdal, with friends at Encore Beach Club on Friday. The Danish beauty was hosting and judging a Luli Fama swimwear model search. … Members of the Canadian rock band, The Guess Who, at Fizz (Caesars Palace) on Friday. Actress Kristen Wiig of "Saturday Night Live" fame, dining at Chayo Mexican Kitchen + Tequila Bar at The Linq on Friday. … Joe Jonas, celebrating his 25th birthday with brothers Kevin and Nick at Crush (MGM Grand) on Friday.
THE PUNCH LINE
"People are still fighting about immigration. Congress is suing the president. I'm not saying things are bad, but the Middle East just sent diplomats to negotiate peace in OUR country."— Jimmy Fallon
Norm Clarke's column appears Sunday, Monday, Wednesday and Friday. He can be reached at 702-383-0244 or email him at norm@reviewjournal.com. Find more online at www.normclarke.com. Follow Norm on Twitter @Norm_Clarke.