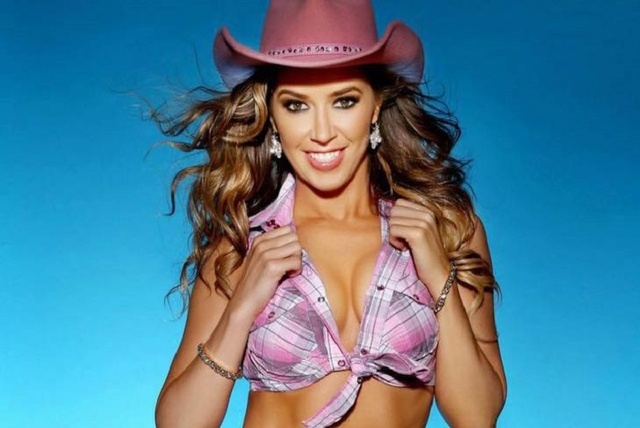 A Las Vegas topless dancer who agreed to be a prom date for an Oregon teen — only to have it turn out to be a stunt — says "it was kind of silly, but flattering."
Mariah Rivera, a member of the topless revue "Fantasy" at Luxor, said she plans to follow up, "maybe get a limo, boutonnieres or a restaurant gift certificate" for 17-year-old Austin Moore and his friends.
Moore, a junior at Regis High School in Stayton, Ore., invited Rivera via Instagram in late February. He was aware that Rivera, 31, was a dancer through a schoolmate who is her cousin.
"I totally would," Rivera responded via Twitter on Feb. 28.
Reports out of Oregon say he has a girlfriend whom he planned to take to the prom in May.
The prom date with Rivera wasn't going to happen. The principal at Regis said school policy would have prohibited Rivera from attending because she is over the prom age limit of 19.
Rivera's aunt in Stayton called and said the principal "was upset over the story."
Rivera, who is married, has been a member of "Fantasy" for six-plus years and is a cheerleader for the fledgling Las Vegas Outlaws of the Arena Football League.
The former Mariah Nieslanic was a prom queen, valedictorian and high school athletic standout at Grand Junction, Colo.
"I think it's hysterical that somebody would want to take me to a prom," said Rivera, who has been dancing in Las Vegas for 12 years.
THE SCENE AND HEARD
Turns out there was another highly competitive race "after" NASCAR's main event, the Kobalt 400, was over on Sunday. Drivers rushed to helicopters in a race to get out of Dodge. "A lot of racers have internal competition on who gets back to Charlotte first," said Bryan Kroten, vice president of marketing for Maverick Helicopters. You would be correct if you figured out "internal competition" is code for friendly wagering. Maverick had more than 120 flights, "significantly down" from the previous five years, Kroten said, because of new Homeland Security restrictions. Race winner Kevin Harvick was among those shuttled, along with 77-year-old NASCAR legend Richard Petty. …
Sex therapist Dr. Ruth Westheimer will speak at Thursday's Planned Parenthood gala honoring Clark County Cmmissioner Chris Giunchigliani. The fundraiser will be held at MEET Event Center, 233 S. Fourth St. Westheimer, who turns 87 in June, became a culture icon in the 1980s for her blunt conversations about sex. "It's called chutzpah," she was fond of saying.
SIGHTINGS
At the Kobalt 400 on Sunday: Golfer Davis Love III, recently named captain of the U.S. Ryder Cup team. He sat with Jimmie Johnson during the drivers' meeting. Others: Rocker Vince Neil and Carrot Top (a Jeff Gordon fan) were hanging out in Gordon's pit before the race; UFC fighter Meisha Tate and Nashville music powerhouse Scott Borchetta, chairman of Big Machine Records. Hard Rock Hotel headliners Rascal Flatts sang the national anthem and gave the command to start engines. Their opening act, Craig Wayne Boyd, winner of Season 7 of "The Voice," performed in the pre-race show. … Oscar winner Denzel Washington and comedian Dave Chappelle, in the crowd at the boxing matches at MGM Grand Garden on Saturday. … Chappelle and fellow comedian Bill Bellamy showed up in tuxedos at Marquee nightclub in The Cosmopolitan. … Paris and Nicky Hilton, celebrating at a bachelorette party at a VIP table at Britney Spears' show Saturday at Planet Hollywood. The party later moved to "Thunder From Down Under" at Excalibur. Paris and bride-to-be cousin Brooke Brinson took part in a fake orgasm contest emceed by Hilton pal Jeff Beacher. Paris won (insert joke here). … Burlesque star Dita Von Teese, at Spears' show on Friday and later at Beacher's Madhouse in MGM Grand. … New York Jets wide receiver Eric Decker, with friends at Body English nightclub at the Hard Rock Hotel on Saturday. Former Dallas Cowboys star Emmitt Smith was seen getting a tour. … On hand for the ribbon- cutting of Elizabeth Blau and Kim Canteenwalla's Andiron Steak &Sea in Downtown Summerlin on Saturday: HGTV's Antonio Ballatore, Rick Harrison of "Pawn Stars," "Flipping Vegas" stars Amie and Scott Yancey, nightclub executive Victor Drai, BMX pro Ricardo Laguna, U.S. Rep. Joe Heck, R-Nev., and Clark County Commissioners Larry Brown, Susan Brager and Steve Sisolak. Andiron opens to the public on Tuesday. … Daniel Jones of Australian pop duo Savage Garden, backstage after taking in Olivia Newton-John's show at the Flamingo on Saturday. … Andre Agassi's former coach, Darren Cahill, dining at Crush (MGM Grand) on Sunday with Romanian beauty Sorana Cirstea, one of his pupils. A WTA tour pro, she was hitting balls with Steffi Graf over the weekend at Red Rock Country Club. … Former "Dancing With the Stars" pro and choreographer Lacey Schwimmer joined Frankie Moreno on stage Saturday at Red Rocks Lounge at Red Rock Resort.
THE PUNCH LINE
"A developer has created a zero-gravity martini glass, which promises to let astronauts drink cocktails in space without spilling. Our astronauts are drinking? Guys, the first step is admitting to Houston that you have a problem." — Seth Meyers
Norm Clarke's column appears Sunday, Monday, Wednesday and Friday. Reach him at 702-383-0244 or norm@reviewjournal.com. Find more at normclarke.com. Follow @Norm_Clarke on Twitter.