Virtual reality arena opens today at MGM Grand
September 6, 2017 - 5:33 pm
Updated September 8, 2017 - 2:53 pm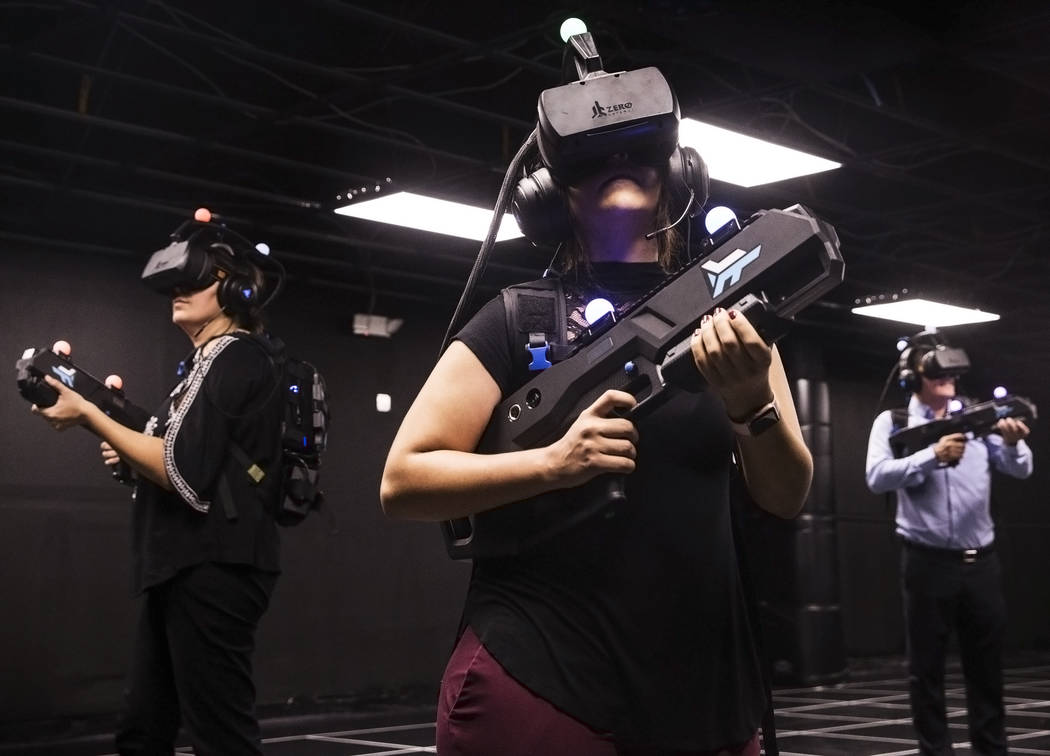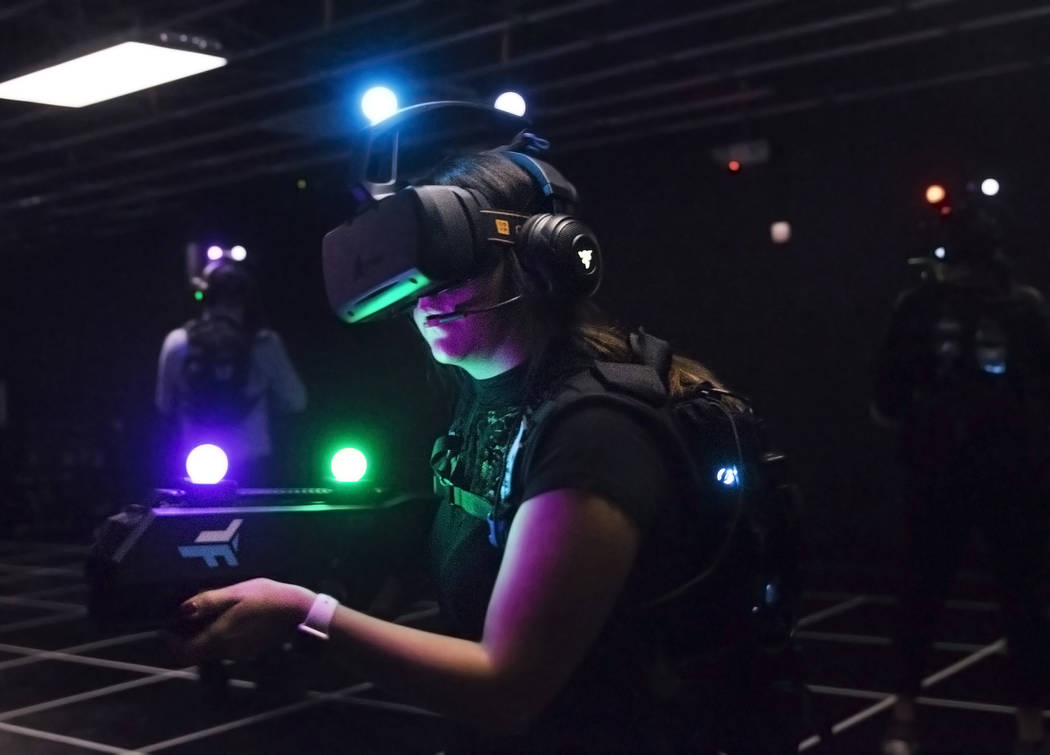 Question for gamers: Are you game for this?
Decide before you're rushed by that homely gentleman with the rotting flesh and cranky attitude. The one just blown to hamburger bits. But he (it?) will be back. As will dozens more.
"They're jumping from the rooftops! … To your left! To your left! … Extra points if you shoot 'em in the head! … Ooh, that was close!" Mix in yelps, gasps, giggles, explosions and direct hits turning your targets into zombie shish kabob. Plus three words key to a slayer's survival while armed with a zombie-zapping weapon: "RELOAD. RELOAD. RELOAD."
Blasting undead intruders is strangely cathartic. Now that catharsis has a new outpost at the MGM Grand's Level Up lounge beginning Friday, as the resort unveils its new — and Vegas' first — "free roam" virtual reality arena, featuring "Zombie Survival" and two other scenarios.
"There's something about being completely abstracted from your physical body when you're in this crazy fantasy together," says Tim Ruse, CEO of Australia-based Zero Latency, which supplies this trippy amalgam of brain trickery, perceptual deceptions and "Twilight Zone"-like freakiness. Pay him props for one particular virtual virtue:
"When you play at home in your PlayStation, you're in small space, you only move a couple of steps in any direction, but we let you take hundreds of steps," Ruse says of the "free-roam" appeal. "You can experience a much larger digital environment and it increases the level of immersion. It's powerful to explore a digital space the way you would in real life."
Credit that liberating mobility around the 2,000-square-foot room — an obstacle-free space, void except for the grid-patterned floor and motion-tracking cameras — to wireless equipment, including a wearable backpack computer, headphones and goggles. "You're normally tethered and wired to something," says Matt Pinal, MGM Grand's vice president of retail operations, who points out that the attraction, which accommodates up to eight players at once, transforms the VR experience from one of isolation to one of socialization.
"Once you get in with a group of people and talk with them throughout the game, it becomes a team game to fight off zombies. You're kind of forced to socialize," he says. Throughout the zombie onslaught, as your compatriots appear as colorful avatars around you, gun-toting players coordinate through a radio-com system and collaborate to take out the advancing/zooming/swooping hordes of undead aggressors while racking up points. Though it's a single surface, the game simulates second-level scaffolding, where you can pick off ghoulish attackers from above.
Not keen on the company of the undead? Choose "Singularity," a mystery whisking you through a military research station while battling rogue robots and killer drones in zero gravity. Or, for a more passive but visually vivid experience, select "Engineerium." Designed as a romp in the clouds through stunning scenery that could double as a "Lucy in the Sky with Diamonds" video, it's rife with flying blue whales, giant parrots, translucent green spheres and sky and sea vistas you hover over — seemingly perilously as you trod twisty platforms suspended in midair.
Sessions lasting 30 minutes (you can mix and match games) are preceded by a brief safety video before you're suited up, and security protocols include proximity sensors that warn you away from hazards or the wall — or each other. Though side effects of extensive VR play have been documented, including eye strain, nausea and motion sickness, Ruse says it's a non-issue in this design.
"You're only in the system for under an hour, so eye strain is not a concern, and the rate of nausea is essentially zero," says Ruse, whose company installed similar systems (at a cost of $800,000 to $1 million each) in Australia, Japan, Spain, Florida, Pennsylvania and Wisconsin. "The most full sense of immersion is by having this large open space. It can twist the user around and put you on different paths so you can become lost in the simulation."
Sometimes in life, it's all about keepin' it unreal.
Contact Steve Bornfeld at sbornfeld@reviewjournal.com or 702-383-0353. Follow @sborn1 on Twitter.