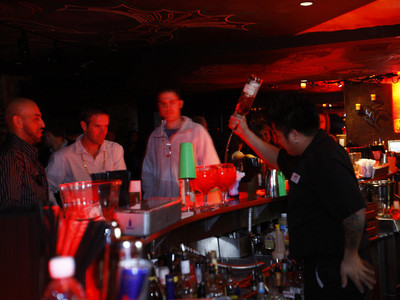 When VooDoo Lounge opened atop the Rio about 12 years ago, it was the first area nightclub to offer Las Vegans the killer combination of a great off-Strip view and sophisticated clubbing.
Las Vegas' nightclub landscape has changed dramatically since then. But, even today, says Alex Mendonsa, the Rio's director of nightlife, "no one can match our view."
"There are a couple of clubs that try," he concedes. "But when it comes down to it, there's just no way they can."
Of course, VooDoo Lounge, located on the Rio's 51st floor, has made a name for more than its view. There is, for example, the distinctive dark-lighted New Orleans-flavored decor that features paintings, metalwork and other art created by local artists.
VooDoo Lounge also is noted for its bartenders who turn mixing drinks into performance art. Guests, Mendonsa says, get "not only an amazing cocktail but an amazing show with every drink."
With bottle service VooDoo-style, guests receive a main spirit plus three small bottles of cordials and freshly made ingredients.
"It's an opportunity for guests to not just get a bottle plopped down on a table," Mendonsa explains. "It gives them the opportunity to kind of become a mixologist and experiment a little bit."
Prices range from $400 to $600 depending on the spirit, Mendonsa says, although VooDoo Lounge also offers a $150 bottle service menu featuring such spirits as Stoli, Jack Daniels and Tanqueray.
Musically, special guest DJs — Grandmaster Flash did a recent set– regularly augment VooDoo Lounge's roster of DJs, and programming includes such offerings as an old-school hip-hop/funk night.
Today, as always, VooDoo Lounge is "kind of ever-evolving," Mendonsa notes. "Definitely our main focus is to totally wow our guests, whether it's local guests or visitors from another state.
"Our main focus is awesome customer service always. And we just luck out to get to provide the best service in Las Vegas with the best view of Las Vegas."
VooDoo Lounge is open daily at 7 p.m. Cover is $20, with local ladies free all the time and local men free on Thursdays.
For information, call 777-6875.
Contact reporter John Przybys at jprzybys@reviewjournal.com or 702-383-0280.
Las Vegas Club Scene