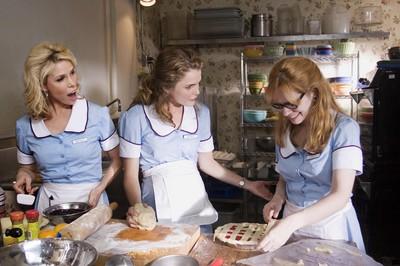 It's a bittersweet slice of life — a little flaky, yet so tasty you'll want a second helping of actress and director Adrienne Shelly's offbeat but flavorful sensibility after catching her breakthrough movie, "Waitress."
Alas, we'll never have that recipe again — because Shelly was murdered in November at age 40. According to police, a construction worker confessed to the crime, saying he killed Shelly following an argument about the noise coming from the apartment below her New York office.
Shelly didn't know "Waitress" had made the cut at January's Sundance Film Festival, so she had no idea her little movie would become a fan favorite there.
Her tragic demise gives "Waitress" a poignancy it might otherwise lack, but the movie itself earns its happy ending all by itself — primarily through its beguiling title character, Jenna (Keri Russell).
Despite the movie's title, Jenna is far more than a waitress at Joe's Pie Diner, a beloved institution in a small town somewhere down South.
Indeed, Jenna's a veritable pie genius, a magician with a rolling pin, who's been creating otherworldly pies since childhood. (She invented Mermaid Marshmallow Pie at age 9 — or, as she explains, "in my mermaid phase.")
These days, Jenna's dreaming up pies with such names as I Hate My Husband Pie and I Don't Want Earl's Baby Pie — because she has just discovered she's pregnant. ("When I get drunk I do stupid things, like sleep with my husband," she acknowledges.) Besides, Jenna's already got one child at home: her possessive, loutish husband Earl (the versatile Jeremy Sisto).
If only Jenna could find another kind of man. It proves ridiculously easy once she goes to see the doctor: a dreamy newcomer, Jim Pomatter ("Serenity's" Nathan Fillion) with an understanding heart — and a gourmet appreciation for pie. Sure, both Jim and Jenna are married, but that doesn't stop them from falling into each other's arms at the earliest opportunity. (Thereby providing the inspiration for another of Jenna's creations: Earl's Gonna Murder Me Because I'm Having an Affair Pie.)
Jenna's not the only one down at the diner with a complicated life, however. Waitress pal Becky ("Curb Your Enthusiasm's" brassy, sassy Cheryl Hines), married to an aging invalid, seems to be carrying on a secret romance with a mystery suitor, while the third member of the diner's waitress trio, timid but good-hearted Dawn (played, with spacey grace, by Shelly herself) has gone and fallen for a poetry-spouting accountant (Eddie Jemison) she once described as a "stalking elf."
And then there's the diner's cantankerous owner, crusty old Joe (Andy Griffith, whose step might be slower these days, but not his crack comic timing). He loves to regale Jenna — the only one who pays him any mind — with tales of long-past passions, sordid lives (courtesy of the local newspaper's steamy advice column) and faded dreams.
They're a quirky bunch, to be sure, but an endearing one. (OK, except for Earl, but in Sisto's able hands, Earl's as much pathetic loser as petty tyrant.)
In her third feature effort, Shelly creates an off-kilter world full of random sweetness and unexpected generosity, displaying a fondness for wry, rueful humor that undercuts — and redeems — some of her more cartoonish visual instincts.
Every so often, she almost trips while trying to tiptoe along the razor's edge separating the sweet from the saccharine, the dramatic from the melodramatic. Yet every time "Waitress" threatens to lose its balance, the movie maintains its footing, thanks in part to Shelly's nimble ability to find the humor in the movie's heartfelt observations — and the shadows lurking beneath its sunny disposition.
That delicate balance applies to the movie's cast as well. Even the most comical characters (Jemison, Hines and Shelly herself) have their moments of sadness and doubt, while Fillion tempers his dashing hero-to-the-rescue appeal with an amusing awkwardness.
And the winsome Russell ably captures the contrary desperation (and inherent sparkle) of a woman who hasn't quite figured out — yet — that she's not as lost, or as weak, or as lovelorn, as she seems.
Not when she can whip up the kind of pie capable of solving the problems of the world. Or, at the very least, her world.
It's a crying shame audiences never will have the chance to sample another Adrienne Shelly concoction in the future. But, as "Waitress" proves, one taste of something this scrumptious is better than none.
CAROL CLINGMORE COLUMNS
REVIEW movie: "Waitress" running time: 104 minutes rating:PG-13; sexual situations, profanity, brief violence, mature themes verdict: B+ now playing: Colonnade, Village Square DEJA VIEW You are what you watch in these foodie-movie favorites: "Tampopo" (1985) — In director Juzo Itami's uproarious "noodle Western," a lone-rider trucker (Tsutomu Yamazaki) helps a widowed noodle chef (Nobuko Miyamoto), open the ultimate noodle parlor. "Babette's Feast" (1987) — This Oscar-winner focuses on a French refugee (Stéphane Audran) who prepares the repast of a lifetime to honor the Danish pastor's daughters who took her in. "Like Water for Chocolate" (1992) — A young woman (Lumi Cavazos) forbidden to marry her sweetheart pours her emotions into her cooking, with unexpected consequences. "Eat Drink Man Woman" (1994) — Ang Lee's tale of a master Chinese chef (Sihung Lung) trying to cope with his three grown daughters and maintain the family tradition of a weekly Sunday dinner. "Big Night" (1996) — Two brothers (Tony Shalhoub, Stanley Tucci), recent immigrants to 1950s New Jersey, try to save their struggling restaurant with a one-night-only feast for musician Louis Prima. — BY CAROL CLING