Watch the trailers for this week's new movies
August 28, 2015 - 7:13 am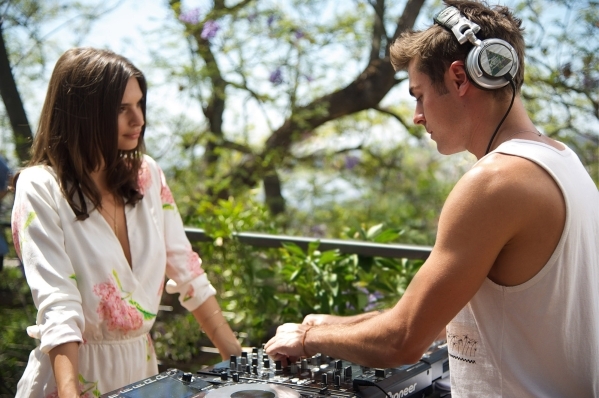 Zac Efron heads to Las Vegas for "We Are Your Friends" while Rio headliner Eddie Griffin heads to a mental hospital for "Going to America."
Here's a look at those and this week's other new movies, "No Escape," "War Room," "The Diary of a Teenage Girl," "The Stanford Prison Experiment" and "Unsullied":
WE ARE YOUR FRIENDS: An up-and-coming DJ (Zac Efron) falls for the girlfriend (Emily Ratajkowski) of his mentor (Wes Bentley) in this drama set in the world of electronic music. At multiple locations. (96 min.) R; language throughout, drug use, sexual content and some nudity.
NO ESCAPE: An American businessman (Owen Wilson) and his family get caught up in a violent political uprising in Southeast Asia in this thriller co-starring Lake Bell and Pierce Brosnan. At multiple locations. (101 min.) R; strong violence throughout, and for language.
WAR ROOM: A couple rejuvenates their failing marriage through the power of prayer in this faith-based drama from the makers of "Fireproof and "Courageous." At multiple locations. (120 min.) PG; thematic elements throughout.
THE DIARY OF A TEENAGE GIRL: In 1970s San Francisco, a 15-year-old (Bel Powley) has a love affair with her mother's (Kristen Wiig) boyfriend (Alexander Skarsgard). At multiple locations. (102 min.) R; strong sexual content including dialogue, graphic nudity, drug use, language and drinking — all involving teens.
THE STANFORD PRISON EXPERIMENT: In this fact-based drama, set in 1971, a psychologist (Billy Crudup) recruits two dozen college students (played by, among others, Ezra Miller and Tye Sheridan) to impersonate prisoners and guards, then observes the mind games that unfold. At Tropicana Cinemas. (122 min.) R; language including abusive behavior and some sexual references.
UNSULLIED: After her car breaks down on a deserted road, track star Reagan Farrow (Murray Gray) must fight for her life when she breaks free from the sociopaths who've kidnapped her. At Orleans and Sam's Town. (93 min.) R; violence including a rape, language, and brief drug use.
GOING TO AMERICA: Two escaped mental patients (Rio headliner Eddie Griffin, Josh Meyers) become YouTube stars when they try to help a prostitute (Najarra Townsend) commit suicide. At Town Square. (90 min.) Not rated.
Check out the videos below.