'We went crazy with this one': Inside the 'It'-themed escape room
Updated June 1, 2023 - 11:58 am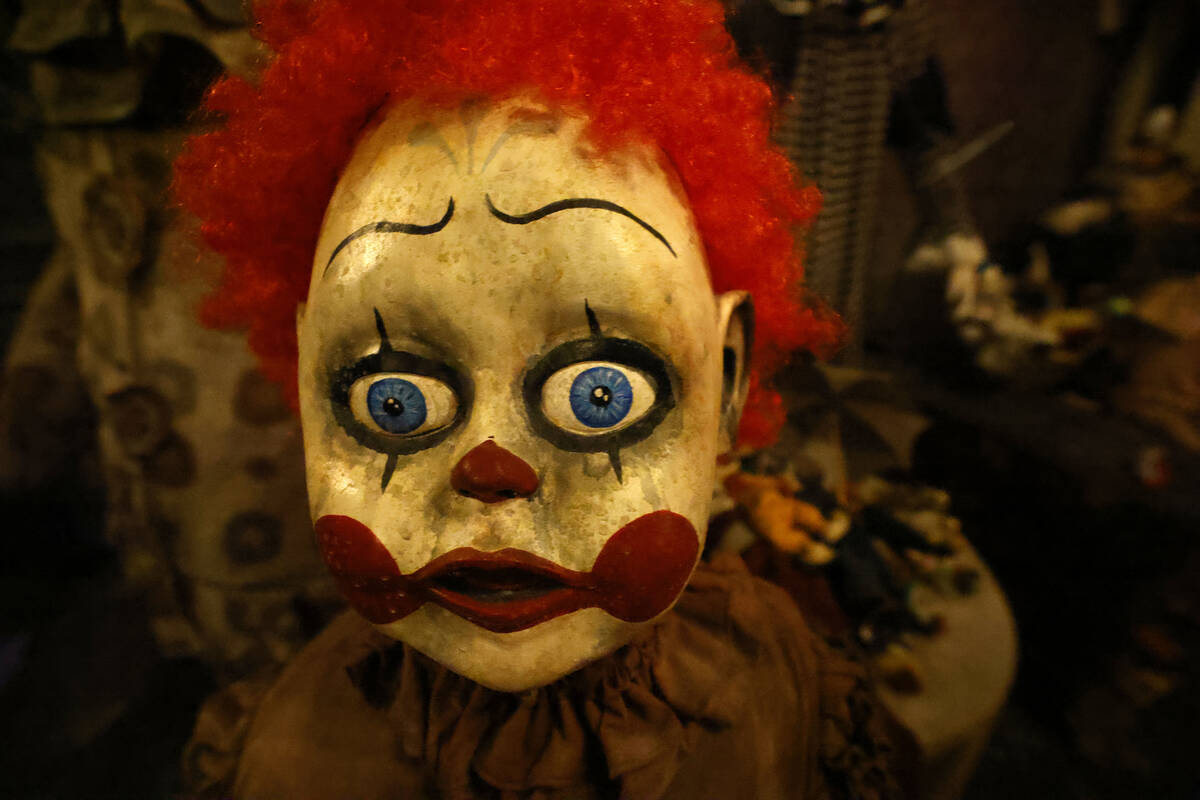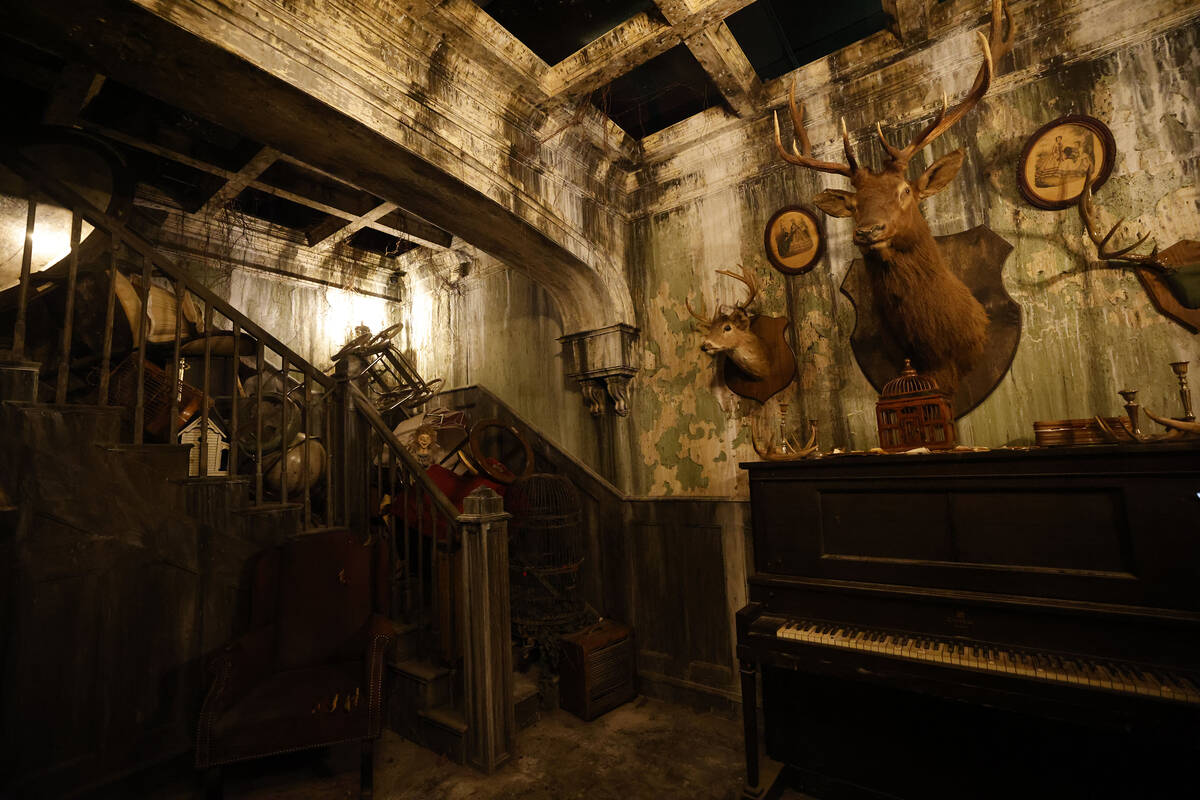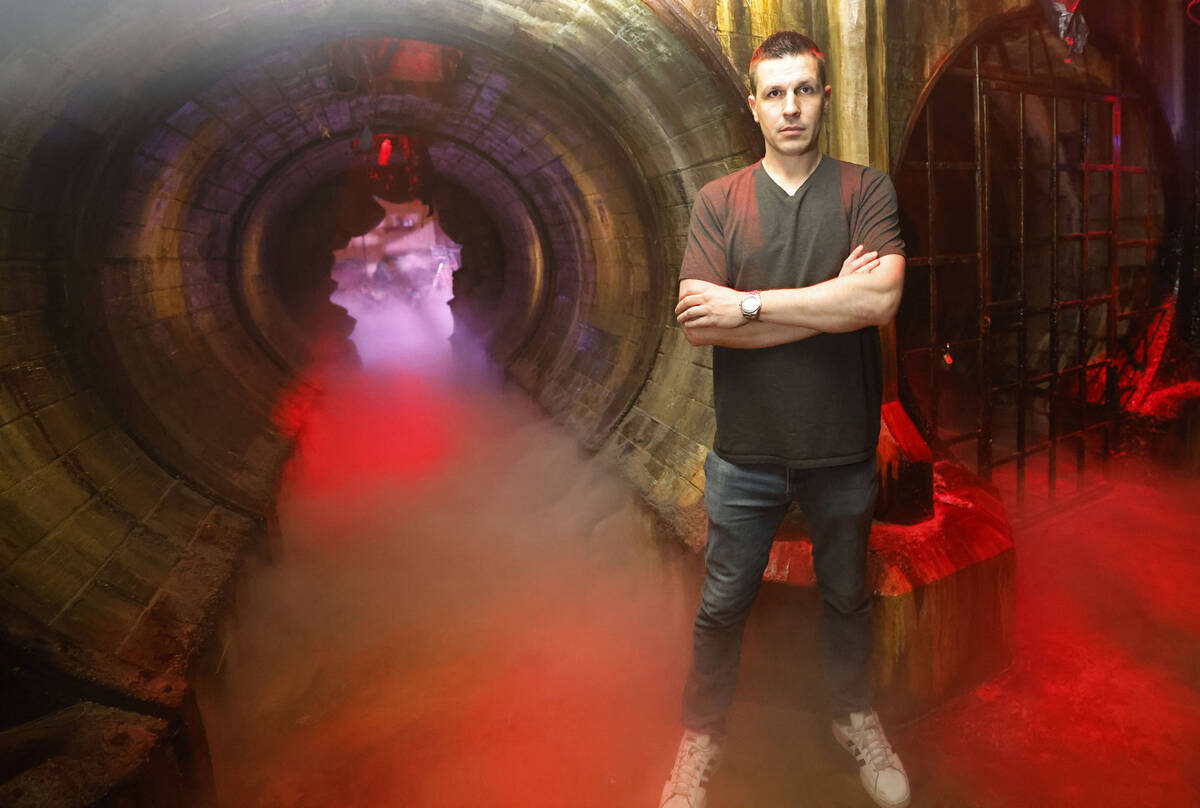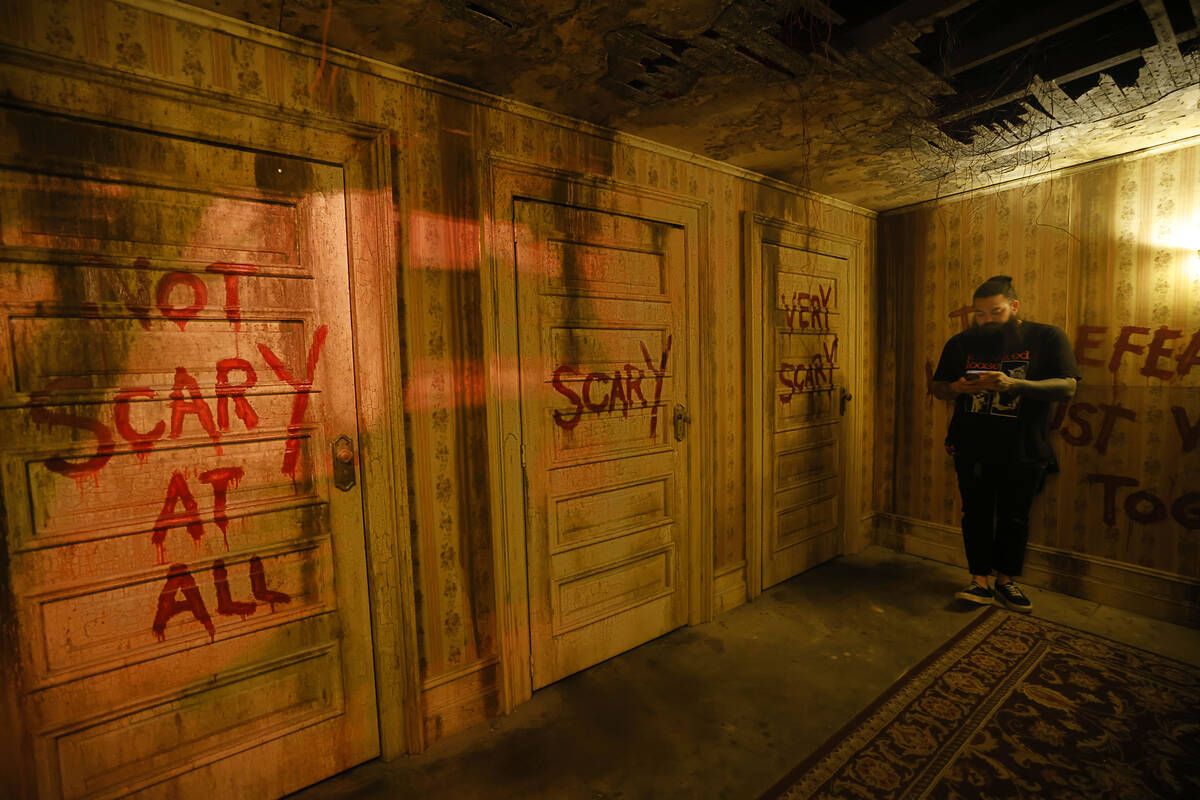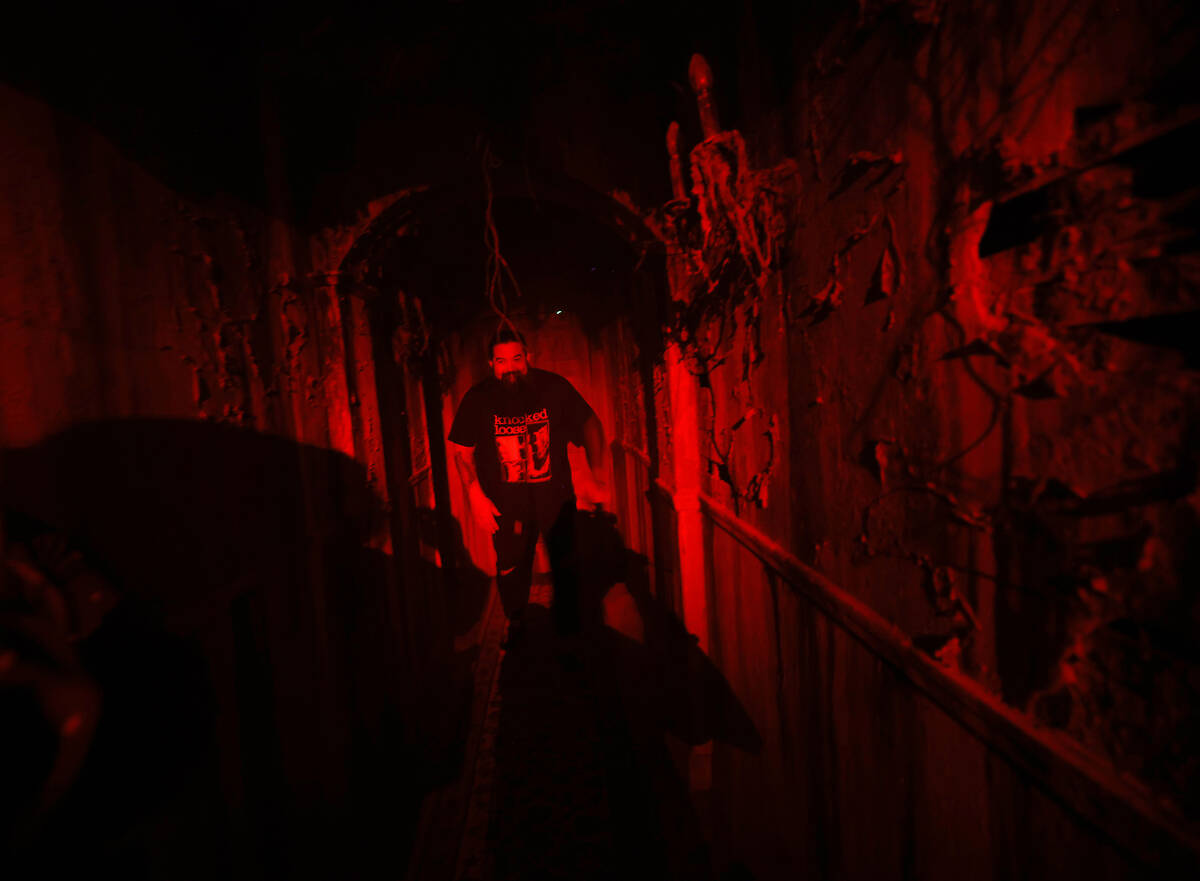 The coffin lid has closed; the light is gone.
"Try to find a way out," the woman with the bloody lip implores.
The room is full of clowns of all shapes and sizes, some are Sasquatch-tall with bulbous heads the width of a tractor tire, others small and worried-looking.
They're no longer visible in the darkness that now envelops us inside the casket.
Suddenly, a side of the wooden box in which we're confined opens to reveal a creature better left unrevealed.
It's coming this way.
Time to make our final escape from Escape It.
It's been a shudder-filled hour or so, wandering through this hybrid escape room/haunted house/immersive fright attraction.
We've traversed sewers, abattoirs — complete with slaughterhouse smells, naturally — and dank garages, 16 rooms in all, culled from hit horror franchise "It," best known for its iconic archvillain, Pennywise the dancing clown.
At 31,000 square feet, set in a mammoth warehouse owned by Walker's Furniture next door, the place is almost as big as the worldwide box-office receipts for the films it's based on, which have raked in over $1.1 billion combined.
"We think it's the biggest escape room in the world," says Jason Egan, founder of Egan Escape Productions, which created Escape It.
Some of the rooms cost over six figures to construct.
Egan estimates that they have spent $90,000 on foliage alone throughout the attraction.
"The goal is to make it feel as real as humanly possible," he explains.
Or, considering the subject matter, perhaps "inhumanly" is more apropos.
Realistic scares
"Where are you?"
A clown's disembodied voice soundtracks our journey, singsongy and sinister at once, a lullaby with teeth.
A decrepit-looking house looms amid the fog, its weathered facade suggestive of rot and decay.
It's a life-sized totem of death.
"This particular room is one of my favorites," Egan says, "because you can't have an 'It' attraction without the Neibolt house."
Said house, featured prominently in both "It" films, is where Pennywise lives, sleeps and feasts on stray children.
It's re-created with such minute attention to detail here, it feels like we've been transported to the outskirts of Derry, Maine, where "It" is set.
"Just this room is over $100,000," Egan says of how little expense was spared in bringing "It" to life.
Inside the house, all sorts of hell awaits.
Most rooms feature a puzzle to be solved, which can be an especially challenging task to complete with jangled nerves.
"Each room is timed," Egan explains, "but we never cut you off from what you're going to see. We always allow you to make it to the other room, even though you might lose the room."
Or lose your wits — the scares here can come fast and unexpectedly, the puzzles increasingly elaborate.
"When we do something, we do it," explains Justin Abato, technical director of Escape It. "There's been so many times where I'll finish a puzzle, and I'll be like, 'That's cool, but it can be cooler.' "
Realizing dreams from nightmares
It all dates back to when he was a kid, his love of scaring the crap out of others.
"I would turn my basement into a haunted house, my backyard into a haunted house," recalls Egan, who grew up in Omaha, Nebraska. "I'd take the couch and I would build walls and tunnels to scare my brothers and stuff."
Egan would take things up a notch as a student at the University of Nebraska in Lincoln, where he opened his first haunted house as an undergrad.
With a population of around 300,000, though, the city wasn't big enough to fuel his aspirations. And so he began to look for a new home.
"I researched all these different cities around the country, like, who had a lack of Halloween?" Egan recalls. "And in Vegas, I saw that they only had these tiny little trailer haunts on the corners and in the Smith's grocery store parking lots.
"I was like, 'Oh, my gosh, I can come compete there,' " he continues. "So, I packed up everything and I moved to Vegas."
In 2002, Egan opened his first local attraction, the Tomb of Darkness, in a 10,000-square-foot abandoned ballroom on Highland Drive.
The next year, he'd launch Fright Dome at Circus Circus, arguably the city's most popular haunted house for a decade and a half, running through 2017.
That year, Egan began constructing his next project, The Official Saw Escape Room, which opened in January 2018, its success paving the way for Escape Blair Witch three years later.
Everything changed, though, when he saw "It."
"I was blown away," Egan recalls. "I was like, 'Oh, my God, this would be an amazing attraction.' "
More chills to come
The bloody skateboard bears a message.
"Won't b-b-be there for him either," it reads, a taunt from Pennywise scrawled in dripping, crimson lettering.
The gory prop is among a collection of "It" memorabilia displayed at Escape It, culled from the Warner Bros. archives.
There are the three doors featured in a particularly chilling scene in "It Chapter 2" — "Not scary at all," "Scary," "Very Scary," they read — the paper boat that main character Bill Denbrough makes with his little brother at the beginning of the series; the suicide letter that Stan Uris writes to his pals that's read at the end of "Chapter 2."
It all adds another layer of authenticity to Escape It and will probably be a treat for fans of the films to see in person.
Speaking of which, Egan says he watched the movies well over 100 times to ensure the accuracy of the "It" landscape.
With more and more immersive attractions opening in Vegas, Escape It is a particularly visceral one, posited on the thrill of getting scared in the company of others.
"People are wanting to do these things with groups," Egan says. "You actually have to put down your phone; you have to communicate with each other, interact with each other. And it's fun."
And the fun is set to expand: There's a new Escape It Chapter 2 coming this summer with over a dozen more rooms opening in another wing of the complex.
To borrow a line from Pennywise himself, that's a whole lot of "tasty, tasty, beautiful fear."
"You gotta give people a good show in Vegas," Egan says. "We went crazy with this one."
Contact Jason Bracelin at jbracelin@reviewjournal.com or 702-383-0476. Follow @jbracelin76 on Instagram.