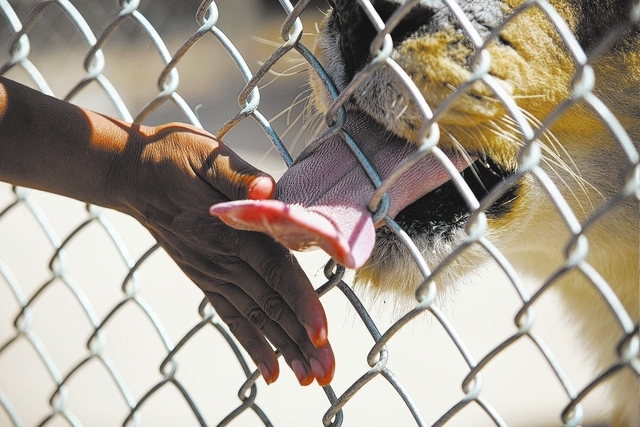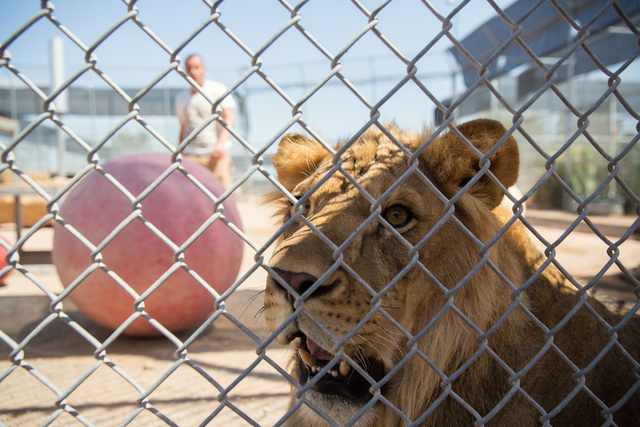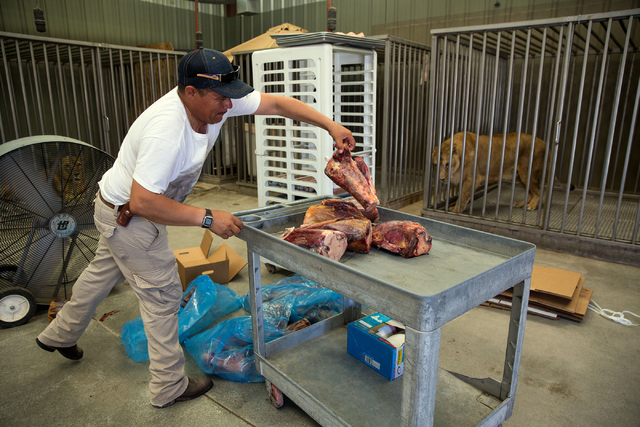 Four young lions eye Javier Quezada as he enters their cage at the Lion Habitat Ranch with a bag of steak treats.
After hand-feeding the hungry group, Quezada lounges with Rusty, a 10-month-old male, on a wooden stage. Rusty nuzzles Quezada, who returns the gesture with a quick kiss on the head.
"This job is like nothing else," Quezada said. "Where else can you get paid to lay around and play with a lion?"
Senior trainers Quezada and Cristina Cuellar spend their 40-hour work weeks training and playing with the big cats at the ranch at 382 Bruner Ave.
"Our jobs as handlers are to go in the cages and basically be the referee," Cuellar said. " We're teaching them all the rules on how to act when they get older. It requires us to spend a great deal of time in the yards with them."
Covering 8½ acres, the ranch has been home to about 50 lions for more than 20 years, according to Cuellar.
"This is the home of the lions that were formerly on exhibit at the MGM Grand," Cuellar said. "This end of the operations remained private while we were under contract with the MGM, but we opened to the public about two years ago."
The property is owned and run by Keith and Beverly Evans, who have raised and trained lions for more than 40 years.
"There are about six handlers on property that maintain the care of the lions," Cuellar said. "We feed them, clean them, bathe them, train them — anything you could possibly think of for our pampered 50."
Before the facility is opened to the public, the handlers are in charge of cleaning and feeding the lions, who eat about $20,000 worth of meat a month.
"Our males eat anywhere from 10 to 15 pounds a day. Our girls eat anywhere from seven to 10 pounds a day," Cuellar said. "We're typically going through about 90 pounds of meat a day."
Male lions can grow to more than 500 pounds whereas females top out around 375 pounds. They can run about 50 miles per hour and jump as high as 35 feet.
"Lions in the wild live seven to 10 years," Cuellar said. "Here, under our care, they can live up to 20 years."
Each cage is equipped with a cat house that is hooked up to a swamp cooler in the summer and a heating pad in the winter.
"Their breed is used to cooler and warmer temperatures, but we still make it very comfortable for them," Cuellar said. "They're very spoiled."
To become a handler at the facility, employees go through a probation period before they're allowed to interact with the lions.
"At first, it's mostly just feeding and cleaning around the outsides of the cages to make sure you follow instructions and all our procedures," Cuellar said. "After your probation, we'll gauge how the cats are reacting to you and whether or not we can start introducing you to them."
Originally from California, Cuellar moved to Las Vegas to join the ranch about 15 years ago.
"I just told my dad all the time I wanted to train big cats," Cuellar said, "and he basically told me my whole life, ' Do whatever you want, and don't let anyone tell you you can't.' "
Cuellar attended Moorpark College in California for its exotic animal training management program. Her first job after graduating was at the Playboy Mansion in Los Angeles.
"Keith was looking for people with experience for this facility, and I knew another handler here, so that's when I applied," Cuellar said. "I've enjoyed it ever since."
Quezada grew up in Las Vegas and became a handler through hands-on experience.
"I just sort of fell into the job," Quezada said. "They offered me a part-time job at first, and they liked the way I worked. I followed instructions, did what I was supposed to and never stuck my fingers in the cages."
Learning from other trainers, Quezada climbed through the ranks, working first with cubs and transitioning to full-grown lions.
"Because I was new to it, they put me in with the cubs first. They didn't just throw me in a cage with a full-grown male," Quezada said. "If that were the case, of course I would have been nervous."
Although the job requires a lot of focus and attention to detail, Quezada said building relationships with the cats is the most rewarding aspect of his job.
"You always have to be one step ahead of them, but the lions will give you lots of signs and warnings before they do something," he said. " If you respect them, they'll respect you."
The ranch is open from 10 a.m. to 2 p.m. Friday through Monday. Tickets for adults are $20 and include admission for one child. Tickets for additional children are $10.
Packages and special event rentals are also available. For more information, visit lionhabitatranch.com or call 702-595-6666.
Contact Henderson View reporter Caitlyn Belcher at cbelcher@viewnews.com or 702-383-0403.