Wynn Las Vegas' Blush draws lounge, nightclub crowds
January 8, 2010 - 10:00 pm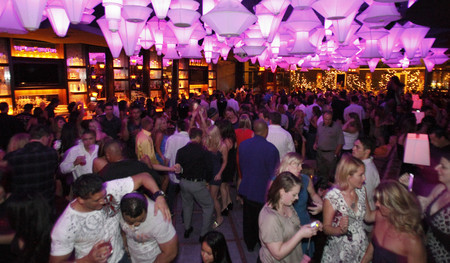 Blush at Wynn Las Vegas, 3131 Las Vegas Blvd. South, tries to impart a residential mood, giving guests the feeling that when they walk through the door, they're walking into a party in someone's living room.
Granted, a very nice living room, says Blush owner Sean Christie, one where you can sit, have a drink, talk and then dance the night away.
The boutique nightclub, as Christie calls it, opened in August 2007. At 4,500 square feet, it's smaller than most nightclubs, but the design serves a dual purpose.
"Blush operates as a lounge and a nightclub. It's for the person who wants to get an after-dinner drink or drink before a show," Christie says. "Then at 11:30 p.m., it completely transforms, creating that dance environment. We kind of have a little bit for everybody."
The focal point of the room is the onyx dance floor lit by multicolored lights, Christie says, adding that contemporary paintings give it an upscale vibe. Resident DJ Mighty Mi spins a little bit of everything, from current hits to music from the '70s, '80s and '90s.
The outside area with a garden and a bar draws people no matter the season.
Blush is known for a more mature demographic, but it also has a following among young people, Christie says. Since it's located at Wynn Las Vegas, one of the more upscale properties on the Strip, guests tend to make an effort to dress up, although the official dress code is "someone who looks like they took time to put themselves together."
Condé Nast Traveler magazine named Blush the club with the best-looking crowd in September's "Seven Deadly Sins" list.
Blush opens at 10 p.m. Tuesdays through Saturdays and closes at 2 a.m. Wednesdays and 4 a.m. on the other days. The club hosts special events weekly. Tuesday is industry night. Cover charge is $30; local women are admitted free. Bottle service starts at $400 for every four people, while the average price of a cocktail is $10.
Contact reporter Sonya Padgett at spadgett@ reviewjournal.com or 702-380-4564.
Las Vegas Club Scene