XS Nightclub caters to high-end customers, strives to be exclusive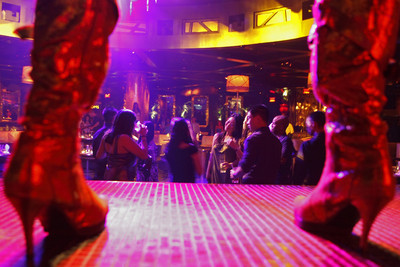 Golden body wall sculptures, mosaic chandeliers and alligator skin booths.
It's all too much. But that's the point at XS Nightclub in Encore, 3131 Las Vegas Blvd. South.
Nightclubs usually are exercises in excess, but XS takes the idea a bit further through its name, its decor and design and management's underlying philosophy.
The 40,000-square-foot club, which opened New Year's Eve, is among the largest in town and strives to be one of the most exclusive, says managing partner Jesse Waits.
Their demographic is a high-end customer, or at least those who want to party like the rich. A chic wardrobe gets you in the door, Waits says. That means no sweats, sneakers, jeans or hats.
No one is turned away so long as they meet the dress code, but you'll get in faster if you're a woman, have a table reservation or at least have your name on the guest list.
"We're tighter at the door with who we let in," Waits says.
Once you do get in, don't expect to witness, or take part, in any contests or giveaways. XS is all about a consistent experience, Waits says. Resident DJs Create (Saturdays and Mondays) and Justin Hoffman (Fridays and Sundays) spin a mix of top 40 and a lot of house music.
"Our philosophy is longevity, and we believe events are almost corny, kind of gimmicky, just to get people to come in at certain times," Waits says. "Some clubs benefit from that, but we want people to come in and know what to expect."
That also means no promotions on drinks and no changing prices for table service. XS holds to a one bottle per three guest requirement with bottles starting at $400.
But who can expect a drink special at a club that serves a $10,000 cocktail? The Black Pearl, made of vintage champagne, expensive cognac and apricot puree, comes with a pair of cuff links and a pearl necklace.
XS is open from 10 p.m. to 4:30 a.m. Fridays through Mondays. Cover charge is $30 for out-of-state men, $20 for women and locals. Sundays and Mondays, locals get in free.
For reservations, call 770-0097.
Contact reporter Sonya Padgett at spadgett@ reviewjournal.com or 702-380-4564.
Las Vegas Club Scene