Air Force professional, wife enjoy Juhl lifestyle
September 14, 2018 - 2:29 pm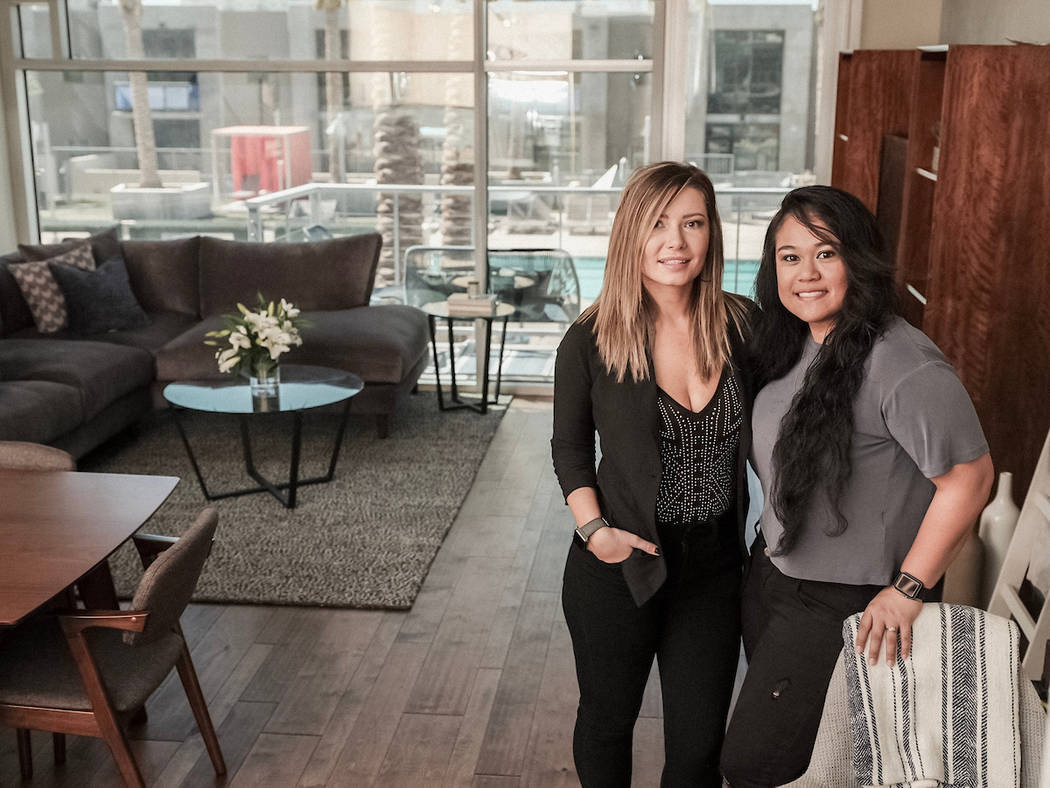 When active-duty Air Force member Jonie Escorpiso was stationed in Las Vegas in 2016, she never would have predicted the city would become more than just a temporary stop for her.
But she met her wife, Paisley Chambers, shortly after moving to the city, and the couple rented a condominium in downtown before purchasing a single-family home in suburbia. Soon, the couple found themselves missing the energy, culture and walkability of downtown Las Vegas and a high-rise condominium lifestyle.
"We returned to the condominium where we previously rented, and by pure fate, we drove by Juhl and decided to visit the sales office," Escorpiso said. "We fell so in love with the community, we started the sales contract that same day. The sales team was so helpful and friendly, they showed us several residences before we locked eyes on our dream home, a spacious studio overlooking the community's resort-style pool."
Juhl's state-of-the-art fitness center and its floor plans were also big draws for the couple.
"For years, we paid for gym memberships," Escorpiso said. "Now, monthly gym fees are a thing of the past, and we don't have to get in the car to go work out. And, because my hours fluctuate so frequently, it's so convenient to be able to go upstairs when I want to work out, no matter what time of day it is," she said.
"I work from home, so finding a residence with the right vibe and ambiance was key," Chambers said. "When it cools down, I definitely see myself sitting in one of the poolside cabanas and working on my laptop."
Escorpiso and Chambers have enjoyed exploring the dynamic and wide-ranging restaurant scene downtown and have already declared their new favorite dining spots, including La Comida, Maine's Little Lobster and, of course, Le Pho, on the ground floor of Juhl at The Promenade.
"When we lived in our single-family home, we often ordered food from Greens and Proteins through Postmates, but now all we have to do is walk downstairs. We haven't used the barbecue stations yet but look forward to it, especially during the cooler months. We've enjoyed movies in the community's Eclipse Theaters and even indulged in some wine on the Vino Deck. There are so many places to congregate together with friends and family. We love Juhl so much, we've even convinced my nephew to live here," Escorpiso said.
Juhl includes dozens of floor plans that are one-of-a-kind, with studios starting in the low $200,000s. Recently remodeled, Juhl boasts an upgraded resort-style pool with cabanas, lobby and co-op working spaces that cater to its professional residents. Private balconies, 10-foot ceilings, energy-efficient design and details, exposed concrete surfaces and mechanicals and upgraded fixtures and surfaces all combine to create Juhl's urban vibe.
Other amenities include 24-hour security, Wi-Fi in common areas, gated parking structure with assigned resident parking and electric vehicle charging station, co-op working space that caters to professional residents and full-service concierge.
For more information or to arrange a private sales presentation of Juhl, visit juhllv.com or call 702-816-5466. Juhl sales center is at 353 E Bonneville Ave. The sales center is open Monday through Friday, 10 a.m. to 6 p.m.; Saturday from 10 a.m. to 5 p.m.; and Sunday from noon to 5 p.m.