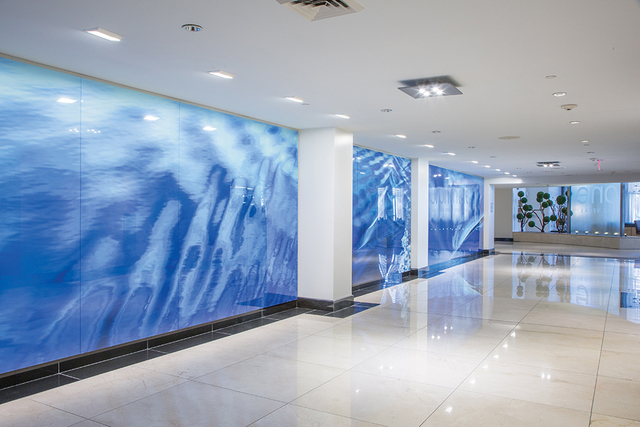 One Las Vegas, a twin tower condominium high-rise on the south end of Las Vegas Boulevard, recently completed a $2 million remodeling project to enrich the community through art, design and lifestyle. This included the commission and installation of a massive, 54-foot custom photographic installation, "Water Way," that now heralds entrance into the main tower, creating a beautiful feeling of calm and peace via an artful depiction of water and its movement. The masterpiece is the work of critically acclaimed artist and photographer Marilyn Suriani.
"Since we've introduced new amenities, including a two-story, state-of-the-art fitness center called Transform, a resort-style pool called Splash and two private treatment rooms for spa treatments called Touch and a full schedule of social events, we are seeing a wider range of residents, from young professionals to young families and even retirees looking to 'right-size' their homes and lifestyles," said Uri Vaknin, a partner at KRE Capital LLC, whose company, in partnership with Dune Real Estate Partners, purchased in 2013 as DK Las Vegas.
"The addition of Marilyn's art installation truly aligns with our vision of offering a complete roster of luxury, resort-style amenities. Beautiful art is the frosting on the cake for this condominium community that offers residents convenience and access to the best that the valley has to offer without having to leave the property."
Suriani's work also graces the main elevator lobbies in both towers of One Las Vegas. "Marilyn's work speaks exactly to the atmosphere and feeling we strived to create, and there is no other person I know who could create such an imagery as compelling and dynamic as her," Vaknin said.
One Las Vegas is positioned just a few miles from the neon of the Strip with many of its high-rise homes offering sweeping views of the city and surrounding mountains.
Of the twin 20-story towers, DK Las Vegas purchased 295 of the project's 359 residences.
Homes range from 831 to 2,857 square feet with many floor plans offering spectacular views of the mountains and the Strip.
One-bedroom homes are priced from the low $200,000s; two-bedroom homes from the high $200,000s; and three-bedroom homes from the low $400,000s. The penthouse, offering 3,000 square feet of sweeping views, is priced at $1.1 million.
One Las Vegas is close to Interstate 15, the 215 Beltway and just minutes from McCarran International Airport. Town Square, just a few blocks north of the property, provides one-stop shopping and scores of dining and entertainment options right in the neighborhood.
For more information, visit the One Las Vegas onsite sales center at 8255 S. Las Vegas Blvd, Las Vegas, or online at info@theonelv.com. The sales center is open Monday through Friday, 10 a.m. to 6 p.m.; Saturday from 10 a.m. to 5 p.m.; and Sunday from noon to 5 p.m.