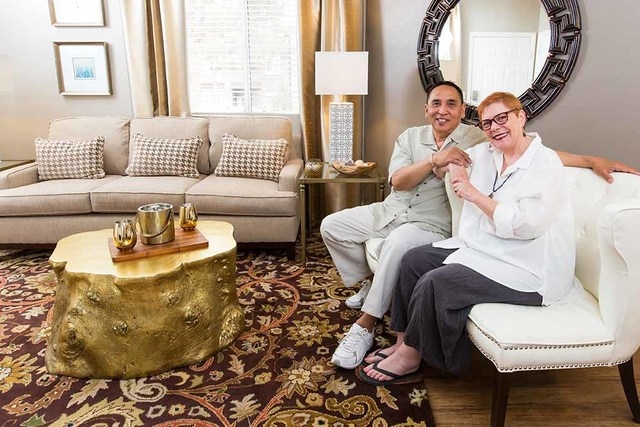 Ridwan "Red" Jonas and his wife, Suzanne, are approaching their 40th wedding anniversary later this year, and they look forward to celebrating the milestone in their new home at Spanish Palms, a gated condominium community at 5220 S. Rainbow and Hacienda boulevards.
Both originally from the Bay Area, they met at work and married a year later during an intimate ceremony at Lake Tahoe.
Along the way, they have enjoyed living in such beautiful places as Hawaii and near the beaches of Southern California. While their original plan was to return home to San Francisco for retirement, Las Vegas threw a wrench in the plan but the couple hasn't looked back on their decision to settle here.
"When we moved back to Northern California, we had forgotten how overwhelmingly expensive it was to live there," Suzanne said. "One of our daughters has lived in Las Vegas since 2003, so we were really familiar with the city and visited her frequently. Las Vegas has always been good to us, but because we had some reservations about investing in a home right away, we decided it was best to rent to make sure the move would be permanent."
The Jonases also appreciated Las Vegas for its proximity to their other daughter who lives in New Mexico and Southern California, where many of their friends reside. The couple initially looked at single-family homes around the valley, but quickly decided that maintaining a full house and backyard was no longer a good fit for them.
"I'm retired and Suzanne is close to retiring, so we really envisioned enjoying our golden years in a home that fit our lifestyle and our needs," Ridwan said. "We hadn't considered condominium living, but when my wife came across a Spanish Palms ad in the paper, her curiosity led her to visit the community, and the rest, as they say, is history. The sales team was extremely genuine, knowledgeable and stood by us through every step of the application process, and we truly could not be happier with the purchase of what we now consider our dream home."
The Jonases were particularly attracted to Spanish Palms' lush landscaping, guard-gated community, spacious floor plans, resort-style living and old Vegas charm. They were especially pleased that their home included a two-car garage, a rarity for most other condominium properties in Las Vegas.
"Spanish Palms was built in the late 1990s and they did an exceptional job preserving the timeless appeal of the homes while recently upgrading the overall community," Suzanne said. "More importantly, the price points were unheard of, and since our combined income is now relatively fixed, we were excited to find a home where we knew we were going to receive an outstanding value for our investment."
The Jonases locked in a deal for a two-bedroom home on the second floor, with the help of Spanish Palms' Federal Housing Administration financing program.
"Everyone involved in our application process did everything they could to ensure the most seamless experience for us, and we are so grateful for that," Ridwan said.
The couple said they were not initially familiar with the surrounding area, but they have recently enjoyed exploring the city and said they "feel like two kids in a new candy store."
"We recently dined at the most authentic Japanese restaurant down the street from our home," Suzanne said. "As a multi-ethnic couple, we feel blessed to live in a diverse community within a diverse and very exciting city. We have everything we need at our fingertips."
Spanish Palms offers three floor plans ranging between 744 square feet and more than 1,131 square feet, and with homes starting from $131,900. Spanish Palms signature amenities include Central Park, an expanded fitness center, business center and conference room inside the clubhouse.
For more information on Spanish Palms, go to SpanishPalmsLV.com. Sales center is at 5250 S. Rainbow Blvd., No. 1055, and is open daily by appointment. Hours are Monday through Friday from 10 a.m. to 6 p.m.; Saturday 10 a.m. till 5 p.m.; and Sunday from noon to 5 p.m. Call 702-719-6100 to schedule a private appointment.