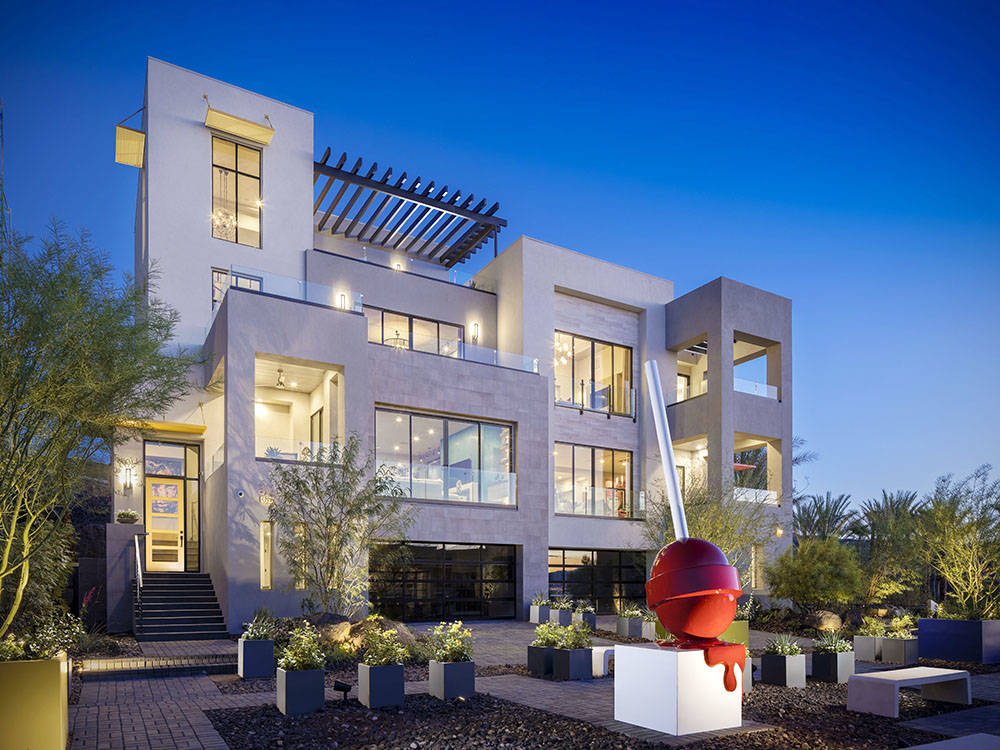 It's award season in the homebuilders' industry, and Christopher Homes is bringing home the gold.
Vu, a hillside town home enclave in MacDonald Highlands, a Henderson master-planned community, has been recognized by the National Association of Home Builders with Gold and Silver Awards and a Gold by the Best in American Living Awards. They were presented during the 2018 International Builders Show in Orlando.
Vu was honored with the NAHB's Gold Award for Best Architectural Design of an Attached Community. Vu also brought home a Silver Award for Best Interior Merchandising of a Model Priced $500,000 to $700,000. Winners were selected from a field of over 1,300 entries during a three-day judging process by a panel of seven industry professionals from across the country.
Walking away with the BALA's best-in-class Gold Award, Vu was recognized during an awards ceremony Jan. 10 for Best Attached Townhouse Community. Judging for the BALA awards is conducted by an expert panel of builders, design professionals, marketing professionals, land planners and interior designers from across the country.
"The Nationals and BALA are two of the most significant awards in the industry. We are proud of what our amazing best-in-class team of architects and designers created in Vu and honored to be recognized for its uniqueness, quality and innovation," said J. Christopher Stuhmer, founder and CEO of Christopher Homes and a longtime Las Vegas luxury homebuilder.
The NAHB's Gold for Best Architectural Design of an Attached Community recognized Vu for its innovative hillside planning solutions featuring terraced streets, natural rock-retaining walls, simple clean lines and optimized views from homes featuring open floor plans with floor-to-ceiling windows and multiple outdoor spaces oriented toward the city view.
The NAHB Silver for Best Interior Merchandising of a Model went to Vu's Residence One. This single-level, attached home was designed for the affluent, move-down empty-nester seeking a luxury home with design details and finishes on par with their previous larger, custom home. It offers a dual master suite for guests and flex space for a den or bedroom. Special attention was given to art placement and selection.
The kitchen is designed to be an entertaining space as well as highly functional. Appliances are hidden within sleek cabinetry, and open shelves merchandised with accessories, rather than dishes. The main flooring with large format tile continues through to the exterior, and the outdoor furniture mimics the indoor furniture to create a seamless connection between the spaces. This is one of Vu's best-selling plans, making up 38 percent of the homes sold.
The BALA's Gold for Best Attached Townhouses was awarded for Vu's 2,639-square-foot, multilevel Residence Three.