Couple buys dream home at Juhl high-rise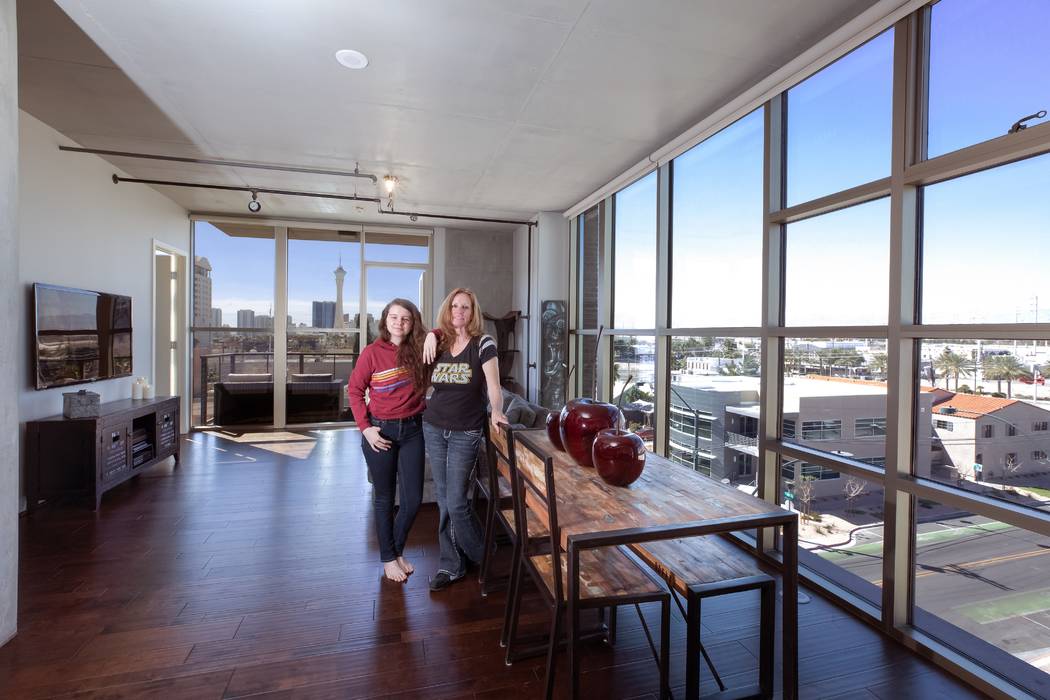 Native Las Vegan Karen Alexander has always lived in suburbia. That is, until three months ago, when she and her husband, Matt, locked in their dream home at Juhl, a 344–residence, loft-style community known for its flexible floor plans and industrial chic design aesthetic in downtown Las Vegas.
"It's hard to believe this time last year, we were living in a 3,500-square-foot single-family home in North Las Vegas, where we had bedrooms we never entered for months," Karen Alexander said. "We always talked about living in a big city and had even nonchalantly explored other cities with dynamic urban reputations, because it never occurred to us that we could have that lifestyle right here in the valley. Now that we own a two-bedroom home at Juhl in the heart of downtown Las Vegas, we are truly living our dream and couldn't be happier with our decision."
The Alexanders stumbled upon Juhl a few months ago, and to the couple's delight, it was everything they wanted in a new home and lifestyle for them and their 20-year-old daughter, Rebecca. Juhl boasts beautiful industrial design, loft-style living, a built-in social network through its lifestyle programming, freeway access and walkability to dining, entertainment and shopping.
"As soon as we walked in, I felt it. I knew this was it. The next day, we put our home on the market, and it sold within 24 hours. The application and buying process was seamless, and within a month, we had signed, sealed and delivered the paperwork for our dream home," Karen Alexander said.
The Alexander family was initially hesitant about going from such a large home to a two-bedroom, high-rise condominium, but they were pleasantly surprised to discover everything they needed fit perfectly, with plenty of room for their two cats.
"We had a pool in our previous home, as well as an elliptical that Karen used frequently, so having the resort-inspired pool and state-of-the-art fitness center within the Juhl community has been extremely convenient, especially since we no longer have to spend our weekends maintaining it all," Matt Alexander said.
"I used to complain how tired I was of our predictable and routine lifestyle, but now, we enjoy experiencing all that downtown Las Vegas has to offer. We never know what we will be doing day to day, and it's exactly how we like to live."
Juhl includes dozens of floor plans that are literally one of a kind, with studios starting in the high $200,000s. Juhl boasts an upgraded resort-style pool with cabanas, lobby and co-op working spaces that cater to its professional residents. Private balconies, 10-foot ceilings, energy-efficient design and details, exposed concrete surfaces and mechanicals and upgraded fixtures and surfaces create Juhl's cool urban vibe.
Other amenities include 24-hour security; Wi-Fi in common areas; gated parking structure with assigned resident parking and electric vehicle charging station; co-op working space that caters to professional residents; and full-service concierge.
For more information or to arrange a private sales presentation of Juhl, visit juhllv.com or call 702-816-5466. The Juhl sales center is at 353 E. Bonneville Ave. The sales center is open Monday through Friday from 10 a.m. to 6 p.m., Saturday from 10 a.m. to 5 p.m. and Sunday from noon to 5 p.m.