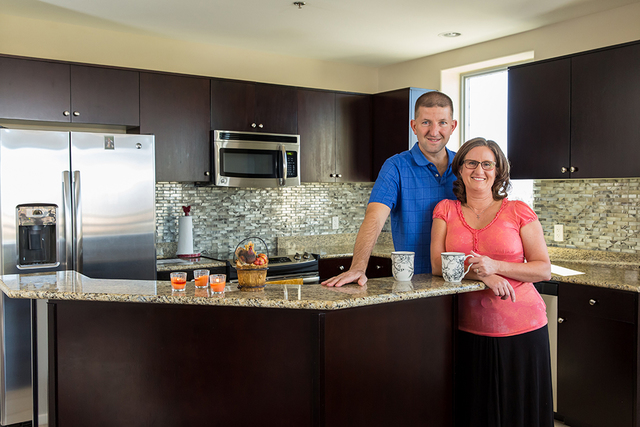 When Ron and Shannon Bahra decided it was time to relocate from Orange County, California, to Las Vegas, high-rise living never crossed their minds. But after looking at more than a dozen single-family homes, they spotted One Las Vegas, twin 20-story condominium towers located on the south end of Las Vegas Boulevard. While curiosity drew them in, love sold them on a two-bedroom corner residence featuring expansive Strip and mountain views.
"After touring One Las Vegas, we spent the next four hours on the road back to Orange County weighing all the advantages and benefits of high-rise living that were previously not on our radar," Ron Bahra said. "By the time we got home, we knew buying a home at One Las Vegas was the right decision, and we haven't looked back since. We wonder why we didn't consider this type of luxury lifestyle sooner because it truly fits all our needs and then some."
The Bahras especially appreciate the robust list of amenities that create a full lifestyle, including Transform, the two-story state-of-the-art fitness center; Show, a movie theater with oversized reclining seats; Play, the sports lounge; and Celebrate, the community's full-service clubroom. They also value One Las Vegas' guard-gated security, full-service concierge, and maintenance-free lifestyle that leaves more time for other, more interesting pursuits and adventures.
"My husband is quite the handy man and was busy for years tending to our various homes. But in a few months, we'll both be retired. Now, instead of spending time with the upkeep of a single-family home, we'll be able to thoroughly enjoy our golden years, taking trips around the world like we've always wanted. And with One Las Vegas' security, we know our home and our belongings will be exactly as we left them," Shannon Bahra said.
The husband and wife, who have three grown children, including a daughter who herself is considering a purchase at One Las Vegas, can't wait to show off their new home to friends and family. Their corner residence features a wraparound balcony where they enjoy panoramic views of the famous Strip and Red Rock Canyon.
"One Las Vegas is only minutes from everything we want and need, including Town Square's wide selection of retailers and restaurants, Strip resorts and casinos, world-class entertainment and McCarran Airport," Ron Bahra said. "We've been visiting Las Vegas for years and have witnessed the city's remarkable transformation. And now, our dreams have come true. We feel as if we were on top of the world in our new home at One Las Vegas."
Homes at One Las Vegas range from 831 to 2,857 square feet, with many floor plans offering spectacular views of both the mountains and the Strip.
One-bedroom homes are priced from the low $200s; two-bedroom homes from the high $200s; and three-bedroom homes from the low $400s. The penthouse, which offers 3,000 square feet of sweeping views, is priced at $1.1 million — a "virtual steal" relative to other Las Vegas penthouses of a similar size. One Las Vegas is also VA home loan approved and offers mortgages with as little as 10 percent down.
One Las Vegas is conveniently located close to Interstate 15, the 215 Beltway and just minutes from McCarran International Airport. Town Square, just a few blocks north of the property, provides one-stop shopping, and scores of dining and entertainment options right in the neighborhood.
For more information, visit the One Las Vegas on-site sales center at 8255 Las Vegas Blvd. South, online at theonelv.com or call 702-405-9020. The sales center is open Monday through Friday, 10 a.m. to 6 p.m.; Saturday from 10 a.m. to 5 p.m.; and Sunday from noon to 5 p.m.