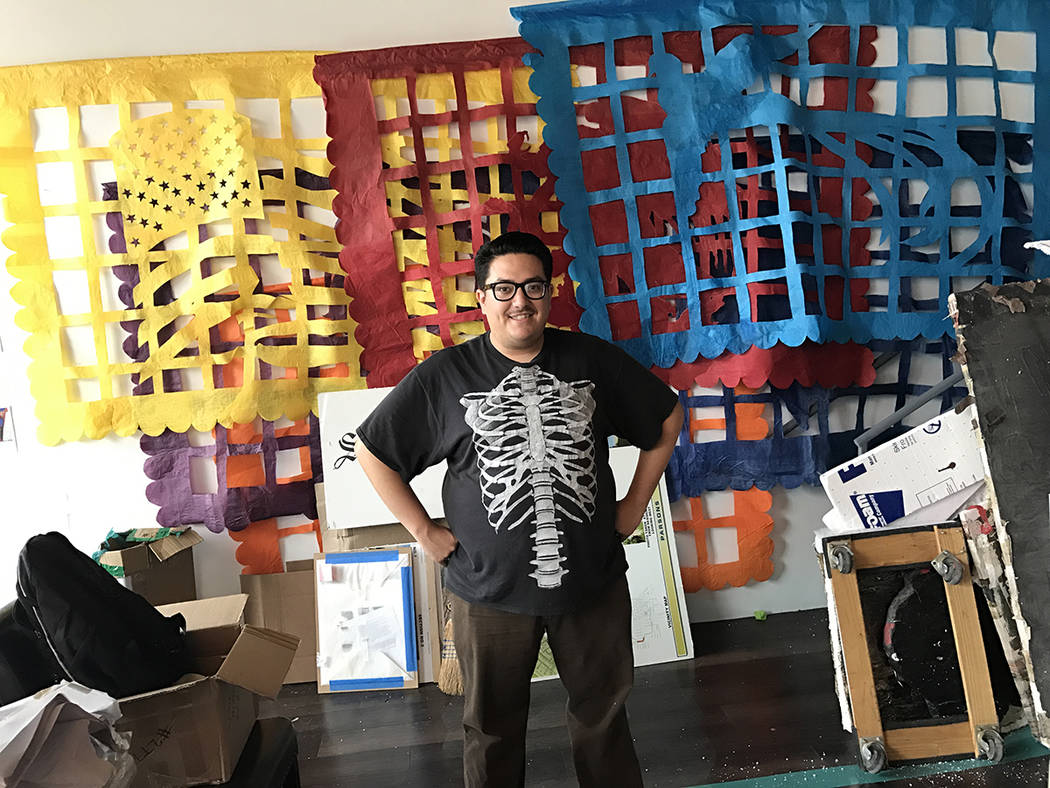 Juhl, a 344–residence, loft-style community that spans an entire city block in downtown Las Vegas and is known for its flexible floor plans and industrial chic design aesthetic, has issued a call to Nevada artists to apply for its Artist in Residence program, offering the best of work and home under one roof.
The program will select one artist to receive the opportunity to live and work rent-free at Juhl for a residency of up to six months. The residency includes a two-level live/work space at Juhl with a ground-level studio space of approximately 1,000 square feet and approximately 1,000 square feet of living space on the second floor.
According to Uri Vaknin, a partner at KRE Capital LLC, whose company, in partnership with Dune Real Estate Partners and Northcap, purchased Juhl in 2013 as DK Las Vegas, Juhl is a mecca for artists in downtown Las Vegas because of its location between the Arts District and Fremont East Entertainment District.
"Juhl's architecture and contemporary design aesthetic naturally attract artists and creative types who appreciate the community's progressive vibe," Vaknin said. "And as work on a future art museum at Symphony Park progresses, downtown Las Vegas will continue to evolve as an arts community. Juhl is ideally positioned in the center of it all; at Juhl, creativity lives here."
The community is home to local Las Vegan and the Artist in Residence program's inaugural artist, Justin Favela, whose work is showcased in many shows throughout Nevada, including "Tilting the Basin: Contemporary Art of Nevada," an exhibit featuring more than 30 artists living and working across Nevada, today.
Favela's residency provided him the studio space to work on a commissioned piece for the upcoming "Mi Tierra: Contemporary Artists Explore Place" exhibit at the Denver Art Museum, making him one of only 12 Latino artists from across the country to participate in this prestigious show. He and his studio at Juhl were featured in a special video by The Guardian on the unique arts scene in Las Vegas.
"Juhl is the next exciting addition to downtown's evolution as a true urban center within the heart of our city," Vaknin said. "It provides a myriad of cosmopolitan living options for like-minded residents drawn to the area's growing vibrancy, including artists who can find a plethora of cultural and diverse attractions to inspire their next works of art."
To apply, interested artists should send to artistinresidence@juhllv.com by July 1 the following: cover letter, resume, 10 photos of their work with descriptions and responses to these four questions:
1. Why do you want to be the Artist in Residence at Juhl?
2. What will you contribute or how will you influence the downtown Las Vegas arts scene?
3 What makes your work unique?
4. How would this residency help you complete a specific project or body of work that would further your career as an artist?
A jury consisting of Uri Vaknin, Juhl owner and board member at the Art Museum at Symphony Park; Justin Favela, Nevada artist and current Juhl Artist in Residence; and Michele Quinn, principal, MCQ, Michele Quinn Fine Art Advisory and nationally recognized art consultant and curator, will select the next Juhl Artist in Residence from submitted applications by Aug. 1. The selected artist will be offered a residency to begin Oct 1.
Qualified artists must live in Nevada, have a demonstrated track record of success as an artist, have a desire to live and engage in the downtown Las Vegas arts community and enjoy the opportunity to champion art and culture in downtown Las Vegas by hosting regular arts-oriented events for the general public in their Juhl studio.
Juhl, now selling, is an urban destination and a popular residential choice for professionals and entrepreneurs, especially many who work at firms and courthouses throughout downtown's expansive legal community. Juhl encompasses multiple buildings, including a high-rise, mid-rise, brownstones, live/work spaces, retail spaces and a warehouse-style loft building. Many of its residences can be customized via 130 unique floor plan configurations, including many that are one-of-a-kind within the property. Homes at Juhl range from 600 to just under 2,000 square feet and start in the high $100,000s.
Recently refreshed, Juhl boasts an upgraded resort-style pool with cabanas, lobby and co-op working spaces that cater to its professional residents. Hallmarks of Juhl include flexible floor plans, large terraces and floor-to-ceiling windows that maximize natural light. Private balconies, 10-foot ceilings, energy-efficient design and details, exposed concrete surfaces and mechanicals and upgraded fixtures and surfaces all combine to create Juhl's cool urban vibe.
Amenities include an al fresco movie theater; two-story fitness center with pool and Strip views; 10th-floor vino deck with Strip views, resort-style pool with cabanas, spa and fire pit; 24-hour security; gated parking structure with assigned resident parking; and full-service concierge. A summer kitchen, called Canvas Grill, is the perfect spot for warm weather entertaining. And a nearby Urban Garden plot exclusively for use by Juhl residents makes it possible to grow fresh herbs and vegetables — in the heart of the city.
For more information or to arrange a private sales presentation of Juhl, visit www.juhllv.com or call 702-816-5466. Juhl is located at 353 E Bonneville Ave.