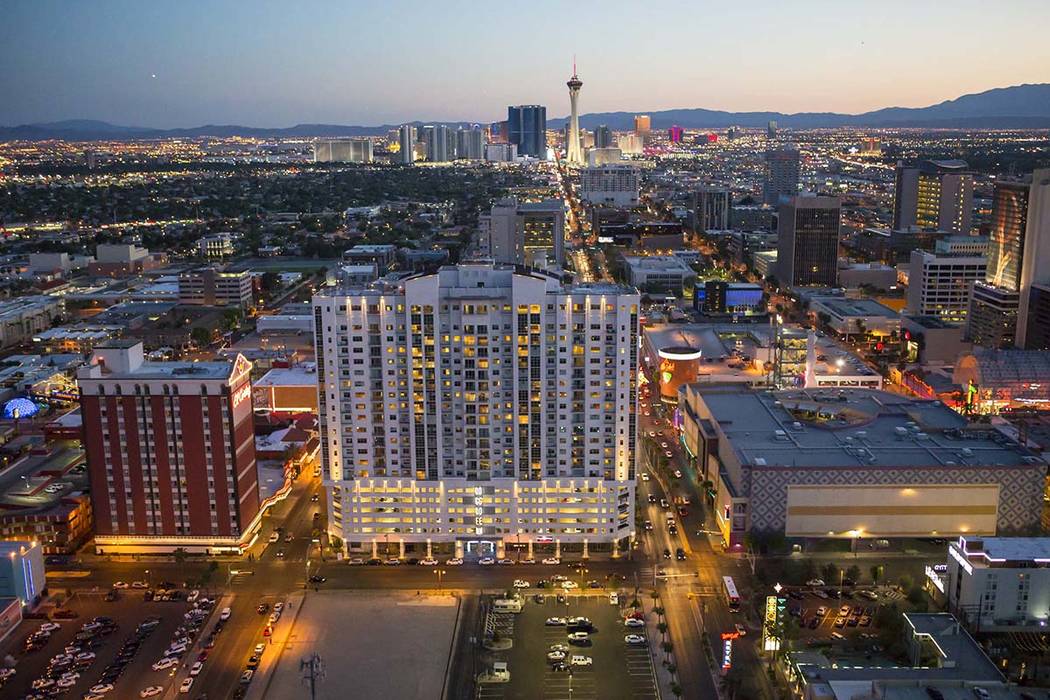 2012 was dubbed the Year of Downtown, marked by the opening of landmark facilities like the Smith Center for the Performing Arts, the Mob Museum, the Neon Museum and a new City Hall for the city of Las Vegas.
While the completion of those projects and the relocation of Zappos.com in 2013 to downtown helped to fuel redevelopment and reimagine the area as the city's true center of culture and locals' preferred authentic gathering place, downtown Las Vegas has historically lacked a wide offering of residential development. Fast-forward to today, when there are nearly 900 residential projects under construction or in early development stages, adding to the variety of existing residential options like the Ogden, Juhl, Soho Lofts and Newport.
"This is an exciting time for residential development in the core of our city, with a number of projects now under way, strong sales at existing communities and homes that are quickly appreciating in value while still priced affordably relative to other areas of the city," said Bill Arent, director of economic and urban development for the city of Las Vegas. "Given renewed interest in living downtown, we are hosting an informational event in partnership with the Downtown Vegas Alliance and Urban Land Institute for the general public to learn more about residential opportunities in the downtown area."
On April 25 at City Hall, the Downtown Residential Fair, from 3 to 7:30 p.m., will feature nearly a dozen developers of existing and future permitted residential projects, who will showcase information on both for-rent and for-purchase condominiums, town homes, lofts and other multifamily developments in the area.
The fair also includes an amenity zone showcasing the vibrant downtown lifestyle created by the area's abundant restaurants and bars, nightlife, museums and attractions.
At 5:30 p.m., the public is invited to attend a free symposium featuring keynote speaker Ryan Gravel, an urban planner, designer and author working on infrastructure concept development and policy as the founder of Atlanta-based Sixpitch. Gravel is best known for his work on the Atlanta Beltline that transformed a once-blighted area of the city into a highly desirable residential zone. He is the author of "Where We Want to Live: Reclaiming Infrastructure for a New Generation of Cities."
Gravel will share best practices and lessons learned from Atlanta and will be followed by a panel discussion of local downtown residential developers moderated by Christina Roush, a developer and member of the city of Las Vegas Planning Commission.
Panel discussion participants include Uri Vaknin, a partner at KRE Capital LLC, whose projects include the Ogden and Juhl; Chris Gonya, developer of the Pioneer; Nate Carlson, Wolff Development and a partner of Downtown Project's Fremont 9; and Patrick Brennan, project manager at Aspen Heights Partners and developer of Aspen Heights at Symphony Park.
The evening concludes with a hosted mixer from 6:45 to 7:45 p.m., courtesy of the Ogden and Juhl, in the Now Cafe at City Hall.
"This is a great opportunity for valley residents to gather information on downtown residential opportunities, amenities and lifestyle," Arent said. "With more than 150 restaurants and bars, signature museums, the Smith Center for the Performing Arts, casinos and attractions all within blocks of each other, it's no wonder more residents want to make downtown their home.
"And with major projects coming online, including the new UNLV School of Medicine and surrounding developments in the Las Vegas Medical District, we anticipate the demand for residential projects, amenities and lifestyle assets in the downtown area will continue to grow."
To attend the program and mixer, RSVP by April 20 to RSVP@ffwpr.com. All events take place at Las Vegas City Hall, 495 S. Main St. Validated parking is available at the city garage, 500 S. Main St.
KCLV, channel 2, will broadcast the symposium live on TV, or it can be viewed online at KCLV.tv/live. For more information, contact Tracy Reich at the city of Las Vegas at 702-229-2083 or TReich@LasVegasNevada.gov.