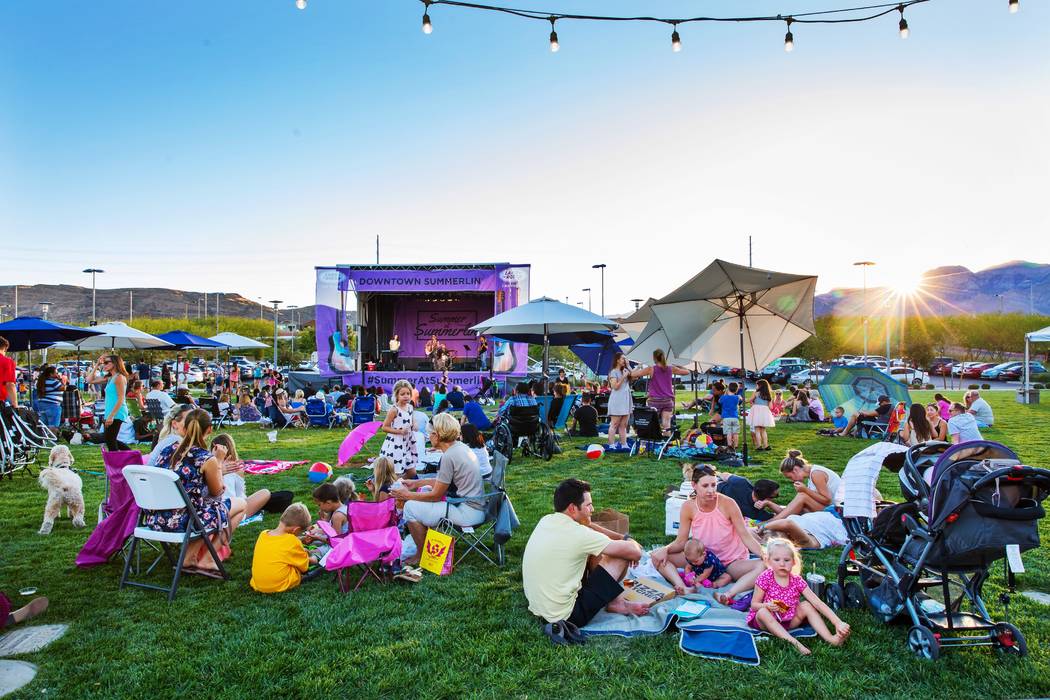 Just in time for spring, Downtown Summerlin, the retail-dining-entertainment-sports destination in the heart of the Summerlin, announces a four-week spring concert series.
Festivities take place Wednesday evenings starting March 7 through March 28 on The Lawn. The events are free, family-friendly and open to the public.
VIP seating will be available for premier viewing. Patrons interested in VIP seating must spend a minimum of $50 the day of the concert at Downtown Summerlin retail and restaurant partners to receive two VIP seats. Guests will be required to show their receipts to concierge upon arrival to the VIP section. VIP seats are available on a first-come, first-serve basis.
Each concert will start with music at 5 p.m. Several kid-friendly activities are available. The first performance starts at 7 p.m. and the second performance at 8:30 p.m. Families are encouraged to bring blankets and enjoy the evening outside listening to a strong lineup of local performers.
The list features Jeremy Cornwell and Shawn Eiferman on March 7; Empire Records and Camden West on March 14; The Union Drifters and Matt Morgan on March 21; and The Moonshiners and Justin Carder on March 28.
With the spring concert series, Downtown Summerlin is hosting a series of community events in partnership with New Vista, a local nonprofit group. Proceeds from each event will help fund New Vista's efforts to support and empower youth and adults with intellectual and developmental disabilities.
Brew's Best Craft Beer Festival is the first event to kick off the new partnership for 2018. The event is scheduled 3 to 6 p.m. March 17 on The Lawn. Tickets are $30 in advance from EventBrite or $35 at the event and include a beer mug and tasting guide. Enjoy a sampling of a diverse assortment of brews from a variety of craft brewers with food stations, live music and games including life-size foosball. Underage and non-consuming community members are welcome to the event with no ticket purchase necessary.
Other events in partnership with New Vista include four additional Wine Walk events on March 31, May 12, Sept. 22 and Nov. 3. For more than 14 years, New Vista's Wine Walks have been Las Vegas' Saturday night out on the town. The events will be held from 7 to 10 p.m. and feature live music, great food and world-class shopping. Patrons will receive a custom wine glass and event passport upon entry and must be 21 or older to sample alcoholic beverages. Tickets can be bought from EventBrite.
"We are delighted to return to Downtown Summerlin for the 2018 event season," said Vivian Wright, director of development for New Vista. "Our Brew's Best Festivals and Wine Walks are an ever-growing community favorite and a vital fundraiser for our organization. All proceeds from the events directly benefit our members with Intellectual and Developmental Disabilities."
For more information, visit www.downtownsummerlin.com or call concierge at 702-832-1055.
Summerlin offers more than 180 floor plans in 36 neighborhoods in seven distinct villages and two custom-home enclaves throughout the community. Homes are available in a variety of styles — from single-family homes to town homes, priced from the $250,000s to more than $1 million. And there are dozens of homes available for quick move-in. Visit Summerlin.com for information.