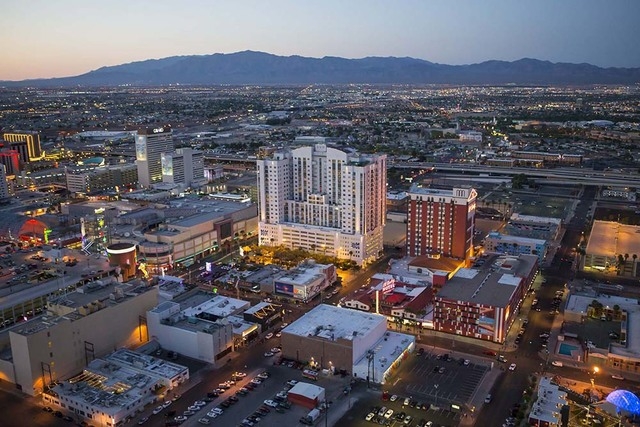 The Ogden is a 21-story high-rise in the heart of the city, offering an urban lifestyle with immediate access to restaurants and bars, unique museums, attractions and entertainment at the nearby Smith Center for the Performing Arts. More urban dwellers seeking that ultimate lifestyle are realizing the dream of home ownership at The Ogden thanks to expanded mortgage financing options, including Veterans Affairs financing.
According to Uri Vaknin, a partner at KRE Capital LLC, whose company, in partnership with Dune Real Estate Partners, purchased The Ogden in 2013 as DK Las Vegas, financing can be one of the most challenging aspects of buying a home.
"There are many prospective homebuyers who can easily make monthly mortgage payments, but for a variety of reasons, lack the ability to make a down payment," Vaknin said. "That's where expanded financing options really make the difference to create a path to home ownership. At The Ogden, we have worked tirelessly and closely with The Federal Savings Bank to earn the ability to offer our homebuyers the best possible financing options, and the result is a growing community of downtown dwellers proud to call The Ogden home."
In fact, several new homeowners at The Ogden are veterans who were able to purchase a home there using VA financing. An added bonus is The Ogden's proximity to the Las Vegas office of Veterans' Affairs, a few miles north on Rancho Drive.
"We're especially proud and pleased to help make home ownership a reality for veterans who have given so much to our country," Vaknin said. "The Ogden is located just 15 minutes from Nellis Air Force base, our valley's signature military installation, and now with VA mortgage financing, we are well-positioned to offer veterans and military personnel a great place to call home."
The Ogden is now working on securing Fannie Mae financing; and The Ogden recently received conditional approval for Federal Housing Administration-backed loans once it reaches a designated threshold of ownership. So, according to Vaknin, financing options will continue to expand at The Ogden.
Since acquiring The Ogden in 2013, DK Las Vegas has made a $2 million investment to remodel the lobby with high-end design treatments; add new upgrades throughout all residences, including new lighting, hardwood floors, granite countertops and stainless-steel appliances; and enhance amenities such as a Sky Deck, social lounge, fitness center and remodeled roof-top pool.
The Ogden's single-story, open floor plans offer flex spaces that can serve as a home office, den or yoga room, extra bedrooms for accommodating multigenerational family and guests, and spacious windows that fill interiors with natural light.
The Ogden's rich urban lifestyle is created by its location in the city's historic center, which for many years has been undergoing a significant revitalization that has spawned scores of new businesses, restaurants, bars and coffee shops — all within steps of Ogden residences.