Father: 'Summerlin is a beautiful place to raise a family'
November 2, 2018 - 3:19 pm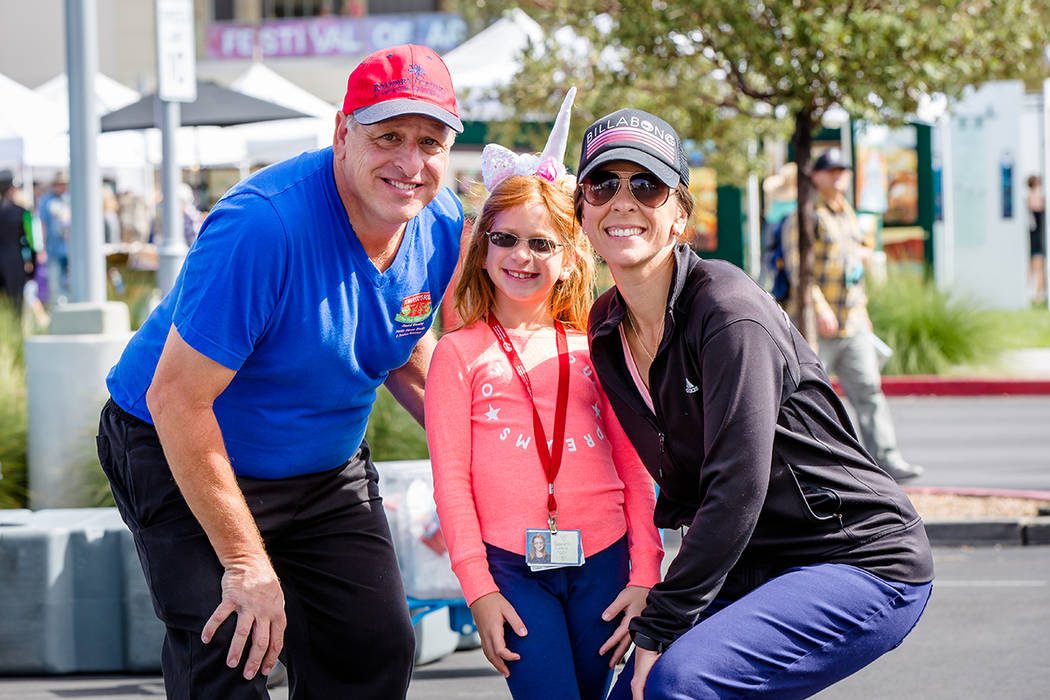 Spanning west of the 215 Beltway in Summerlin is the scenic village of The Paseos. The area boasts more than 32 actively selling floor plans in a range of architectural styles, elevations and price points.
The Collelo family, which includes Tom, his wife, Tina, and 7-year-old daughter, Gabriella, have made Summerlin their home since 2013 and moved into The Paseos village in 2016.
Tom Collelo, a former owner of Las Vegas catering and foods company, Tomasso's Foods, recently sold the business and is now a full-time father to his junior golf superstar daughter, taking her to golf practice six times weekly at either TPC Las Vegas in Summerlin or nearby Angel Park and traveling with her to tournaments nearly every weekend.
Gabriella, a second-grader at Vassiliadis Elementary in The Paseos village, began competitively golfing at the age of 5 but first picked up a club at the age of 3. Tom Collelo, who is a former professional bowler, said she was born with the gift of golf.
"By the time Gabriella was 5, she had already declared her love and passion for the sport of golf, telling me golf was the most important thing in her life," he said. "As a former professional athlete, I know that passion and drive is not something you can teach and instill in kids. It's something they are born with, and it's evident in Gabriella, who is motivated every day to keep working on her game."
Gabriella plays from the U.S. kids' tees and typically shoots between 36 and 40 on a nine-hole round of golf.
"That's pretty spectacular for a 5-year-old," Tom Collelo said. "We are excited to see what the future holds for her."
When the Collelo family members aren't at the golf course, they are often catching a quick bite to eat at Downtown Summerlin. With Summerlin's 10 golf courses, Tom Collelo said, the family appreciates the community's family orientation, great schools and most of all, its beauty — both natural and man-made.
"Summerlin is a beautiful place to raise a family," he said. "From well-manicured streetscapes to Red Rock Canyon and the mountains that frame the community, Summerlin's got it all. We love it here."
The Paseos village boasts a higher elevation that overlooks the valley. Nestled against one of Southern Nevada's most stunning geographic landmarks, Red Rock Canyon National Conservation Area, The Paseos' exclusive and exceptional location affords commanding views of Red Rock Canyon to the west, and to the east, the entire valley, including the glittering Strip. Amenities in The Paseos village include the 14-acre adventure-themed Fox Hill Park and Vassiliadis Elementary. At the center of the village is the 12-acre Paseos Park.
In The Paseos, seven neighborhoods are selling homes, many designed for today's modern families with an emphasis on open and spacious gathering spaces with an abundance of indoor/outdoor living spaces that extend living areas and take advantage of the area's stunning 360-degree views.
Select homes in The Paseos feature exceptional design elements such as rooftop decks, master suite retreats and multigenerational living suites or casitas for extended family and visiting guests. Homes in The Paseos range from town homes that start at 1,305 square feet and priced from the high $200,000s to expansive single-family homes larger than 4,200 square feet and priced up to the mid-$800,000s.
Built on lots from 8,400 square feet to 23,000 square feet, Los Altos by Toll Brothers features four, single-story floor plans with elegant foyers, formal dining rooms, coffered ceilings, covered patios, courtyards and an optional casita. Homes at Los Altos range from 3,094 square feet to 3,82 square feet and are priced from the mid-$700,000s.
The five, two-story floor plans at Delano by Lennar come standard with Lennar's Everything's Included package, featuring upgrade-quality design elements including smart home technology. One floor plan includes Lennar's "home within a home" Next Gen private suite. Delano offers homes from 3,300 square feet to more than 3,800 square feet, priced from the mid-$600,000s.
Altura by Toll Brothers offers up to seven bedrooms and 6½ baths. Four spacious and stylish floor plans include foyer, 20-foot ceiling heights, striking curved staircase and formal dining and living rooms, among many other exceptional design features. Homes at Altura range from 3,464 square feet to more than 4,200 square feet, priced from the mid-$600,000s.
The four flexible floor plans at Savona by Woodside Homes include one single-story design on home sites from 6,000 square feet to 15,000 square feet. Design options include a second master suite, a junior suite, home theater, loft, three-car garages, private interior courtyards and covered patios. Homes at Savona are priced from the mid-$500,000s and range from 2,092 square feet to more than 3,200 square feet.
Meeting the demand for a lower maintenance lifestyle and a smaller footprint but with all the benefits of Summerlin residency are two neighborhoods in The Paseos. Santa Rosa by CalAtlantic Homes offers town homes from 1,488 square feet to 1,845 square feet and priced from the low $300,000s. Coronado by Edward Homes features five single-story condominium flats that range from 1,305 square feet to nearly 1,800 square feet, priced from the high $200,000s.
Thanks to closeness to the 215 Beltway, neighborhoods in The Paseos village have access to McCarran International Airport, the Strip and the Downtown Summerlin area, offering fashion, dining, entertainment, Red Rock Casino and two major sports facilities: City National Arena, practice facility of the Vegas Golden Knights and, coming soon, Las Vegas Ballpark, a Triple-A baseball stadium and future home of the Las Vegas 51s. For more information about Summerlin, its neighborhoods and amenities, visit Summerlin.com.