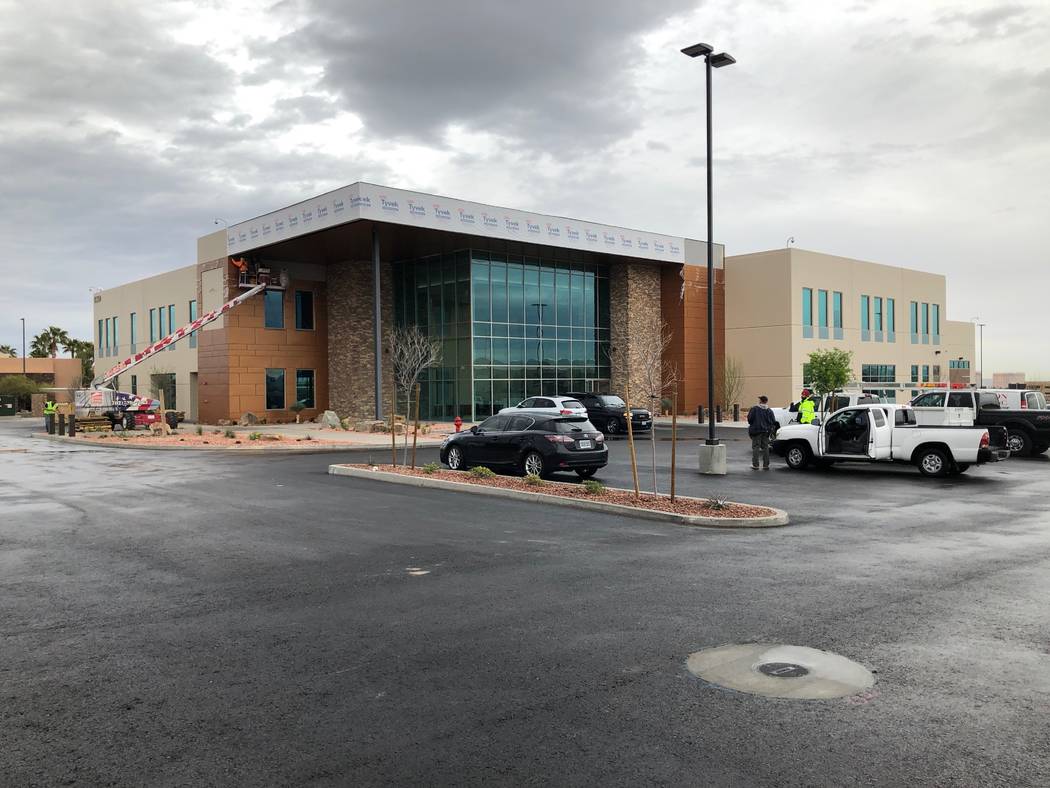 In case they didn't know already, members of the Greater Las Vegas Association of Realtors now understand how their clients feel when they move into a brand-new home.
That's because GLVAR is busy this month putting the finishing touches on its new high-tech headquarters building in the southwest part of Las Vegas.
GLVAR's new headquarters is on South Rainbow Boulevard, just south of Post Road and north of Sunset Road. The eye-catching structure with a sprawling outdoor deck facing the Las Vegas Strip has nearly 40,000 square feet of space. Inside, it features classrooms large enough to seat 300 members. The two-story facility on 4.25 acres is an energy-efficient, concrete tilt-up building with about 380 parking spaces.
Moving is never easy, especially after being in one place for decades. But GLVAR President Chris Bishop said the association needed the new and larger building to better serve its growing membership.
"First, it's more conveniently located for most of our members," he said. "Keep in mind that we've been in our current building on East Sahara (Avenue) for more than 30 years. We've long since outgrown the old building, and we needed a facility that has new and improved educational areas, state-of-the art technology and plenty of parking for all the classes and events we host for our members."
GLVAR is wrapping up the move from its old 27,000-square-foot building at 1750 E. Sahara Ave.
GLVAR's previous building will be put to good use. In August, GLVAR announced the sale of its longtime home to Laborers' International Union North America, Local 872 (LIUNA Inc.) for $2,750,000.
The new GLVAR building is another sign of the growth and health of the association and of the local real estate industry, Bishop said. It also represents a major investment for GLVAR that he believes will serve the association well for years to come. Until GLVAR grows into the entire building, it is leasing some space to other compatible tenants, generating additional revenue for the association.
GLVAR joins a long list of other companies and organizations that have built high-profile new buildings along the southwest part of the 215 Beltway in recent years. Examples range from the massive IKEA store to office and headquarters buildings for leading companies in the gaming industry to the new UFC headquarters building.
GLVAR started construction on its new building in December 2016, when Clark County Commission Chairman Steve Sisolak referenced the growth in the area and told the crowd attending a groundbreaking event at the site that GLVAR and its members will contribute to the neighborhood.
"This beautiful and conveniently located building will be a great addition to this rapidly developing area," Sisolak said. "I think GLVAR's new home will be as good for this area as it will be for GLVAR and its nearly 13,000 (now more than 14,000) members."
GLVAR was founded in 1947 and provides its more than 14,000 local members with education, training and political representation. The local representative of the National Association of Realtors, GLVAR is the largest professional organization in Southern Nevada. Each GLVAR member receives the highest level of professional training and must abide by a strict code of ethics. For more information, visit www.LasVegasRealtor.com. Email your real estate questions to ask@glvar.org.