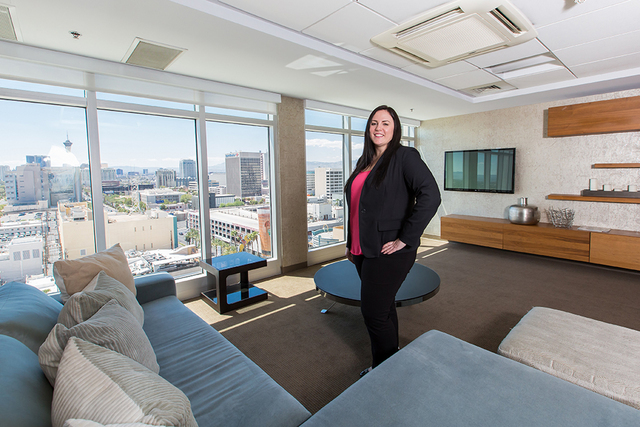 Jennifer Brunston has only lived in Nevada for a few months, but her seasoned experience, professionalism and first-class customer service skills have already made an impact on the lives of her "clients," residents at The Ogden, a high-rise condominium tower in the heart of downtown Las Vegas.
Through a collaborative partnership between The Ogden's team and Brunston, general manager with First Service Residential property management company, residents enjoy the many benefits of strong management of the property, including full-service concierge, confidence in the safety of their homes when they're away, as well as maintenance-free lifestyles.
"My role at The Ogden is defined by a number of things, but at the end of the day, my No. 1 goal is to ensure residents are happy and enjoying their lives here," Brunston said. "We aim every day to provide residents the resort-inspired lifestyles they were attracted to when they purchased their dream homes in the community."
Originally from Los Angeles, Brunston most recently worked in Beverly Hills, gaining valuable experience working with other homeowners association management companies where she managed low-, mid- and high-rise properties. Today, her role at The Ogden consists of juggling multiple tasks, working with homeowners, staff and vendors to ensure life at The Ogden continues to exceed the expectations of those who call it home.
"Homeowners are given direct access to concierge that offers exceptional service and unique luxury resources such as dry cleaning pickup and delivery, groceries right to your door, making restaurant reservations and even travel arrangements," Brunston said. "In just a few weeks, I've witnessed the commitment and community vision through the eyes of The Ogden team. I've heard nothing but positivity from residents and have been told on various occasions the level of customer service was a key selling point in their decision to buy at The Ogden."
For the many residents who frequently travel for business and pleasure, they are given the confidence that their homes and their belongings will remain secure while they are away. "Because the Ogden is truly a lock-and-leave community, residents can be away for extended periods of time without worrying about their homes, and you can't put a value on peace of mind," Brunston said.
Homes at The Ogden range from a one-bedroom, 815-square-foot residence with prices starting in the mid-$200,000s to a three-bedroom plus den 2,044-square-foot home starting in the low $600,000s. Residences feature a modern design aesthetic in keeping with the architecture and the lifestyle vibe, private balconies and expansive views of downtown Las Vegas, the Strip and the mountains that frame the valley.
The Ogden's single-story, open floor plans offer flex spaces that can serve as a home office, den or yoga room, extra bedrooms for accommodating multigenerational family and guests, and spacious windows that fill interiors with natural light.
For more information, visit The Ogden's onsite sales center at 150 Las Vegas Blvd. North or online at Ogdenlv.com.