Howard Hughes underwrites local hockey camp
September 10, 2023 - 9:03 am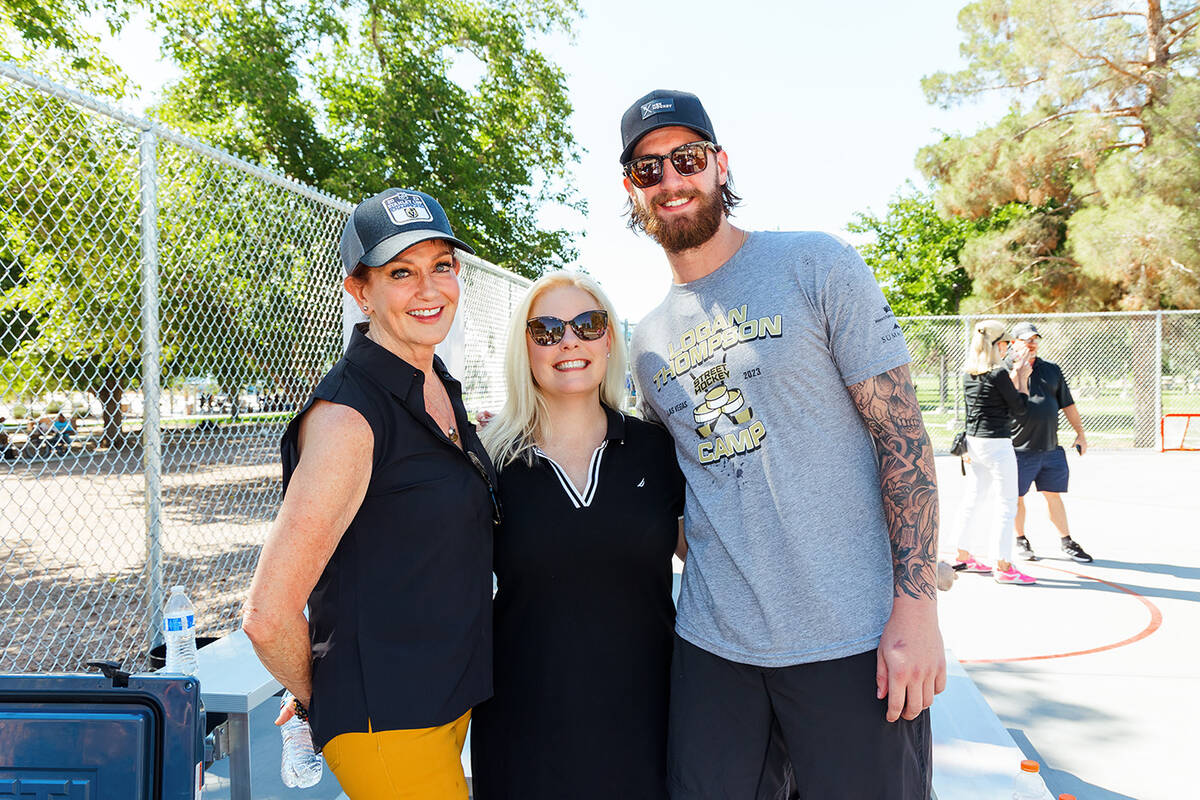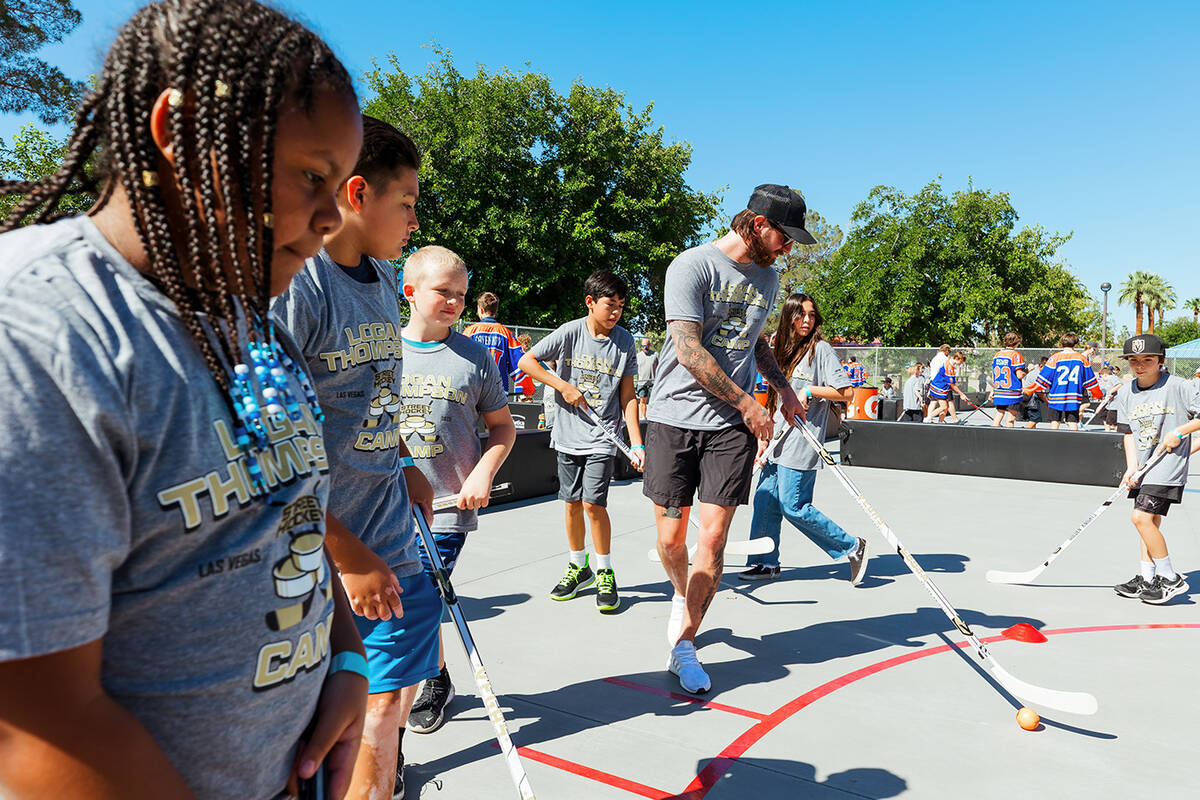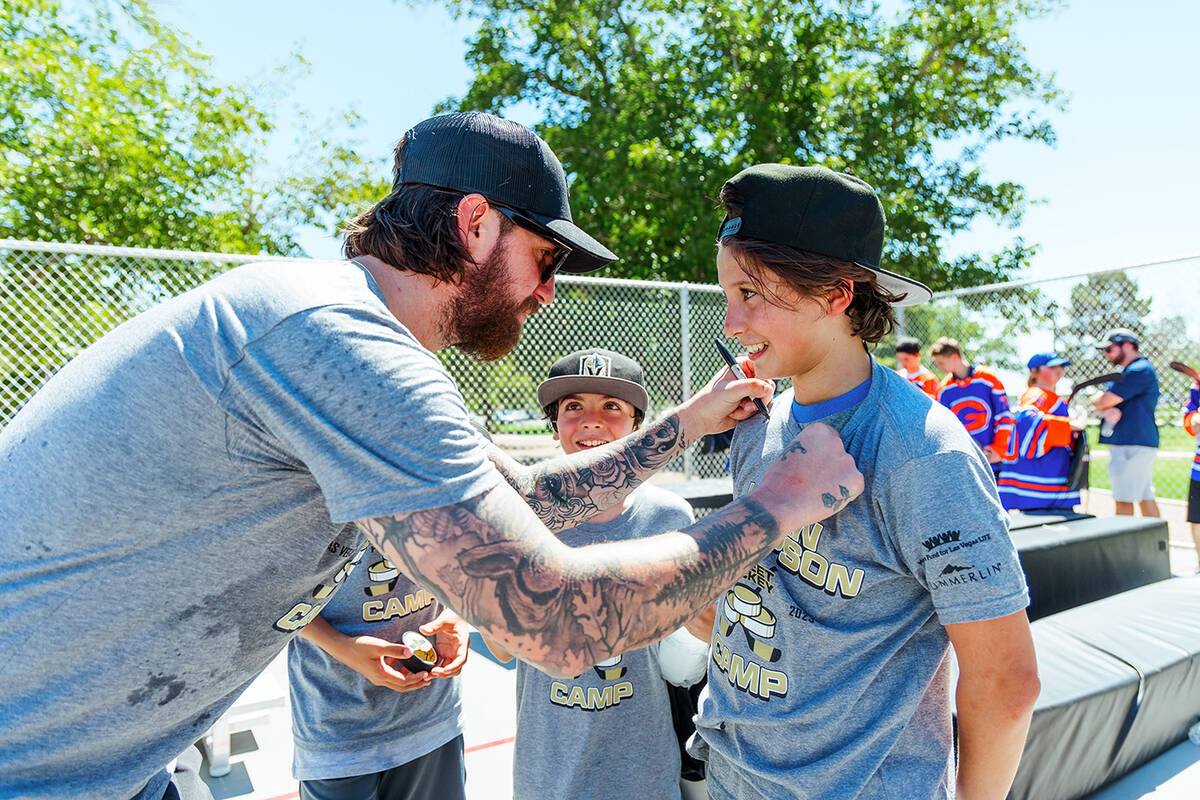 More than 60 local kids, ages 8-14, received the opportunity of a lifetime on Aug. 26 to participate in a street hockey camp headlined by Vegas Golden Knight and 2023 Stanley Cup champion Logan Thompson.
Underwritten by a donation from Howard Hughes Corporation, developer of the Summerlin master-planned community, to the Mayor's Fund for Las Vegas LIFE, the camp was organized by Las Vegas Agency and the city of Las Vegas Department of Parks, Recreation and Cultural Affairs.
Kenny Brooks, hockey director at Las Vegas Ice Center and varsity hockey coach at Bishop Gorman High School, with members of the Bishop Gorman High School varsity hockey team, provided hands-on assistance and support, helping guide participants through a variety of skills and activities. Participants enjoyed Kona Ice snow cones after the camp that were provided by Howard Hughes Corporation.
The camp was held at the VGK Ball Hockey Rink at Lorenzi Park, which was funded by a donation to The Mayor's Fund for Las Vegas LIFE from the VGK Foundation with support from the NHL. Announced during the 2022 Honda NHL All-Star Weekend, the ball hockey rink was completed in March and officially opened for public use in April. It is operated by the city of Las Vegas.
According to Sallie Doebler, CEO of The Mayor's Fund for Las Vegas LIFE, the camp was a dream come true for children from throughout the city who might not otherwise have an opportunity to participate in such a high-quality and fun experience.
"We are grateful to good partners like Howard Hughes that understand the value of community-building through experiences like this hockey camp," Doebler said. "Public-private partnership is at the core of the Mayor's Fund as we seek to partner with companies like the Howard Hughes organization to advance initiatives that improve quality of life for all Las Vegans."
"It was an honor to partner with the Mayor's Fund, the city of Las Vegas and Vegas Golden Knight goaltender Logan Thompson to make possible this exciting and unique camp experience for kids in our community," said Danielle Bisterfeldt, senior vice president of marketing and consumer experience for Summerlin.
"We, at The Howard Hughes Corp., have long supported a variety of Mayor's Fund programs, including public art installments, tree plantings and youth sports. We are grateful to the city of Las Vegas and the Mayor's Fund for giving us the opportunity to contribute to key community betterment initiatives."
Now, in its 33rd year of development, Summerlin offers more amenities than any other Southern Nevada community, including 300-plus parks of all sizes; 200-plus miles of interconnected trails; resident-exclusive community centers; 10 golf courses; 26 public, private and charter schools; a public library and performing arts center; Summerlin Hospital Medical Center; houses of worship representing a dozen different faiths; office parks; and neighborhood shopping centers.
Downtown Summerlin offers fashion, dining, entertainment, Red Rock Resort and Class-A office buildings. the City National Arena is home of the Vegas Golden Knights' practice facility. The Las Vegas Ballpark is a world-class Triple-A baseball stadium.
Summerlin offers 100 floor plans in nearly 20 neighborhoods throughout seven distinct villages and districts. Homes, built by many of the nation's top homebuilders, are available in a variety of styles — from single-family homes to town homes, priced from the $400,000s to more than $1 million.
For information on all actively selling neighborhoods, visit Summerlin.com. Before you visit any new Summerlin neighborhood, call the homebuilder to check on hours of operation. Phone numbers for each neighborhood are on Summerlin.com.