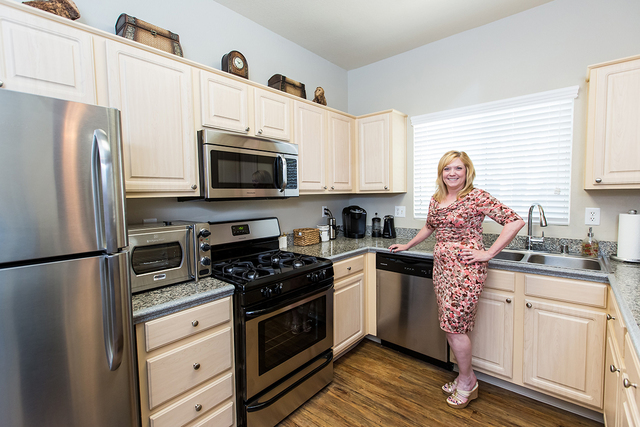 After three decades of living in Las Vegas, Lisa Wamble decided to trade in suburbia for a home at Spanish Palms, a gated resort-style condominium community at 5220 S. Rainbow Blvd.
Wamble, a St. Louis native, and her then-husband moved to Los Angeles in the 1980s and three years later, moved to Nevada for its more affordable cost of living.
"We owned and lived in three different homes across the valley where we raised our son and daughter, but when they left for college, our 2,600-square-foot home suddenly seemed too big to maintain," Wamble said. "When my husband and I separated a few years ago, I knew it was time to find a home that better fit my needs and my new lifestyle. My Realtor and I browsed through hundreds of options online, but none caught my interest quite like Spanish Palms."
Wamble and her Southwest Gas Corp. co-worker, Susan Watson, explored Spanish Palms in March. Wamble became enamored with a two-bedroom residence with an attached two-car garage. She immediately put a deposit on the new home and began working to sell her prior home.
"When my house sold in the first week of listing it on the market, I knew it was a good sign, and it made me even more excited to move into my new home at Spanish Palms," she said. "This is the first home I've ever owned by myself and I couldn't be happier with the decision. Susan lives a few buildings away from me, so it's wonderful to share the joys of Spanish Palms with my best friend.
"Having my two-car garage made the transition so easy for me, because I can store a lot of my belongings there, knowing that they are secure and within reach when I need them," Wamble said.
Spanish Palms offers three floor plans ranging between 744 square feet and more than 1,131 square feet; home prices start from $131,900. Spanish Palms signature amenities include Central Park, an expanded fitness center, business center and conference room inside the clubhouse.
Spanish Palms is approved for Veterans Affairs and Federal Housing Administration loans, enabling homebuyers to purchase a home with 3.5 percent down or less. Less than 20 percent of its 372 ho1mes are available for purchase.
The sales center, at 5250 S. Rainbow Blvd., No. 1055, is open 10 a.m. to 6 p.m. Monday through Friday, 10 a.m. to 5 p.m. Saturday and noon to 5 p.m. Sunday. Call 702-719-6100 to schedule private appointment.
For more information on Spanish Palms, visit SpanishPalmsLV.com.