Music industry professional chooses Spanish Palms for value, lifestyle and security
October 17, 2016 - 2:55 am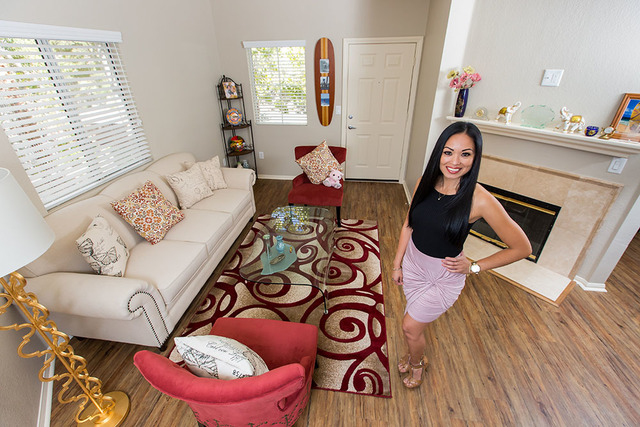 Layla Loxa is a DJ — and not just any DJ. She's one who makes a living by setting sail on the open seas to spin her tracks for guests of Princess Cruises. The frequent traveler recently planted roots in Las Vegas by purchasing her dream home at Spanish Palms, the gated resort-style condominium community located at 5250 S. Rainbow Blvd.
"I'm fortunate to have landed my dream job, but I also look forward to relaxing in the comfort and safety of my home when I'm not on a cruise ship," Loxa said.
"After living in San Diego for nearly two decades, I decided it was time for a change of scenery and, more importantly, to find a home that didn't come with a steep mortgage payment. Several weeks ago, I started looking at rental properties in Las Vegas, but instead stumbled across Spanish Palms, which ultimately presented more value and attractive lifestyle than any other community I had seen."
With a reputation for drawing talented DJs, Las Vegas was the perfect choice for Loxa's next home. She asked a Realtor friend to help her and boyfriend Milos find rental properties. But upon hearing their needs and wants, Loxa's friend encouraged a visit to Spanish Palms where she knew Loxa could afford to buy.
"I was hesitant at first, because my boyfriend and I had a plan, but when I came to Spanish Palms, I immediately understood why my friend spoke so highly of the community," Loxa said. "The sales team was beyond helpful, and when I explored the rest of Spanish Palms' amenities, including the resort-style pools, state-of-the-art fitness center, Central Park and its mature landscaping, I was sold. Within two days, I was paying cash for my dream home, and we moved in earlier this month!"
Spanish Palms offers easy access to great dining, shopping and proximity to the airport and the Las Vegas Strip.
"Spanish Palms feels like a hidden oasis amidst the hustle and bustle of this 24/7 city," Loxa said. "But I also love that I'm only minutes from the Strip, where I work special events from time to time."
Loxa especially appreciates the community's guard-gated security.
"With how much Milos and I travel, it's especially comforting knowing our home and belongings are safe and sound. For the first time in a long time, I have peace of mind, and you can't put a price tag on that."
Spanish Palms offers three floor plans ranging from 744 square feet to more than 1,131 square feet, priced from $138,900. Spanish Palms signature amenities include Central Park, an expanded fitness center, business center and conference room inside the clubhouse.
For more information, call 702-619-600 or visit SpanishPalmsLV.com. The sales center is located at 5250 S. Rainbow Blvd. and is open Monday through Friday from 10 a.m. to 6 p.m., Saturday 10 a.m. to 5 p.m. and Sunday from noon to 5 p.m.