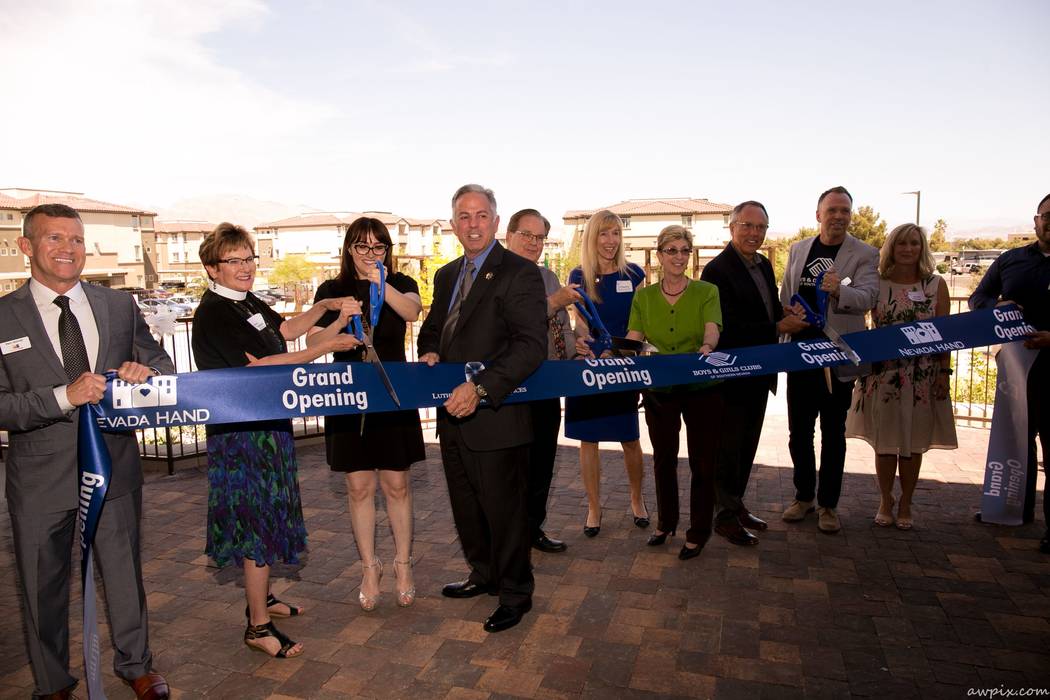 Working families, children and seniors needing assistance have access to on-site services with the opening of the Boulder Highway Collaborative Campus. This nonprofit collaboration is a unique campus-style service partnership in Nevada and includes Boys &Girls Clubs of Southern Nevada, Lutheran Social Services of Nevada and Nevada Hand.
Beneficiaries include residents of Nevada Hand's new 264 Boulder Pines Family Apartment homes and families living near the Boulder Highway campus, who now have access to the new Boys &Girls Clubs facility and Lutheran Social Services Comprehensive Safety Net Center and food pantry. The Boulder community was joined at the opening celebration by Clark County Commissioner Chris Giunchigliani; CJ Manthe, Nevada State Department of Business and Industry director; Sheriff Joseph Lombardo; the CEO's of the collaborative partners; and other community and financial partners.
"The Boulder Highway Collaborative Campus is a great example of public and private partnerships that address community needs on a broad scale, where the whole is greater than the sum of its parts," Giunchigliani said.
"It's great to be with the many partners who have helped make this campus more than a home for our working families, and the Boulder community," said Mike Mullin, Nevada Hand founder and CEO. "I'm grateful for our new educational, business and residential neighbors, including the Mater Academy of Nevada and Arizona Charlie's, who have joined in this unique community."
The idea for the campus germinated from conversations about innovative collaborations at the CEO Exchange, an organization of the CEOs of Southern Nevada's largest nonprofits who work together to protect and strengthen the community's safety net for thousands of residents.
"This facility allows us to reach young people who are just footsteps from their homes and allows them a world-class club experience that assures success is within reach," said Andy Bischel, BGCSNV CEO. "It makes it easier for us to fulfill the Boys &Girls Clubs of Southern Nevada mission to enable those who need us most to reach their full potential as productive, caring, responsible citizens."
Lutheran Social Services of Nevada has become the perfect complement for the Boulder Highway Campus.
"We are grateful to be part of this historic opportunity that offers clients a co-located approach to receiving services on one campus," said Armena Mnatsakanyan, LSSN executive director.
Clark County is a significant financial supporter of the campus, with funding for the BGCSNV and LSSN buildings through a $5.8 million grant through the U.S. Department of Housing and Urban Development's Community Development Block Grant program. Administered locally by Clark County, the federal grant is the largest single award to a nonprofit partnership through CDBG in Southern Nevada in its history. Clark County is also supporting Nevada Hand's development with $3.3 million through the Home Investment Partnerships Program.
Other financial partners include Citi Community Development, Federal Home Loan Bank of San Francisco, Raymond James Financial and NeighborWorks America.