Oak Leaf Park opens in The Cliffs Village in Summerlin
October 19, 2018 - 3:59 pm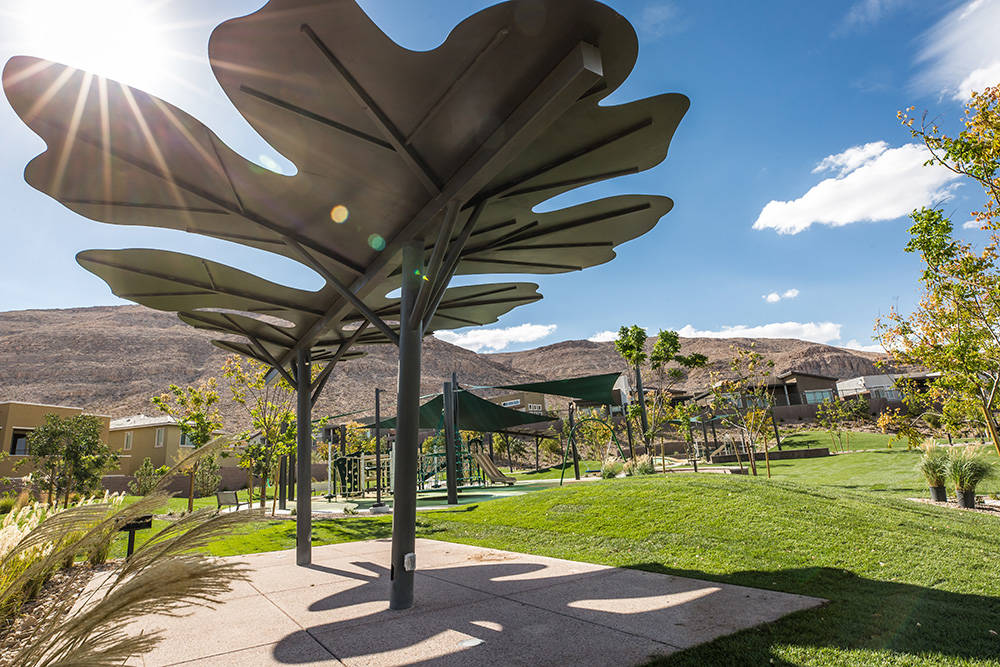 There is no community in Southern Nevada with more parks than Summerlin — nearly 250 of all sizes and types.
Every Summerlin village is centered around a large community park, while each of the community's neighborhoods is required to have its own smaller parks, reflective of a planning requirement that dedicates approximately one-third of Summerlin's total acreage to open space, parks, trails and golf courses. The newest park to join the lineup is Oak Leaf Park, spanning more than 5 acres in The Cliffs village.
Recently completed, Oak Leaf Park boasts four pickleball courts, two shaded playgrounds, climbing tower, central lawn and open play area, shaded picnic pavilions and a demonstration garden. A restroom building makes this a great spot for an extended visit and social gatherings of all kinds.
Summerlin's nearly two dozen major community parks range from 5 to 70 acres and feature an impressive recreational amenities, including 16 tennis courts, 14 baseball/softball/T-ball fields, 11 basketball courts, seven soccer fields, three sand volleyball courts, three community centers, two community pools, one football field, one outdoor roller-skating rink and several interactive water-play structures and shaded picnic ramadas.
Julie Cleaver, senior vice president of land planning and design, said that Summerlin has no equal in Southern Nevada when it comes to open space.
"Summerlin is centered around providing opportunities for residents to live an active, outdoor lifestyle and connect more with nature. We create parks of all sizes and require each neighborhood to have its own smaller parks, reflective of the community's planning standard, which dictates that approximately one-third of the total acreage include open space, parks, trails and golf courses — all the elements that create community and enhance lifestyle," Cleaver said.
"We go to great lengths to ensure Summerlin remains the best place to live in Southern Nevada by incorporating an abundance of open space, parks and trails into every village. The original Summerlin master plan dictated this requirement, and some 28 years later, we are continuing to ensure we set aside ample land for these amenities to maintain the community's original vision, while simultaneously maintaining home values for residents and encouraging their well-being."
Other new parks under development include Sagemont Park in Summerlin Centre, west of the 215 Beltway and south of West Charleston Boulevard. The 9.6-acre park, scheduled for completion later this year, includes three lighted soccer fields of varying sizes, a lighted full basketball court, lighted tennis courts, shaded playground and picnic pavilions, restrooms and a connection to the nearby regional bike trail.
And finally, a new park in the village of Stonebridge is under planning. Slated for completion in second quarter 2019, the park spans 12 acres.
It will include two lighted soccer fields, one full basketball court with half courts at both ends, an adult exercise area, four pickleball courts, shaded playground and picnic pavilions and restrooms.
"Summerlin is bursting with recreational opportunities that encourage residents to get outside, stay active and have fun," Cleaver said. "Our newest parks add to our already robust lineup of sport fields, courts and gathering places that help to create our signature lifestyle."