One Las Vegas offers homes in the sky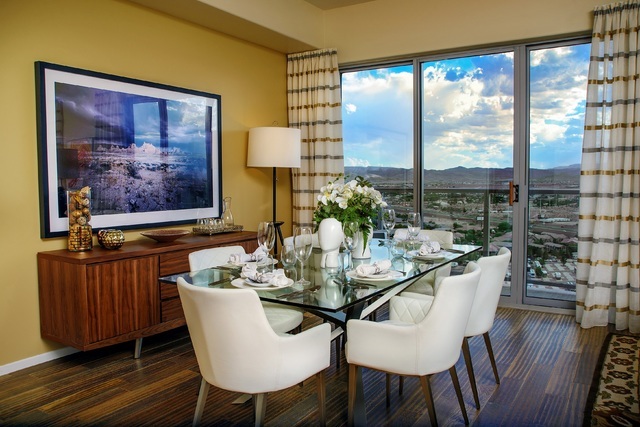 One Las Vegas, the high-rise condominium community on Las Vegas Boulevard's southern end, elevates luxury living. One Las Vegas offers 17 floor plans, ranging from 831 to nearly 3,000 square feet.
"One Las Vegas easily trumps the notion that condominium living means cramped living quarters with few amenities," said Stephanie Reese, director of sales at One Las Vegas. "We see many soon-to-be retirees, people looking for a secondary home and empty-nesters who recognize that a large single-family home is now more space than they need and no longer worth the maintenance. Everyone is always pleasantly surprised to learn that not only do we have a large roster of spacious and open floor plan options, homeowners also have their own climate-controlled full-sized storage units to accommodate extra belongings."
One Las Vegas residences feature 10-foot ceilings and flowing floor plans with large balconies and terraces, averaging more than 200 square feet. Many homes have luxury upgrades, including hardwood flooring, granite countertops, stainless-steel appliances and kitchens with large islands. Expansive and abundant windows let residents maximize daylight and enjoy city and mountain views. The community features large three-bedroom floor plans.
"Many of our bedrooms include master suites and oversized walk-in closets that easily rival those in any suburban home," Reese said. "Residents love using our full-service concierge services, which include access to Mint Locker, a revolutionary high-quality dry-cleaning service company that picks up and delivers right to residents' doorsteps. And many residences include full utility and laundry rooms — for everything else that doesn't require being sent to the cleaners."
New resort-style amenities include a two-story, state-of-the-art fitness center, a resort-style pool, a movie theater with reclining seats, a sports lounge, two private treatment rooms for spa treatments and a full schedule of social events. There is also a conference room with complete audiovisual connectivity, a library and a multifunctional co-op working business center. "We are pet-friendly, welcoming pets of all sizes, which is a major plus for residents who once thought that owning a pet was out of the question when living in a condominium," Reese said. "Because One Las Vegas is truly the perfect blend of comfort, luxury and convenience, pet accommodation is just another example of our commitment to ensuring that One Las Vegas feels like home."
Homes at One Las Vegas range from 831 to 2,857 square feet; many floor plans offer views of the mountains and the Strip. One-bedroom homes are priced from the low $200,000s; two-bedroom homes from the high $200,000s; and three-bedroom homes from the low $400,000s. The penthouse is priced at $1.1 million. O
One Las Vegas is close to Interstate 15, the 215 Beltway and McCarran International Airport. Town Square, a few blocks north of the property, offers one-stop shopping and scores of dining and entertainment options right in the neighborhood.
For more information, visit the One Las Vegas onsite sales center at 8255 Las Vegas Blvd. South, visit www.theonelv.com or call 702-405-9020. The sales center is open 10 a.m. to 6 p.m. Monday through Friday, 10 a.m. to 5 p.m. Saturday and noon to 5 p.m. Sunday.