Phoenix couple calls One Las Vegas home
August 28, 2017 - 9:17 am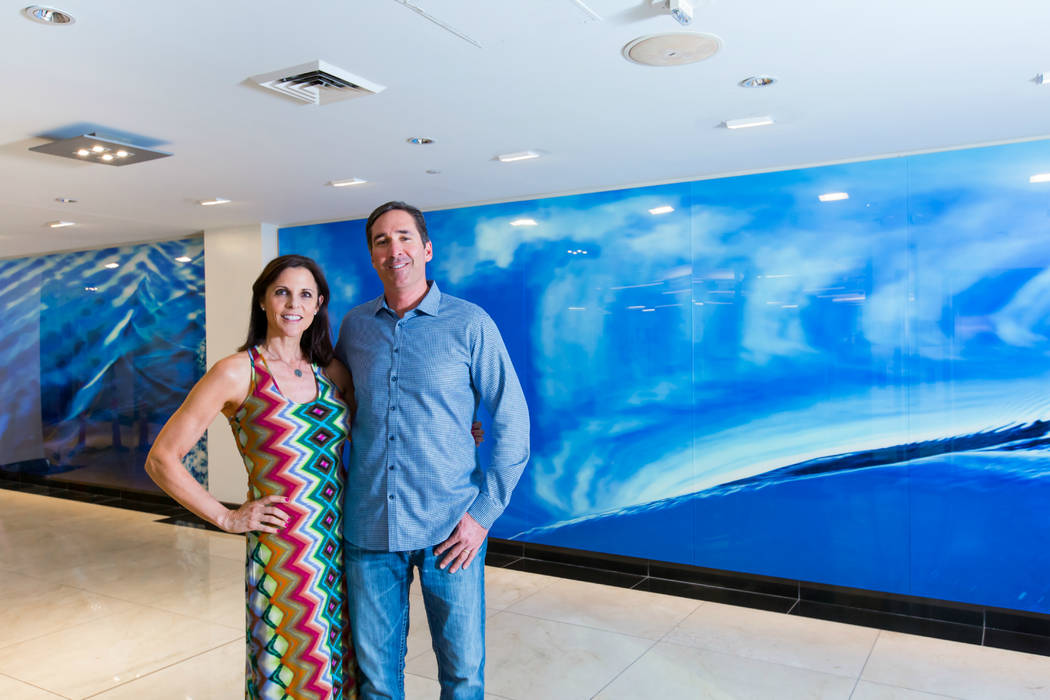 When Phoenix couple Mike and Anastasia Olson decided to make Las Vegas their home, they made a true leap of faith and elevation of their lifestyle. In 2016, the couple purchased a 16th-floor, two-bedroom, 2 1/3-bath home at One Las Vegas, the high-rise condominium community on the south end of Las Vegas Boulevard.
Empty-nesters and at least a decade away from retirement, "it was time to do something for ourselves because it's our turn to have fun," Anastasia said.
It's been more than a year since the move, and Mike and Anastasia are living and loving the high-rise life. "Being home at One Las Vegas is like a mini-vacation. We love it," Mike said. "No yard work or home repairs, plus full-service concierge service, guard-gated security and 24-hour courtesy patrol. When you leave, you lock the door and leave your worries behind."
The Olsons also are enjoying the quiet. "We were genuinely surprised at how quiet it is," Mike said. Our condo faces the Strip, yet it's very quiet. Inside, I think I've only heard my neighbor twice."
For almost three decades Mike, who is president and owner of Olson Precast Co. with offices in Las Vegas and Southern California, traveled between Phoenix, where they raised their twins, and Las Vegas, where Mike had business commitments.
Prior to embracing the carefree high-rise condominium lifestyle, the couple owned single-family homes in both Phoenix and Las Vegas. A ranch-style house served as Mike's home-away-from-home during extended work trips.
"We loved the size of our Las Vegas home and our land, but I was constantly having to repair things," Mike said. "When the time was right, we decided to sell the Las Vegas house and simultaneously had our eyes peeled for a new place, looking at every high-rise condominium community around the city. Our visit and presentation of One Las Vegas sealed the deal. It took less than a month to be completely enamored by our vibrant, easy, fun and hassle-free lifestyle."
"Both our son, who attends William &Mary law school, and daughter, who lives in Newport Beach, love coming to visit with their friends. They hang out at the pool, enjoying the cabanas. Our floor plan, spacious great room and the extra bedroom easily accommodate their frequent weekend trips," Mike said.
In addition to the spectacular, nearly 360-degree views from their two balconies, the Olsons are enjoying their home's distinctive interior style. "I had a blast decorating," Anastasia said. "We put in dark hardwood floors and decorated with new pieces in blue and grey tones that complement the darker woods."
"Since moving to One Las Vegas, we are enjoying a new sense of adventure and freedom that comes with this new phase of life," Anastasia said. "We raised two kids and led very successful careers. It's definitely our turn to have fun, and we couldn't have made a better decision than investing in our new life at One Las Vegas."
For now, the Olsons are spending 50 percent of their time at their Phoenix home and 50 percent at One Las Vegas, but they expect to eventually become full-time One Las Vegas residents.
One Las Vegas homes range from 831 to 2,857 square feet with many floor plans offering spectacular views of both the mountains and the Strip. One-bedroom homes are priced from the mid-$200,000s; two-bedroom homes from the high $200,000s; and three-bedroom homes from the low $400,000s. The penthouse, offering 3,000 square feet of sweeping views, is priced at $1.1 million. One Las Vegas is also Veterans Affairs-approved and offers 30-year fixed mortgages, as well as 10 percent down mortgages.
One Las Vegas is located close to Interstate 15, the 215 Beltway and just minutes from McCarran International Airport. Town Square, just a few blocks north of the property, provides one-stop shopping and scores of dining and entertainment options right in the neighborhood.
For more information, visit the One Las Vegas onsite sales center at 8255 S. Las Vegas Blvd or online at info@theonelv.com.
The sales center is open Monday through Friday from 10 a.m. to 6 p.m., Saturday from 10 a.m. to 5 p.m. and Sunday from noon to 5 p.m.