Program leads couple through contingency purchase
September 17, 2017 - 5:34 pm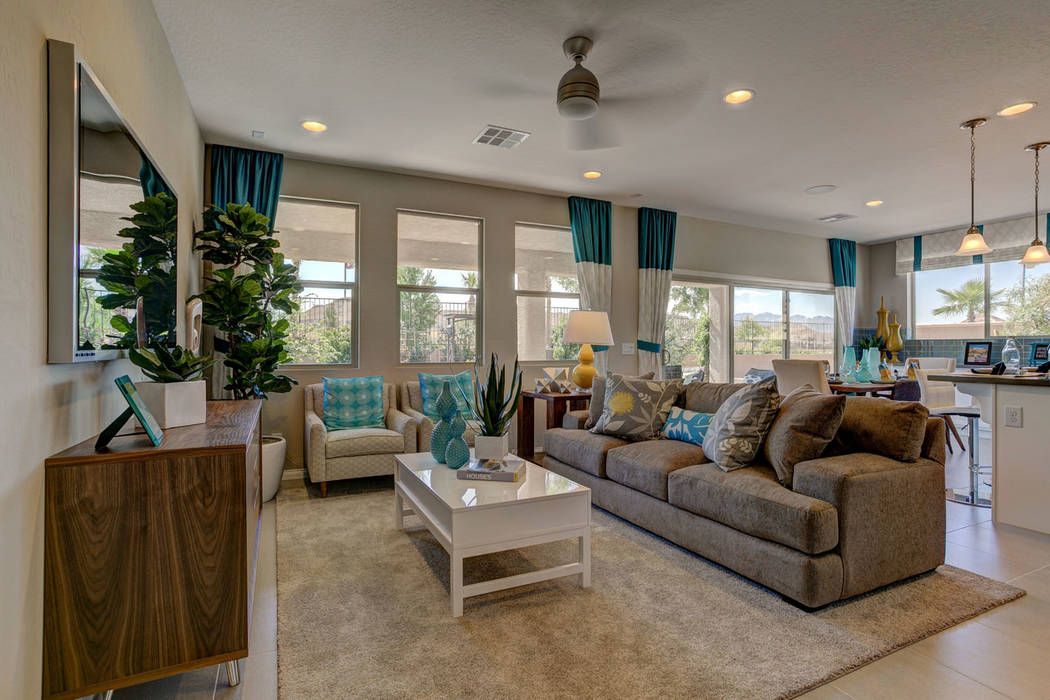 The McGowens know all about the worries of being a buyer and seller at the same time. The Southern Nevadans also know firsthand that it can be done in a seamless fashion through the Nevada Builder Trade In Program, a program operated in Southern Nevada by the Smith Team of Keller Williams Las Vegas that helps homeowners purchase brand-new homes from builders on contingency.
"The thought of buying and selling a home at the same time was a little scary at first because you think that it's going to be a hard, long and stressful process. This was absolutely not the case while working with Robin and Robert Smith through the Nevada Builder Trade In Program. Through the program, the whole process was simple and painless," Brian McGowen said, explaining how he and his wife, Nida, bought a home on contingency at Century Communities' Sage Canyon neighborhood in August.
The couple learned about the Nevada Builder Trade In Program at a Century Communities sales office and decided to call and find out "what it's all about."
"After we made that call, Robin Smith (who leads the Nevada Builder Trade In Program with her brother, Robert) came to our house to explain the program and gave us an idea of what we could sell our current home for. She said that our home was like a showroom house and a 'perfect 10,' and we should have no problems in selling it. She's very professional, and we felt very comfortable with the program. We had nothing to lose to try it," Brian McGowen said.
Shortly after, Robert Smith visited with a photographer and arranged for the house to go on the market.
"On the weekend our home was listed, we had at least 20 different groups visit, and by Monday we had an offer. It sold in four days. It was unbelievable. And the person who bought it paid cash and for more than what we wanted and ever expected," Brian McGowen said.
The couple chose the Residence 2288 design, which is modeled at Century Communities' Rhodes Ranch sales center and built at different neighborhoods. The three-bedroom, 2½-bath home is named after its square footage and offers optional fourth and fifth bedrooms.
"We chose a premium lot with unbelievable views, and we can see the mountains from just about every room. The home is spacious and has an open design. It offers everything we need," Brian McGowen said.
The McGowens are among several hundred Nevadans who have participated in the Nevada Builder Trade In Program since it was introduced in the Las Vegas market in 2014. The program reports a 97 percent success rate in selling homes at the projected price within the designated time frame as agreed upon with the builder constructing the client's new home.
Some participants — like the McGowens — are referred to the program by a builder sales representative while others contact the Smith Team directly. The Smith Team provides, at no cost, interested homeowners with a comparative market analysis and an assessment of which repairs and/or updates can be done that might increase the price.
If a homeowner selects the program, the Smith Team will list, market and sell the client's current home at a reduced commission while offering the buyers' agent the standard 3 percent commission. Additionally, the Smith Team will help arrange for moving services or help locate a temporary rental, if needed, between the sale of the current home and the completion of the new home. According to Robin Smith, homes typically sell in 30 to 60 days through the program.
The Nevada Builder Trade In Program is offered at more than 50 Las Vegas Valley neighborhoods constructed by builder-partners Beazer Homes, CalAtlantic Homes, Century Communities, Pulte Homes and Woodside Homes, as well as Sun City Mesquite by Del Webb.
Some neighborhoods sell standing inventory homes on contingency.
Homeowners interested in purchasing a home on contingency at a non-builder-partner neighborhood and receive benefits similar to the Nevada Builder Trade In Program should contact the Smith Team before beginning their home search.
"Everything with the Nevada Builder Trade In Program was good. The Smith Team was always there if we needed anything, and their customer service skills and people skills are beyond reproach. If I had to do it all over again, I'd pick them again," Brian McGowen said.
For additional information, contact the Smith Team at 702-460-5080 or visit www.ISellLasVegas.com.
In June, the Nevada Builder Trade In Program expanded to Reno, where it follows the same strategic process as in Southern Nevada.