Promenade at Juhl features retail, dining
October 26, 2018 - 4:07 pm
Updated October 30, 2018 - 1:45 pm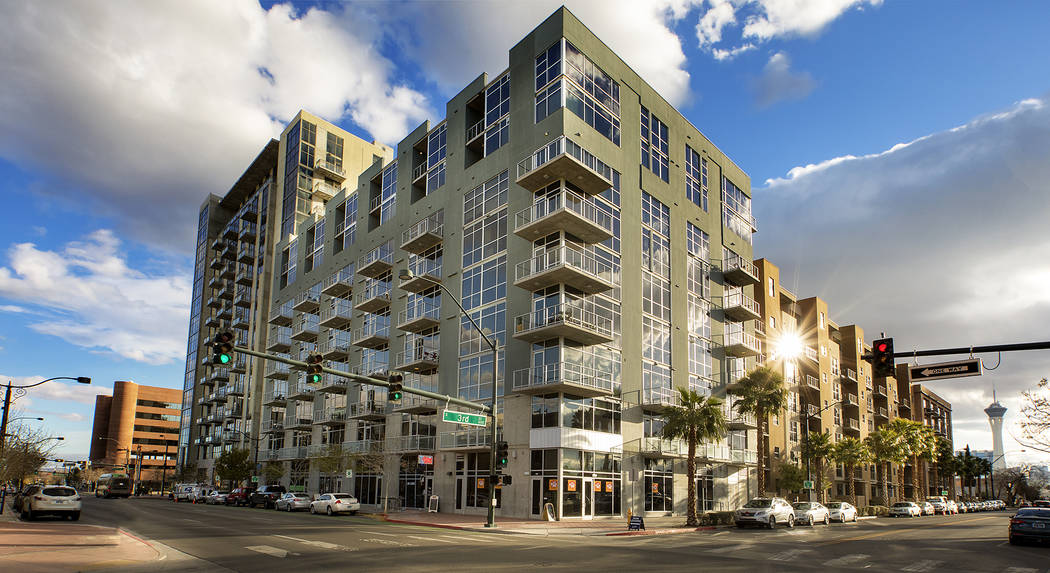 Juhl, a 344-residence, loft-style community in downtown Las Vegas, is known for its unique and flexible floor plans enhanced by an industrial chic design aesthetic that is a signature of the community. But another strong selling point for Juhl homebuyers is The Promenade, more than 20,000 square feet of specially curated retail space on the community's ground level, giving residents easy access to dining, neighborhood services and retail.
Soon to join The Promenade lineup is FreeStyle CrossFit, which will serve as the only around-the-clock group fitness gym in the valley. This unique fitness facility that offers various popular workout options will further enhance Juhl's urban lifestyle. According to owner Richie Contartesi, Juhl is the perfect location for what will be the only FreeStyle CrossFit in Las Vegas.
"We chose Juhl because the ambiance, location and luxury feel align perfectly with our brand," Contartesi said. "Many people, regardless of their fitness level or experience with group activities, are often intimidated by the term 'CrossFit,' but at FreeStyle CrossFit, we aim to break through that fear because we are so much more than just a group class center. Our No. 1 goal is for our members to just have fun. And because we live in a city that never sleeps, we feel strongly about offering our facility to members 24 hours a day."
FreeStyle CrossFit will soon open a temporary location within the community and celebrate its official grand opening in early 2019. The gym will offer other classes, including boot camp and yoga. Members will not only learn skilled movements to improve their overall body composition in an uplifting environment, but staff and instructors will encourage them to follow good nutrition and lifestyle habits. For more information on FreeStyle CrossFit and the different monthly membership plans, visit freestylecrossfit.com.
"It's been nearly two years since we introduced The Promenade and we couldn't be happier with the diversity of businesses available to our residents at their fingertips," said Uri Vaknin, a partner at KRE Capital LLC, whose company, in partnership with Dune Real Estate Partners, purchased a collection of high-rise communities in Las Vegas as DK Las Vegas in 2013. "The Promenade is an urban destination that complements the neighborhood's existing retail offerings, and many of the owners who operate a space here actually live at Juhl, evidence that the live-work lifestyle is alive and well at Juhl. The addition of FreeStyle CrossFit will attract those who lead active and healthy lifestyles, and we are pumped to welcome them to our Juhl family!"
Juhl residents not only benefit from being able to shop, eat and exercise without ever leaving the building, but the community's location connects them to neighboring downtown districts, including the Arts District, which significantly inspired the Juhl's development and design. Current offerings at The Promenade include: Greens & Proteins, a modern, family-friendly café with a healthy twist; Le Pho, a popular Vietnamese kitchen; Classic Jewel, a cocktail lounge featuring a relaxed Vegas glamour vibe; The Audio/Video Boutique & Downtown Décor, specializing in home theater retail and design; Get a Haircut, a classic rock-themed barber shop; and Art-is-Zen, offering architecture and design consulting.
Starting this fall, Downtown Décor will operate a special pop-up boutique in an additional space to showcase its new offerings.
Active duty Air Force member, Jonie Escorpiso and her wife, Paisley Chambers, purchased their home at Juhl earlier this year, crediting part of their decision to buy at Juhl to the dynamic downtown restaurant scene, and moreover, access to great food, right in their building.
"When we lived in our single-family home, we often ordered food from Greens and Proteins through Postmates, but now all we have to do is walk downstairs," Escorpiso said.
Longtime Las Vegan, Becky Dutro, and her husband, Lahm, also purchased at Juhl earlier this year, after falling in love with Juhl's strong sense of community and abundant resident amenities, such as a movie theatre, resort-style pool with cabanas, spa, fire pit and vino deck.
"The retailers that operate on Juhl's ground floor have become our go-to dining and shopping spots, and we know all the owners personally," Lahm said. "Our warm and friendly relationships with the proprietors help to create a true sense of community, and we appreciate not having to leave our neighborhood to enjoy a great meal, grab daily essentials, enjoy a drink or purchase a quick birthday gift. It's all here at The Promenade at Juhl, right where we live."
Juhl includes dozens of floor plans that are one-of-a-kind, with studios starting in the low $200,000s. Recently remodled, Juhl boasts an upgraded resort-style pool with cabanas, lobby and co-op working spaces that cater to its professional residents. Private balconies, 10-foot ceilings, energy-efficient design and details, exposed concrete surfaces and mechanicals and upgraded fixtures and surfaces all combine to create Juhl's cool urban vibe.
Other amenities include 24-hour security; Wi-Fi in common areas; gated parking structure with assigned resident parking and electric vehicle charging station; co-op working space that caters to professional residents; and full-service concierge.
For more information or to arrange a private sales presentation of Juhl, visit juhllv.com or call 702-816-5466. Juhl sales center is at 353 E Bonneville Ave. The sales center is open Monday through Friday, 10 a.m. to 6 p.m.; Saturday from 10 a.m. to 5 p.m.; and Sunday from noon to 5 p.m.