Providence to hold ice cream event
September 18, 2015 - 4:46 pm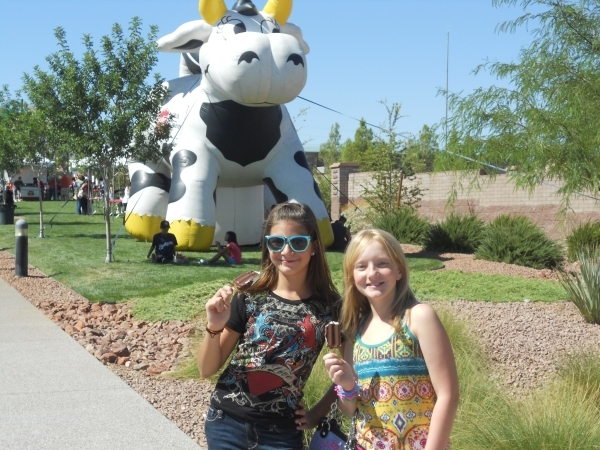 Cool off and share delicious frozen treats with family and friends at the annual Sunny 106.5 Ice Cream Sunday on Sept. 27. The free event is 10 a.m. to 2 p.m. at the new Huckleberry Park in the Providence lat 10325 Farm Road, just off the I-215 North Beltway and Hualapai Way.
Meadow Gold, which has produced dairy products since 1897, will provide the free ice cream. In preparation for the festival here are some fun facts about the tasty treat from www.icecream.com:
• A cow gives enough milk to make 2 gallons of ice cream per day or 730 gallons per year.
• It takes 3 gallons of milk to make 1 gallon of ice cream.
• About 9 percent of all milk produced in the United States is used to make ice cream.
• It takes about 50 licks to finish a single scoop ice cream cone.
• The tallest ice cream cone was over 9 feet tall. It was scooped in Italy.
• Vanilla is the most popular flavor of ice cream.
• Ice cream is so popular that in 1984 President Ronald Reagan designated a National Ice Cream Month. It's in July.
This year the Sunny 106.5 Ice Cream Sunday will be part of the grand opening celebration for Huckleberry Park, the third park in Providence. According to event organizers, the combination provides attendees with more activities, more space and more fun. Festivities will encompass a special ceremony with local dignitaries and a dedication to fallen police officer and Providence resident Igor Soldo, bounce houses, petting zoo, face painting and entertainment by Amazing Clowns, booths. Of course, there will be ice cream-eating contests with the sign-ups at the park.
Activities will be spread across the new neighborhood park, which includes large and small dog parks, a multiuse events field, full court basketball, outdoor stage area, swings, picnic area, shade ramada and other spaces designated for future amenities. Huckleberry Park will become the new home of the Sunny 106.5 Ice Cream Sunday, now in its 14th year and sixth at Providence. Previously it was at the master plan's Promenade Park, which it outgrew.
Attendees are invited to bring new or gently used books for the nonprofit Spread the Word Nevada, which promotes literacy in Nevada. They are also invited to tour the 1,200-acre master-planned community before and after the event and learn about the small-town America ambiance that makes Providence among the fastest-sellers in the country. It offers a variety of neighborhoods and floor plan options, by nationally recognized homebuilders including Lennar, Richmond America Homes, Ryland Homes, Summit Homes and Woodside.
For information about Ice Cream Sunday and the Huckleberry Park grand opening, call the Providence Master Homeowners Association at 702-216-2020.
To learn about Providence, visit the information center from 10 a.m. to 4 p.m. daily, at 7181 N. Hualapai Way, Ste. 150. It is on the northwest corner of I-215 Beltway and Hualapai. For more information, call 702-433-5084, visit www.providencelv.com, like www.facebook.com/providencelv, or follow www.twitter.com/providence_lv.