Retired Army veterans find home at One Las Vegas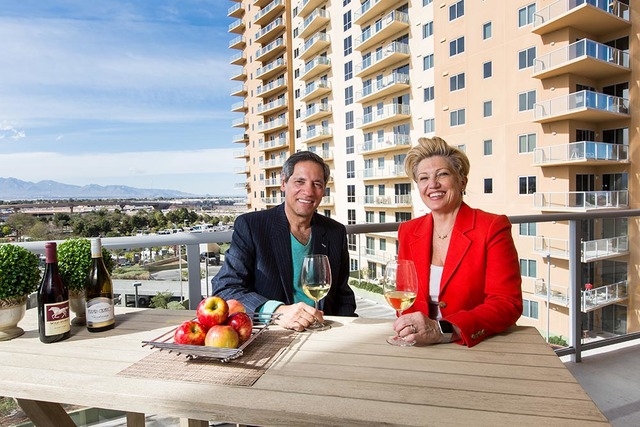 David and Consuelo Kickbusch have moved around a few times since they arrived in Las Vegas in 2004, but just a few weeks ago, they were thrilled to start their new journey as residents of One Las Vegas, a twin-tower high-rise condominium community on the south end of Las Vegas Boulevard.
The couple met in 1990 at the United States Army Command and General Staff College in Fort Leavenworth, Kansas, and married a year later. They were initially stationed in Washington, D.C., for three years and relocated to San Antonio, where they both eventually retired from their military duties. Pursuing a lifelong passion to better the community, the Kickbusches opened in 1994 a small human development company to provide social learning services to families in the area.
"An administrator in Las Vegas reached out to us shortly after we launched our company because the need for services like ours was growing in the valley," Consuelo said. "I started commuting back and forth to meet that demand, and in 2004, we decided to make Las Vegas our permanent home. We first lived in a condominium but moved to the suburbs and into a bigger home to raise our children."
The Kickbusches, who have five daughters, enjoyed their large, single-family home, but once their children moved out, they saw an opportunity to "right-size" their residence.
"Consuelo and I actually first visited One Las Vegas nearly a decade ago when real estate was at its peak. We weren't quite ready to purchase and the price was out of reach," David said. "But when we learned One Las Vegas had recently refreshed all its amenities and the current pricing was within our means, we jumped at the chance to own one of these beautiful high-rise homes with views of the Strip and the valley."
According to David, best of all was the ability to secure Veterans Affairs mortgage financing. "We know there aren't many communities in Las Vegas that provide Veterans Affairs financing, so we jumped at the chance to make One Las Vegas our home."
The Kickbusches selected a two-bedroom home that featured a balcony overlooking the community's 24-hour pool.
"I am also a writer and dreamed of authoring a second book, but never found the right atmosphere until now," Consuelo said. "
The couple are proud grandparents to five grandkids, and while they are scattered across the country, they know that it will not be long before they receive a visit from their daughters and their families.
"Our second room serves as a guest room for family and friends," David said. "Our grandkids can't wait to go swimming here and we can't wait to show off our new home and everything that One Las Vegas has to offer."
Of the twin 20-story towers, DK Las purchased 295 of the project's 359 residences. Homes range from 831 to 2,857 square feet with many floor plans offering spectacular views of the mountains and The Strip. One-bedroom homes are priced from the low $200,000s; two-bedroom homes from the high $200,000s; and three-bedroom homes from the low $400,000s. The penthouse, offering 3,000 square feet of sweeping views, is priced at $1.1 million.
One Las Vegas is close to Interstate 15, the 215 Beltway and just minutes from McCarran International Airport. For more information, visit the One Las Vegas on-site sales center at 8255 S. Las Vegas Blvd, or online at info@theonelv.com. The sales center is open Monday through Friday, 10 a.m. to 6 p.m.; Saturday from 10 a.m. to 5 p.m.; and Sunday from noon to 5 p.m.