Skye Canyon, Lee Canyon support homeless teens
November 30, 2018 - 3:24 pm
Updated December 3, 2018 - 4:46 pm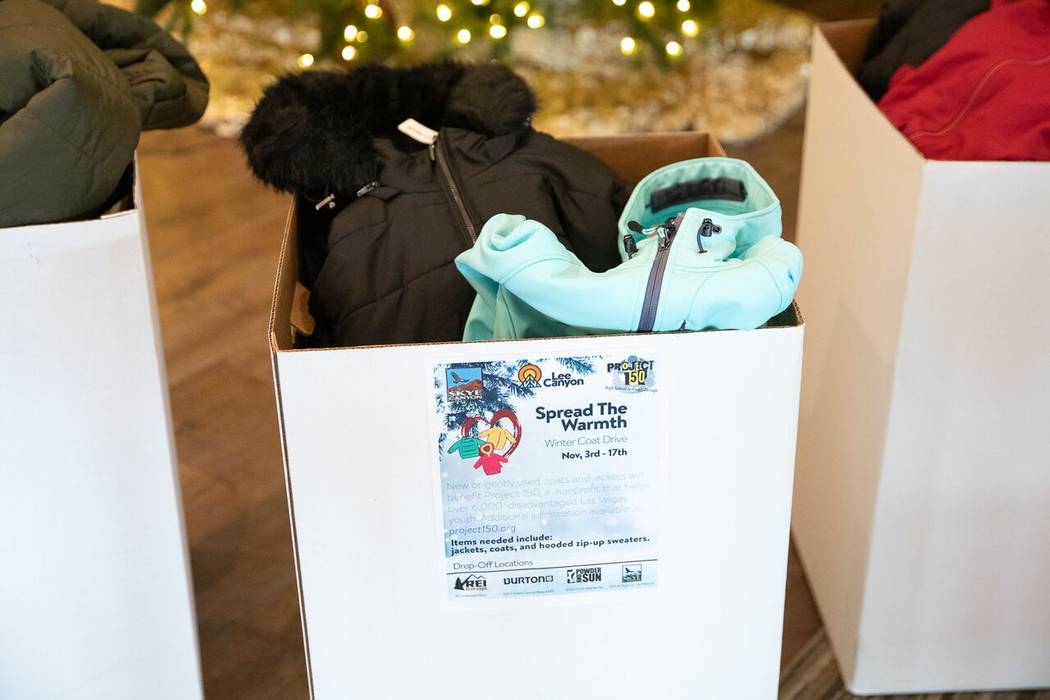 Skye Canyon and Lee Canyon presented Project 150, a local nonprofit that helps disadvantaged and homeless high school students, with more than 300 coats, jackets and hooded sweaters collected during Lee Canyon's Spread the Warmth coat drive, with a $5,000 donation from Skye Canyon, at Skye Center on Giving Tuesday, Nov. 27.
Chris Armstrong, senior vice president for Olympia Cos., developer of Skye Canyon, and Jim Seely, Lee Canyon's marketing director, presented Project 150 with the coat and check donation. Meli Pulido, Project 150's executive director, accepted the gifts on behalf of the nonprofit. Skye Canyon residents who are active participants in the community's Skye Serves resident volunteer program were in attendance.
"Lee Canyon has a long history of giving back to those in need, so it was a natural fit to combine efforts on our 2018 Skye Serves Giving Tuesday initiative," Armstrong said. "Project 150 has transformed these students' lives, providing necessary assistance and a sense of safety after school, and many of the kids that benefit from Project 150 return as adults to volunteer with them and that says a lot about the organization."
Lee Canyon is a partner in Skye Canyon's Skye Pass program, offering Skye Canyon residents exclusive benefits including special rates on season passes and one-day lift and tubing tickets.
"As a partner in the Skye Pass program, I have seen first hand that Skye Canyon does a remarkable job of giving back to our city. The community matched $25 for every coat donated to our Spread the Warmth coat drive," Seely said. "Skye Canyon has always been a great partner of ours, but the true benefit is bringing awareness to nonprofit organizations that are offering much-needed services to those in need, especially this time of year."
Project 150 helps underprivileged students in 59 high schools in the Clark County School District by providing food, clothing, hygiene products, school supplies and college scholarships. Many of the teens who use Project 150's services don't have a place to sleep at night, and others have been head of household since the age of 10 or younger. Project 150 believes that education is vital for teens to build a productive life once they reach adulthood so the nonprofit stipulates that teens receiving Project 150 assistance must have a valid student ID.
Giving Tuesday is recognized globally as the official start of the season of giving. In less than a decade, it's estimated the initiative has raised over $300 million for 2.5 million charities in more than 150 countries. The Project 150 donation on Giving Tuesday demonstrates both Skye Canyon and Lee Canyon's commitment to serving the youth in the community.
Skye Canyon is a 1,000-acre master-planned community in northwest Las Vegas on U.S. Highway 95 at Skye Canyon Park Drive. Offering entry-level, move-up and luxury neighborhoods for individuals, couples, families and active adults who share a passion for outdoor activities, wellness, and immersive living, it is the first master-planned community to break ground in Las Vegas in nearly a decade.
Skye Canyon includes unique amenities such as Skye Canyon Park, which features Skye Center, the community's social hub with an open-air bistro and indoor and outdoor fireplaces, and Skye Fitness, a state-of-the-art workout facility and outdoor junior Olympic-size swimming pool. Among the many other amenities offered are designated bike lanes and an extensive network of hiking and walking trails. Shopping, office space and gaming will be offered at Skye Canyon, which at build-out will include 6,500 homesites.
Skye Canyon is a product of leading developer Olympia Cos., joined by Stonehill Capital Management and Spectrum Group Management LLC. For more information visit skyecanyon.com or connect with Skye Canyon on Facebook, Twitter, Instagram and on Pinterest.
Lee Canyon is approximately one hour from downtown Las Vegas in the Humboldt-Toiyabe National Forest. Established in 1963, Lee Canyon offers guests 195 acres of terrain, 24 trails accessed via three chairlifts, 250 acres of hike-to terrain, and a lift-served tubing hill.
Averaging more than 160 inches of snowfall annually, Lee Canyon offers ski and snowboard coaching, terrain parks, and lodge amenities such as dining and retail, with a host of summer activities. For more information, visit www.leecanyonlv.com and follow Lee Canyon on Facebook, Instagram, and Twitter. Lee Canyon is part of the POWDR Adventure Lifestyle Co. portfolio.