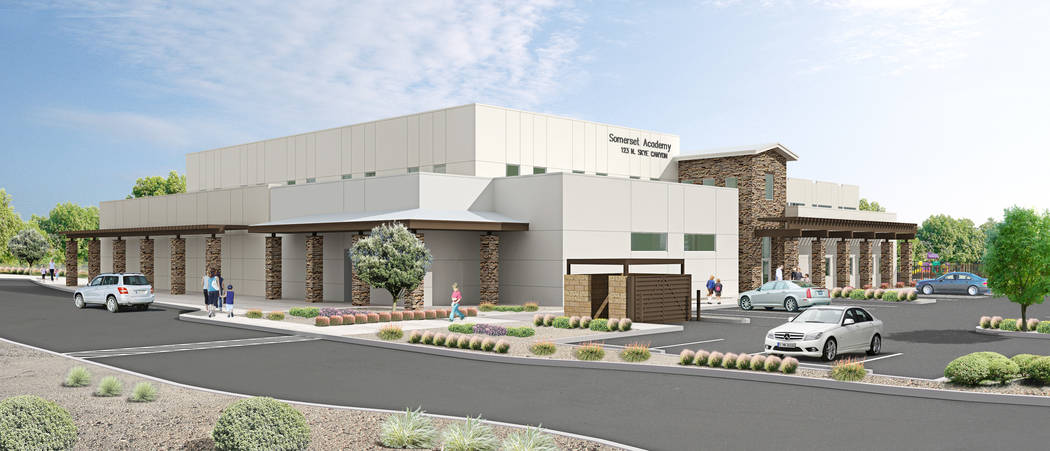 Skye Canyon, a 1,700-acre master-planned community in northwest Las Vegas, hosts a groundbreaking ceremony for Somerset Academy's Skye Canyon campus Feb. 20 at 11 a.m. The event will take place at Skye Canyon Park, 10111 W. Skye Canyon Park Drive, and is open to the public. Somerset Academy board members, facility and local dignitaries will be in attendance. A meet-and-greet will follow where parents interested in the campus can talk with Somerset officials. Refreshments will be provided.
The Somerset Academy Skye Canyon campus serves grades K-8 and is at 8151 N. Shaumber Road. It is north of Grand Teton Avenue and south of Eagle Canyon Drive. Open enrollment for the 2018-2019 academic year is available now through Feb. 28.
Like the seven other local Somerset Academies, it is a tuition-free public charter college preparatory school. Classrooms average 20 students and the school facilitates a multiage, multilevel classroom. Opening as an affiliate of the Somerset Academy system, an SS-CASI accredited institution, its curriculum focuses on developing leaders, good character and a desire to serve others. Somerset Academy of Las Vegas, who oversees all seven local campuses, is committed to meeting the same quality markers as the founding school, which makes it eligible to receive accreditation from the Western Association of Schools and Colleges.
"Somerset Academy Skye Canyon offers our families an excellent option for kids K-8. Somerset's commitment to academic excellence and offering a well-rounded education experience is a match for our community's values," said Garry Goett, CEO and president of Olympia Cos., developer of Skye Canyon. "As we launch Phase II of Skye Canyon, we look forward to working with Somerset Academy's leadership and student body during the upcoming academic year."
Skye Canyon's Phase II development is underway with the addition of Lennar Homes and Richmond American Homes to existing homebuilders Century Communities, Pardee Homes, Pulte Homes and Woodside Homes. The master-planned community will have eight neighborhood openings in 2018. The Skye Canyon Marketplace, with Smith's Marketplace as the anchor tenant, will open this summer.
To learn more about Somerset Academy Skye Canyon campus, visit somersetskyecanyon.org.For more information about Skye Canyon's Phase II development, visit skyecanyon.com.
Skye Canyon is a 1,700-acre master-planned community in northwest Las Vegas on U.S. Highway 95 at Skye Canyon Park Drive. Offering entry-level, move-up and luxury neighborhoods for individuals, couples, families and active adults who share a passion for outdoor activities, wellness and immersive living. It is the first master-planned community to break ground in Las Vegas in nearly a decade. Skye Canyon includes amenities, such as Skye Canyon Park that features Skye Center, the community's social hub with an open-air bistro and indoor and outdoor fireplaces, and Skye Fitness, a workout facility and outdoor junior Olympic-size swimming pool that is exclusive for residents. Among the many other amenities offered are designated bike lanes and an extensive network of hiking and walking trails.
Shopping, office space and gaming will be offered at Skye Canyon, which at build-out will include 9,000 home sites.
Skye Canyon is a product of leading developer Olympia Cos., joined by Stonehill Capital Management and Spectrum Group Management LLC.