Summerlin has history with Red Rock Canyon
November 20, 2016 - 2:28 pm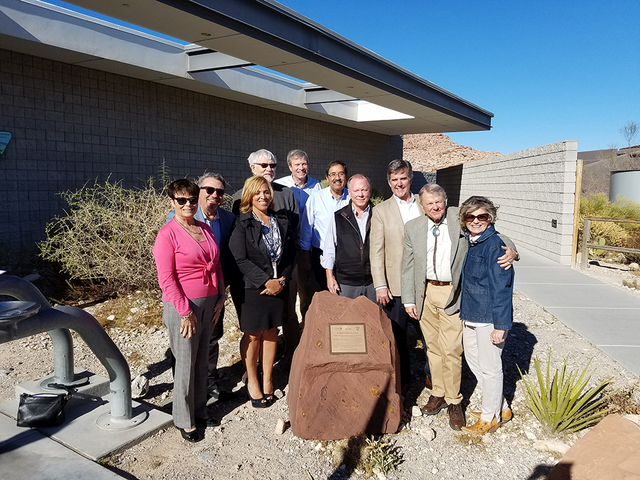 The Howard Hughes Corp., developer of the master-planned community of Summerlin, was recently recognized for its significant role in helping to create a 5,000-plus acre buffer zone along the eastern edge of what is now Red Rock Canyon National Conservation Area. On Nov. 2, representatives of The Nature Conservancy, Bureau of Land Management and The Howard Hughes Corp. came together to unveil a new plaque at the Red Rock Canyon National Conservation Area Visitors Center that pays tribute to the remarkable and collaborative story of how these three entities worked to ensure the protection of these lands nearly 30 years ago.
According to Tom Warden, senior vice president of community and government relations for Summerlin, Howard Hughes joined the Bureau of Land Management and The Nature Conservancy to form an unprecedented strategic partnership that preserved the scenic nature of the 13-mile loop road, including the site where the Visitor Center stands today. By relocating Summerlin — Howard Hughes' 22,500-acre master-planned community — from this site to another more appropriate for development, a "win-win" situation was achieved that allowed for continued economic development in Las Vegas, while also protecting a fragile and pristine natural desert landscape.
"This single act, performed in 1988, three years before the first family moved to Summerlin in 1991, set the tone for the community's environmentally friendly development policies going forward," Warden said.
"It also helped to preserve and protect Red Rock Canyon, the most stunning natural geographic treasure in Southern Nevada, from the encroachment of future development. It's no accident this landmark has become synonymous with the master-planned community of Summerlin as its backdrop, framing the community's westernmost edge, providing stunning views and access to year-round world-class hiking and rock-climbing.
We are honored to be included on this new plaque and look forward to our continued partnership with The Nature Conservancy and the BLM to ensure the ongoing protection and preservation of Red Rock Canyon."
Howard Hughes' support of Red Rock Canyon goes well beyond the initial land exchange. In 2001, it donated $30,000 to the BLM for trail marker signage throughout the Conservation Area.
And in 2002, the company initiated a second exchange with the BLM in which more than 1,000 additional acres of sensitive high ground along Summerlin's western border were added into Red Rock Canyon National Conservation Area. This federal exchange also set aside more than 1,200 acres of pristine ridgeline for a future county trails park at the southern tip of Summerlin.
"Red Rock Canyon is one of our legacy projects that demonstrates how diverse partners can find a balance between development and nature," said Joel Laub, chairman of The Nature Conservancy's Nevada Board of Trustees. "We're thrilled the BLM is adding a sign noting our involvement. We want Nevadans and people around the world to understand the Conservancy's important role in preserving this stunning natural area."
Two million people a year enjoy this colorful desert landscape and the outdoor recreation it provides. Visitors can take a 13-mile scenic drive, hike, bike, camp and even possibly catch a glimpse of desert bighorn sheep or desert tortoise. Many people climb the brilliant red rocks while others simply soak up the beauty during camping trips. Additionally, the Red Rock Canyon Interpretive Association offers a wide variety of classes and events to help people understand and appreciate the area's natural, historical and cultural history.
Summerlin offers new homes encompassing more than 90 floor plans in 21 neighborhoods in four villages: The Ridges, The Cliffs, The Mesa and The Paseos. Homes are available in a variety of styles — from single-family homes to townhomes and condominiums — priced from the $200,000s. Visit Summerlin.com for more information. For more information about Summerlin homes and amenities, visit Summerlin.com.