Summerlin showcases trail system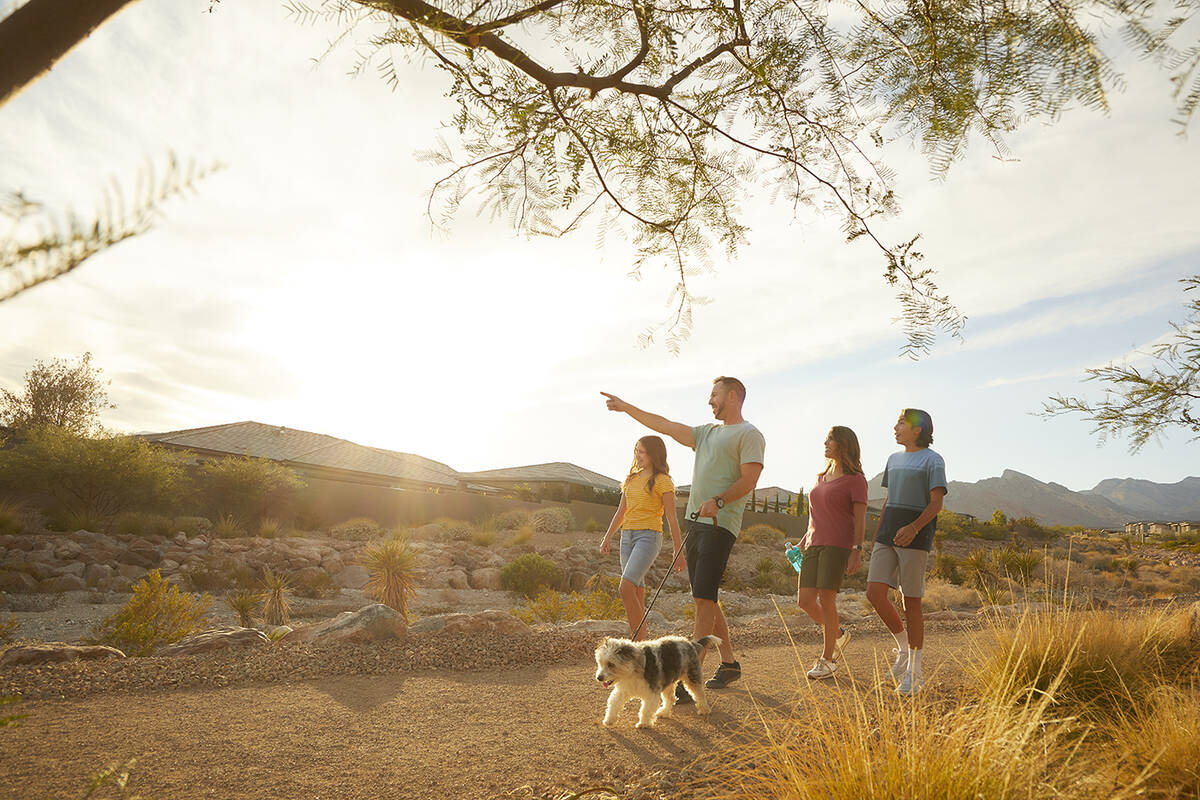 For Summerlin residents, it comes as no surprise that trails consistently rank in community surveys as Summerlin's most popular amenity. With more than 200 miles of trails of all types, the Summerlin Trail System was carefully planned from the community's inception to connect neighborhoods and residents with parks, shopping centers and schools, providing miles of uninterrupted scenery for walkers, strollers and runners to promote a healthy, active lifestyle.
In Summerlin West, an emerging area of the community, multimodal trails will be installed over the next few years to encourage residents to explore diverse transportation options for their daily commutes.
According to Julie Cleaver, senior vice president, commercial and residential planning for Summerlin, walkability and connectivity have long been pillars of Summerlin's community planning and design philosophy.
"The Summerlin Trail system includes a variety of trail types that reflect the character of the village, topography and natural setting of their location," Cleaver said. "For example, our trails in Summerlin West tend to be populated with more native or enhanced native vegetation consistent with the surroundings, taking on the look and feel of the rich desert environment."
Multimodal planning is evident even throughout Downtown Summerlin, where walkability is an important element of this dynamic, outdoor destination. For those who work in Downtown Summerlin's office buildings, walking to lunch, shopping or errand-running is a huge benefit that creates a better work/life balance.
The Summerlin Trail System, which is second-to-none in the Las Vegas Valley, is comprised of four kinds of trails. Landscaped and lighted street-side trails ideal for walking, jogging and strolling, are the backbone of the system. Village trails are located in natural arroyos and man-made open spaces and are designed to provide respite from noise and traffic for long-distance runners and walkers.
Regional trails are part of the proposed valleywide trail system for multiple, non-motorized uses. They provide a link to Bureau of Land Management land in Red Rock Canyon National Conservation Area and are constructed as public/private partnerships by Clark County and the city of Las Vegas in cooperation with The Howard Hughes Corp., Summerlin's master plan developer. And finally, Summerlin will eventually be home to natural earthen-tread trails throughout undeveloped areas of the community and intended for use by outdoor and hiking enthusiasts.
Summerlin's signature trail system will eventually connect cyclists and hikers to the Red Rock Canyon area from the village of Stonebridge thanks to a planned 20-mile hike and bike trail that will run alongside Nevada State Route 159. As part of the larger planned Clark County Red Rock Canyon Legacy Trails project, the 5.5-mile section is the first phase and will begin in Summerlin near Sky Vista Drive, linking directly to the Red Rock Visitors Center. The Howard Hughes Corp. is working closely with Clark County, the BLM, the Federal Highway Administration and other groups to help design and implement the planned trail extension.
Now, in its 33rd year of development, Summerlin offers more amenities than any other Southern Nevada community, including 300-plus parks of all sizes; 200-plus miles of interconnected trails; resident-exclusive community centers; ten golf courses; 26 public, private and charter schools; a public library and performing arts center; Summerlin Hospital Medical Center; houses of worship representing a dozen different faiths; office parks; and neighborhood shopping centers. Downtown Summerlin offers fashion, dining, entertainment, Red Rock Resort and Class-A office buildings. City National Arena is home of the Vegas Golden Knights National Hockey League practice facility. The Las Vegas Ballpark is a world-class Triple-A baseball stadium and home of the Las Vegas Aviators.
In total, Summerlin offers more than 100 floor plans in 20 neighborhoods throughout eight distinct villages and districts. Homes, built by many of the nation's top homebuilders, are available in a variety of styles — from single-family homes to townhomes, priced from the $400,000s to more than $1 million. For information on all actively selling neighborhoods, visit Summerlin.com. Before you visit, any new Summerlin neighborhood, call the homebuilder to check on hours of operation. Phone numbers for each neighborhood are on Summerlin.com.