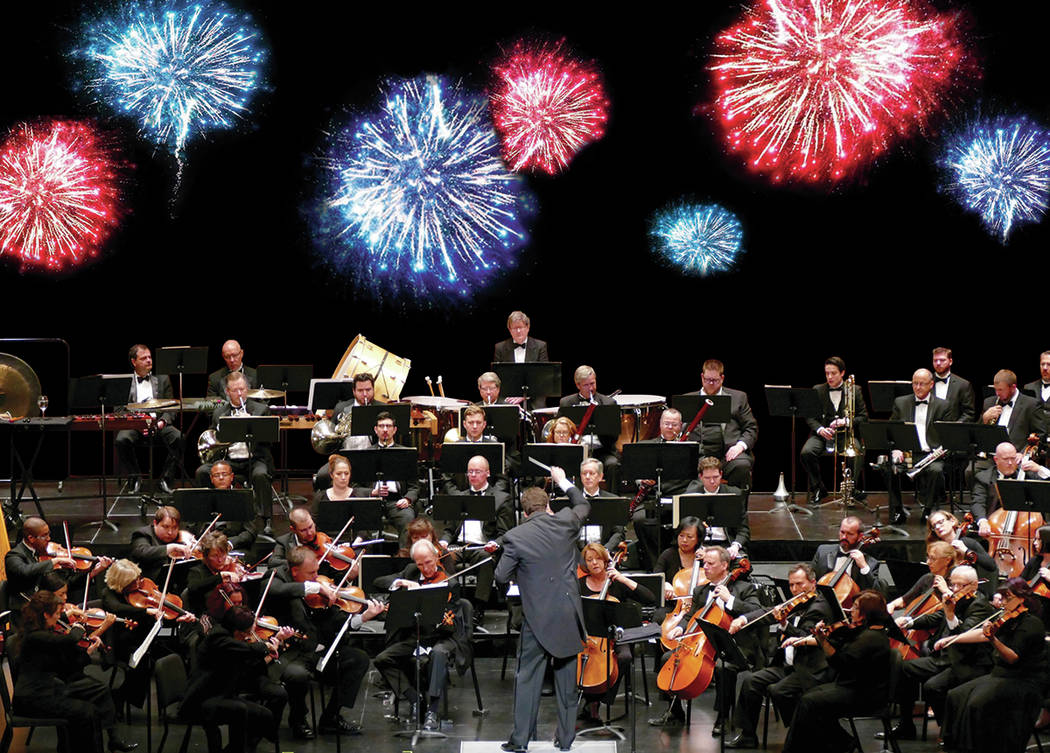 The entire valley is invited to celebrate Independence Day in Summerlin with major events that start and end the day.
"Summerlin has long been the place to be to kick off the Fourth of July with Southern Nevada's largest and most colorful parade that was attended by more than 40,000 Las Vegans last year," said Kevin T. Orrock, Summerlin president.
"This year, the Las Vegas Philharmonic is presenting an outdoor concert with fireworks; and Red Rock Casino Resort and Spa is offering a free fireworks show at 9 p.m. to make it a daylong celebration in Summerlin infused with patriotism and lots of fun."
New to the parade this year is a float presented by Stars and Stripes parade sponsor City National Bank: Vegas Golden Knights: Vegas Born, Vegas Strong. The hockey-themed float is sure to be a favorite in a community flooded with Vegas Golden Knights pride.
The parade features more than 70 entries, including traditional floats, giant balloons, American military heroes, bands, musical groups and a variety of kids' favorite storybook and cartoon characters. More than 2,500 people are participating in the parade, and more than 500 volunteers from dozens of local schools and community groups are assisting with parade operations.
This year, several new entries are added to the parade roster, including "Escape from Jurassic World," "Hamilton's America," "Coco's Fiesta Espectacular," "The Greatest Show," and appearances by The Incredibles, Black Panther, Pennsylvania Lions All-State Band and Paw Patrol. More than 16,000 cubic feet of helium will be used for more than 25 giant balloons.
Returning to the parade are fan favorites The Fourth Awakens float featuring the Neon City Garrison "Star Wars" costuming club; the Black Pearl pirate ship float featuring Captain Jack and his swashbuckling adventure; Moana's Ocean Journey float featuring dancing water fountains; the Danza Del Carrizo Native American performing group; the Palo Verde and Las Vegas High School marching bands; and a Salute to the Military float featuring servicemen and women from Nellis Air Force Base. Members of the American Legion, USO and Marine Corps League will participate in the festivities too.
The parade is organized by The Summerlin Council, the nonprofit arm of the Summerlin Community Association dedicated to the social, educational and recreational enrichment of residents. The parade is open to the public. Everyone is encouraged to arrive early, bring water and wear sunscreen.
Title sponsor is The Howard Hughes Corp./Summerlin. Premier sponsor is QI Security Services. Major sponsors include Summerlin Hospital and Medical Center, City National Bank, Station Casinos; Pardee Homes, Nevada State Bank, Hanratty Law Group, Southwest Medical Associates, Palmer Electric, Par 3 Landscape and Maintenance, and Downtown Summerlin.
The escort division of the parade starts at 8:30 a.m. with the official start at 9 a.m. The parade starts at the corner of Hillpointe Road and Hills Center Drive in The Trails village of Summerlin. Participants travel south toward Village Center Circle, then west on Trailwood Drive. The parade ends near the corner of Trailwood Drive and Spring Gate Lane.
Tickets are on sale for the Las Vegas Philharmonic's Star Spangled Spectacular, marking the orchestra's 20th anniversary. The event is presented with The Vegas Golden Knights Foundation and Bank of Nevada with support from The Howard Hughes Corp.
The celebration takes place on the grounds of TPC Summerlin, 1700 Village Center Circle, starting at 5 p.m. with food, beverage and entertainment offered in the spirit of Americana. The orchestra takes the stage at 8 p.m. and will play such popular selections as "America the Beautiful," "Stars and Stripes Forever," "Star Wars," "West Side Story" and "Raiders of the Lost Ark." The evening concludes with a Zambelli fireworks show around 10 p.m.
General admission is $10 each and $25 for a four-pack and includes lawn access, music, fireworks, and access to food and beverage vendors. General admission patrons are encouraged to bring blankets and lawn chairs. No outside food and beverage, coolers or pets are allowed. Free water will be provided.
Reserved lawn seating tickets are $125 each and include TPC patio access with cooling fans and cash bar. And $250 VIP tickets include access to the TPC clubhouse with an exclusive culinary experience and open bar featuring select Foley Family Wines and VIP parking. To buy tickets in all price levels, visit www.lvphil.org and click on the Star Spangled Spectacular event page.
To learn more about the Summerlin community and its more than 30 actively selling neighborhoods, visit www.Summerlin.com.
Summerlin Events
• 24th annual Summerlin Council Patriotic Parade at 9 a.m.
• Las Vegas Philharmonic's Star Spangled Spectacular concert with fireworks at TPC Summerlin in the evening
• Free fireworks show at Red Rock Resort at 9 p.m.