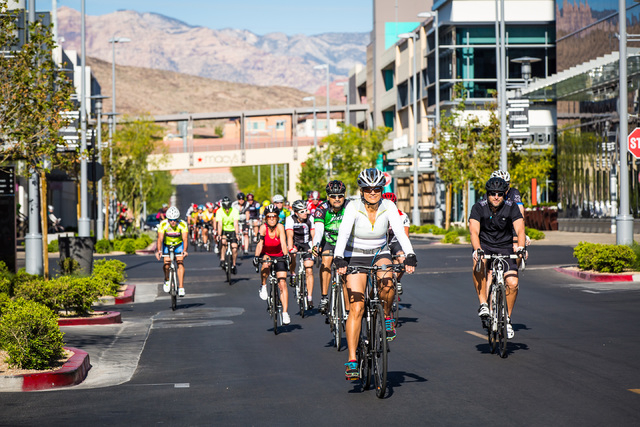 Runners, speed walkers and cyclists of varying levels are gearing up for two popular fitness events in Summerlin: The Summerlin Half Marathon on April 10 and Tour de Summerlin on April 16. Combined, The Summerlin Half Marathon on April 10 and Tour de Summerlin on April 16. Combined, they draw more than 1,500 participants to the master-planned community, and this year, both events start and end at Downtown Summerlin, the community's 106-acre fashion, dining and entertainment destination. Both the half marathon and Tour de Summerlin feature scenic routes that wind through Summerlin's beautifully landscaped villages, along dedicated bike lanes and offering stunning views of Red Rock Canyon National Conservation Area.
"Summerlin promotes an active lifestyle, and these events speak to that hallmark," said Danielle Bisterfeldt, vice president of marketing for Summerlin. "The Howard Hughes Corp. designs this community to encourage outdoor activity via more than 150 miles of award-winning trails, more than 150 parks and natural -open spaces that beckons residents and visitors alike to get out and enjoy the outdoors."
The sixth annual Summerlin Half Marathon features a 13.1-mile scenic tour of several Summerlin villages on the community's nationally recognized trail system and throughout the community's most scenic parks and arroyos. Organizers have adjusted last year's route to better accommodate runners and walkers of all levels. The event is a chip-timed run/walk and top male and female finishers in varying age groups are recognized while all participants receive medals and swag bags that include the official race shirt. A portion of the proceeds benefits Girls on the Run, a nonprofit organization with the mission to inspire girls in the third through eighth grades. The organization combines training for a 5K (3.1 miles) running event with lessons that inspire girls to become independent thinkers, enhance their problem-solving skills and make healthy decisions. This year's race sponsors include Land Rover Las Vegas.
Tour de Summerlin celebrates its 15th year and is again partnering with Candlelighters Childhood Cancer Foundation of Nevada, an organization which provides programs and services that help improve the quality of life for the children and their families affected by childhood cancer. Each year the Riders for Candlelighters Kids cycling team participates in the event. Several hundred cyclists participate in the non-timed event. This year Tour de Summerlin offers 40-, 60- and 80-mile routes through Summerlin's villages, as well as along wide, open desert roads and around adjacent communities. Visiting cyclists can rent bikes from McGhie's Ski, Bike & Board: 702-252-8077. This year's event sponsors include California Pizza Kitchen, Trader Joe's and Land Rover Las Vegas.
To register for Tour de Summerlin or the Summerlin Half Marathon visit Summerlin.com.